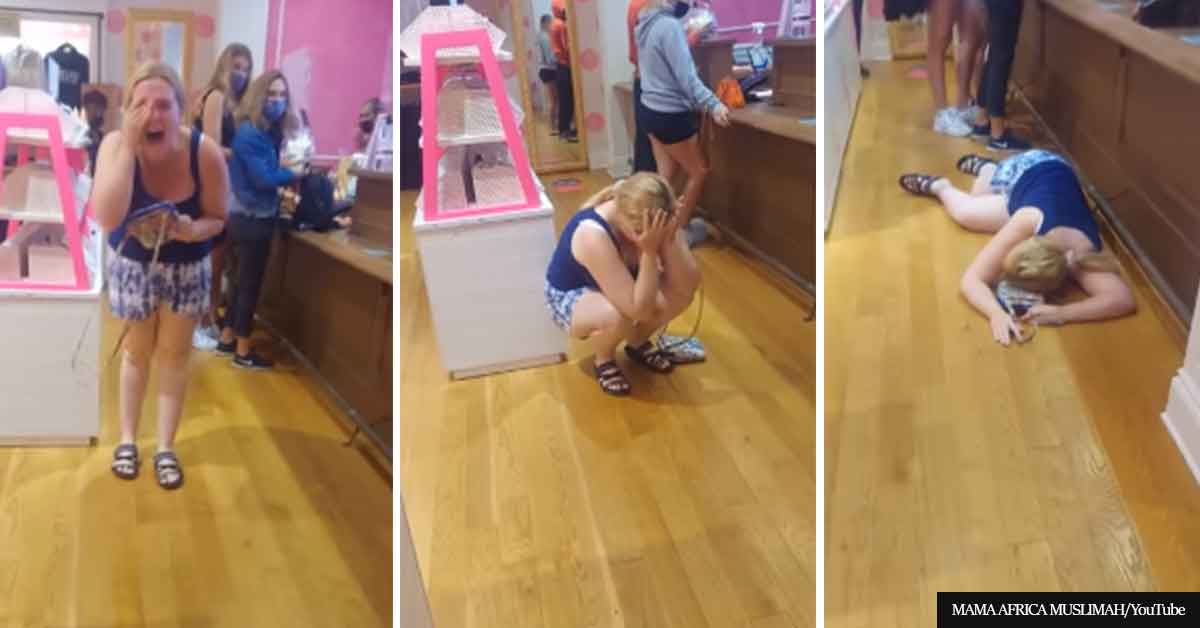 Karen Attacks Black Woman At Victoria's Secret, Has Meltdown After Realizing She's Being Filmed
A woman caught on video harassing a customer at a clothing store went completely nuts after realizing that her actions were being recorded.
The footage filmed at a Victoria's Secret shop and shared by Ijeoma Ukenta last weekend shows the woman, identified by authorities as Abigail Elphick, going towards the other woman with her hand raised as if to hit her. In subsequent clips, Ukenta said she was looking for lingerie at the mall store when the woman moved in front of her and pushed her aside.
Ukenta immediately started recording, capturing Elphick angrily coming towards her. But, once Elphick realizes that she's being filmed, she immediately crouches to the ground and starts crying.
Even though she has the option to simply exit the store, the hysterical woman starts screaming and eventually drops to the floor pretending to lose consciousness. In another clip, Elphick demands Ukenda stop filming her and yells "Get away from me!" while running after her.
Ukenta then urges the staff to call security, and mall security eventually shows up. They then call the police, who don't seem to take the situation too seriously. The officers tell Ukenta they cannot arrest Elphick despite her actions.
Later on, Ukenta checks in from the police station.
She said:
"I have the police report, which is somewhat true, but really, really long. I'm happy I did record because even the officers stated that I only showed him the video of her laying on the floor when I showed him."
According to the police report, which Ukenta reads out loud, Elphick admits her wrongdoing but says she did not want to be publicly shamed, hence she suffered a panic attack after understanding what could happen to her.
Ukenta said:
"Mind you, they took her statement first because, of course, she called the police. And she completely lied. She's trying to say I started videotaping her causing her to have a panic attack, at which time, she followed me to try to get me to stop recording.

So, I'm filing the complaint against the two officers that responded. I didn't feel protected. I'm also filing a complaint against the mall security."
Ukenta noted that the store's employees helped her, adding that the manager even sent someone to tell security to hurry up.
She said:
"So, I don't really have any issues with them … not as of yet. Now, if they give us problems getting the video, then we'll talk about that. That'll be another story."
Ukenta later set up a GoFundMe page to help her hire an "an excellent attorney". It has so far raised more than $77,000.
What are your thoughts on this story? Let us know by joining the conversation in the comments and please share this article if you've found it of value.