'It's only taken me 40 years': Woman discovers the right way to close a cereal box, and it's truly mind-blowing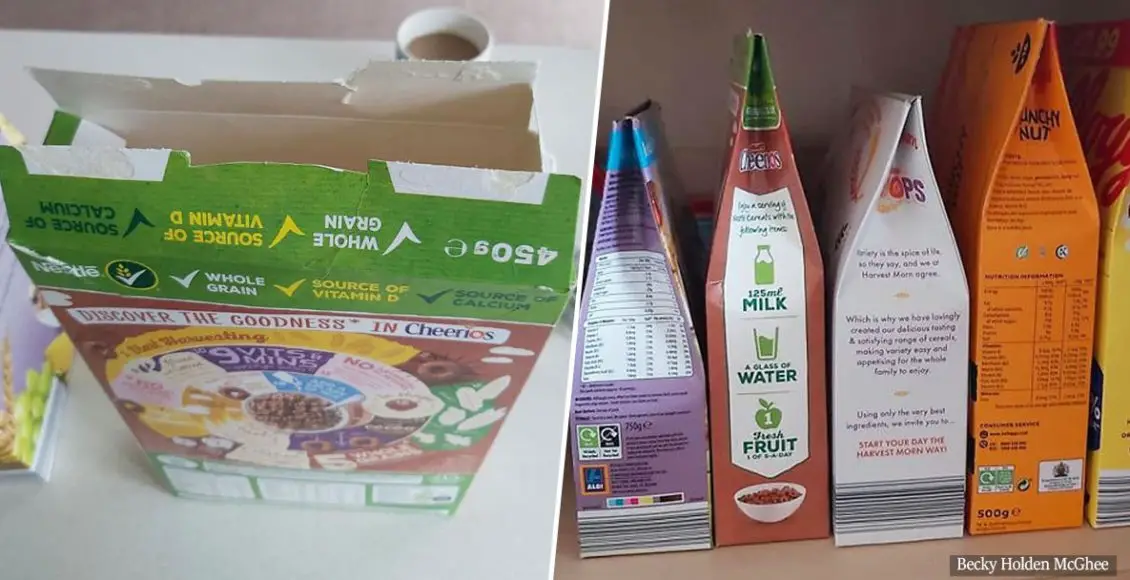 It's truly life-changing when you find out you've been doing something wrong your whole life. Especially if it's something you're doing literally every day like having cereal for breakfast.
Do you often struggle with sealing your cereal boxes, or dealing with dried-out cereal?
Well, this woman's revolutionary discovery may be exactly what you need!
Becky McGee shared her awesome hack on her Facebook account, captioning:
"It's only taken me 40 years, but I now know the correct way to close a cereal box."
In her post, Becky shared several pictures of neatly closed cereal boxes.
She also posted a step-by-step guide on how to do it yourself. 
All the crafty videos, showing you stunning hacks you can do in only a few minutes, have nothing on McGee's boxing action. The video she posted has gone viral in no time and currently has nearly 4 million views.
People were mind-blown by this handy trick. Sometimes, finding something so little, yet so progressive, can make your whole day. Becky continues:
"Genius. It takes seconds, no more dried up cereal and ugly torn boxes to greet me every morning 😂"
The woman from Blackpool, UK, was stunned it took her so long to discover there was a correct way to store your cereal. Becky excitingly shared with Bored Panda she feels 'incredibly lucky', as the feedback she received on her post was amazing.
"It was accidental, I never in a million years thought it would be viewed 3 million times!"
Undoubtedly, one of the reasons why the cereal box-sealing video became a social media sensation has something to do with its simplicity.
McGee herself was astonished when she discovered this basic, yet eye-opening hack.
"The next morning, I thought I'd give it a go with the numerous cereal boxes we have and couldn't believe how simple it was." 
As Becky assures, the folding method 'literally takes seconds, looks really neat, and will stop cereal going all soggy'.
In fact, when she first posted about her cereal-boxing adventures, she only shared a few pictures. But soon, a friend of hers asked for a detailed tutorial. Later on, as humorous as she thought it would be, Becky added a step-by-step guide.
Thanks to this awe-inspiring hack, you will never have to deal with soggy cereal and torn boxes ever again.
Did you know this hack before you saw Becky's video? Are there any other cool tips and tricks you have in mind? Hop up in the comment section and share your awesomeness with us!