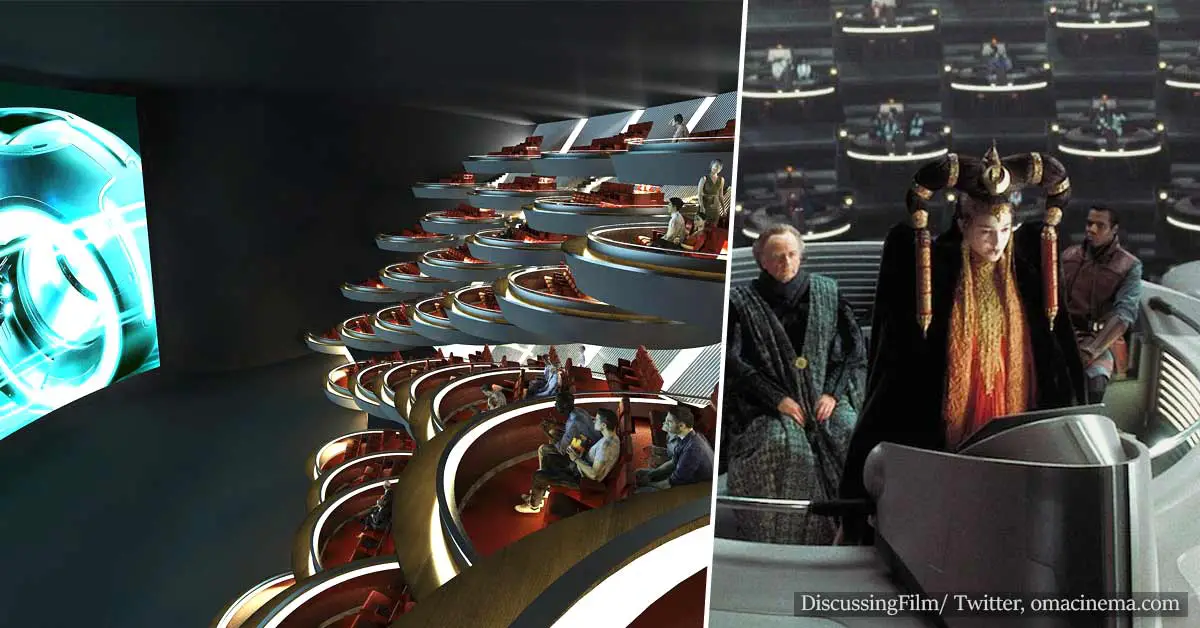 Innovative socially distanced cinema in Paris looks like Star Wars prequels' Galactic Senate
Even if you're not a firm Staw Wars fan, you are definitely familiar with the iconic franchise. Quotes like "No, I am your father!" and "I have the high ground." have surely come across your social media feed. And if you're a fan of the "galaxy far, far away", then you probably know the exact scenes where these phrases appear.
Well, whether princess Leia was your childhood crush or not, prepare to be stunned, because this cinema has done something that could be an absolute game-changer in the future of movie theaters!
A French cinema has released concept images of its theaters that look remarkably similar to the legislative chamber from the Star Wars prequels. 
Ōma Cinema has designed a new type of movie theater that looks strangely familiar to the Galactic Senate.

(Source: https://t.co/eSMpNzMQfb) pic.twitter.com/wR9fst1kPZ

— DiscussingFilm (@DiscussingFilm) July 20, 2020
People are obsessed with the new concept looks of the Oma Cinema in Paris. The company is planning to revolutionize the way theaters are perceived while also encouraging social distancing amid the pandemic. As The Mind Unleashed notes, this progressive approach aims to attract audiences to entirely new thrilling and technologically advanced film-watching venues.
There are many cinemas in the world where the simple act of watching a movie turns into a whole amazing experience. However, no Luxe or 4K screens can beat the existence of a theater that looks exactly like the Galactic Senate. Imagine watching "The Empire Strikes Back" in this cinema. This would undoubtedly be a one-of-a-kind encounter that the little geek in you will be forever thankful for.
Oh to be a 3D rendered person in a movie theater designed like the Senate room from Star Wars watching Tron Legacy. https://t.co/NBRmXI3W61

— Andy Blanchard (@AndyTheBlanch) July 21, 2020
Pierre Chican, cinema architect, founder, and CEO at Oma Cinema stated on the company's official website:
"Whereas all the cinemas built for more than 50 years now are similar and reproduce the same seating arrangement of the audience, this concept of a movie theatre creates a cinematographic experience at the same time intimate, spectacular, and immersive, where every seat in the house is the best seat in the house."
Traditional aisles have no place in a revolutionary place like Oma Cinema. Instead, the company's theaters have circular pods filled with small clusters of seats.
You just cannot unsee the resemblance between The Senate and Oma's venues. 
The innovative cinema is expected to open its doors to visitors in 2021. The company shares:
"Much more than just the spectacular nature of the architecture, the original configuration of the room has been designed to offer viewers an exceptional audio and visual experience, projecting an image free of any distortion. Oma is an experience that you will never forget."
Due to the COVID-19 pandemic, many businesses are forced to adapt to the 'new normal'. Unfortunately, numerous theaters across the world have had no choice but to shut down. But there is still hope for the industry.
There is no secret that going to the movies is one of most people's favorite activities. Therefore, there is still hope that with a few thoughtful and creative decisions, cinema owners would be able to revive their businesses while also taking good care of their customers.
The future of movie-going is sitting in a theater that looks like the Galactic Senate from Star Wars https://t.co/vQH3Y0Sa1Y

— Jen Masi (@JenniferPMasi) July 21, 2020
Oma Cinema's new concept may be an important step towards the 21st-century renaissance of the movie industry.
Are you going to put "Going to Oma Cinema in Paris" to your bucket list? Let us know in the comment section!