Indian street artist pushes indifferent civic agency into action through his satirical art installations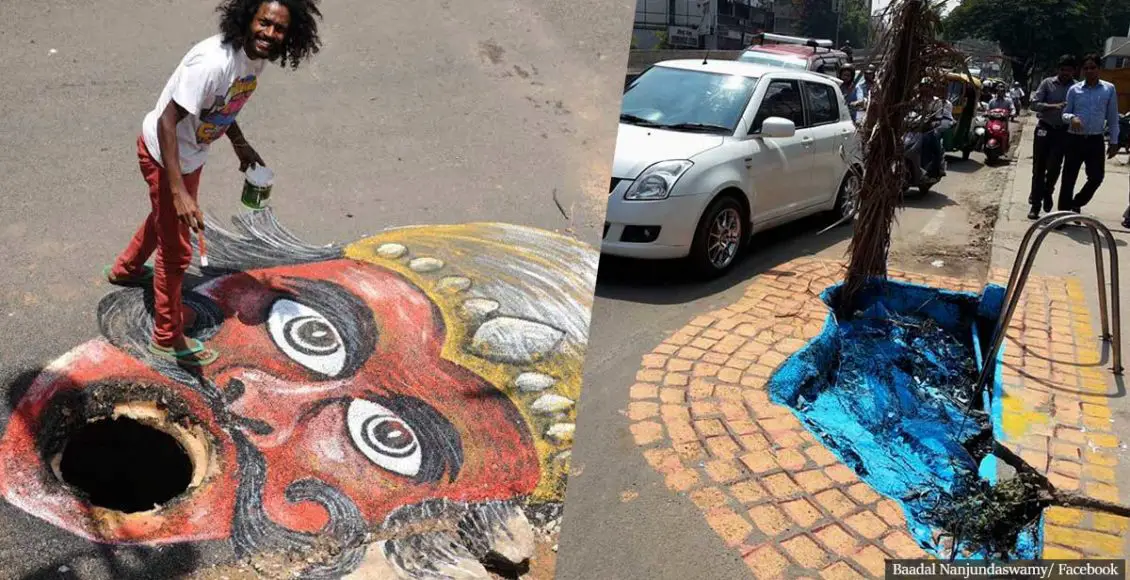 He is seen as a modern hero by many. A hero who takes a stand against the dire conditions of the infrastructure of Bengaluru, India. 
Baadal Nanjundaswamy is an Indian painter from Mysurudistrict in Karnataka and is mostly recognized for his works in both street art and 3D paintings.
A Bachelor of Fine Arts from the Chamarajendra Academy of Visual Arts, Nanjundaswamy made Bengaluru his new home.
At the moment, he spends his time highlighting potholed roads, broken infrastructure and the complete apathy of the city's agencies through his art.
Coming from a poor family, Nanjundaswamy used his artistic talents to raise money to get his university education. In order to do this, he transformed a small shop into a painting workshop from where he sold his paintings.
Thanks to his artistic gifts he was picked up by the renowned international ad agency, Ogilvy & Mather, as soon as he graduated. The agency hired him as an art director for Kannada Films, short films, plays, and documentaries, as well as other independent projects. Some of his more prominent works as an art director include Police Quarter, Prakruthi, Lucia, LifeuIshtene, and more.
His 3D paintings, sculptures, murals, and art installations have been appreciated by people from all around the world. One of his portraits of Sachin Tendulkar graces the Students' Activity Center in IIT Powai.
Nanjundaswamy, however, is most famous for his street art. His creative portrayal of bad road conditions of Bengaluru and Mysuru has been widely covered by the media across the globe. In addition, his satiric works have gone viral on social media.
His art pushed an embarrassed civic authority into action for rebuilding roads and other damaged infrastructure. For locals, he has become a messiah who delivers them from the indifference and apathy of the civic agencies.
Nanjundaswamy's crocodile art installation on the road got the giant pothole repaired the next day. His painting around an open manhole also got it sealed almost immediately.
Back in 2014, he painted celebratory themes for festivals such as Independence Day, Diwali and Christmas.
The artist has received numerous honors and awards such as the  'Pride of Mysuru' award in 2015; 'Pride of Workmanship' award conferred by Rotary Club, Bengaluru in 2017; 'Bengaluru Youth Award' in 2016; 'Samartha Kannadiga' award from SamarthaKannadigaru, Kannada Sangha, Mysuru in 2018.
On Facebook, Nanjundaswamy is being followed by more than 23,000 people. His fans impatiently wait for what he will produce next.
What do you think about Nenjundaswamy's art? Share your thoughts with us in the comment section.