In an exclusive interview, Meghan Markle says she 'understands' elephants while promoting a wildlife documentary she narrates
Meghan Markle fell in love with elephants and says she 'understands' them in a never-before-aired interview.
The original video, which was shot last summer, was shown on Good Morning America on Monday, just a day after Markle and Prince Harry said they would no longer talk to four British newspapers.
In the exclusive interview, Meghan shares she was 'grateful' to be a part of the Disney+ documentary "Elephant", which she hopes will show people how similar we are to these amusing creatures, and how 'connected' humans and elephants truly are.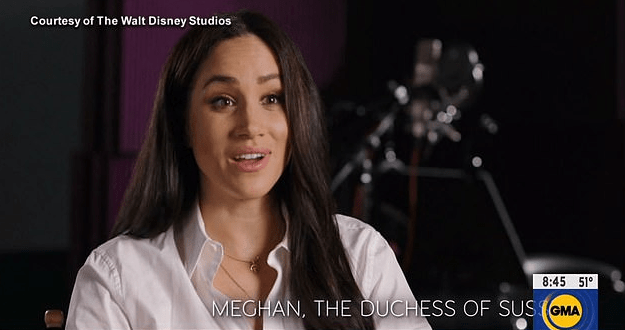 After the Duchess of Sussex shunned royal life, this show has become the passion project which marks her return.
The American mass media Disney, which owns ABC, the network GMA is aired on, released the interview, plus footage from the documentary, on Monday, April 20th.
In the video, Meghan can be heard playfully narrating the new Disney+ film. The former royalty shares:
"I'm really grateful to have the opportunity to be a part of bringing a story about elephants to life."
The wildlife documentary was streamed on April 3rd on Disney+, the company's newly launched streaming service. However, it is still unclear why Disney decided to air Meghan's interview nearly a year after it was shot.
In the video, the duchess passionately expresses her gratitude for being included in this production:
"I've been very lucky to be able to have hands-on experience with elephants in their natural habitat. When you spend time connecting to them and the other wildlife, you really understand we have a role to play in their preservation and their safety."
The film shows a herd of elephants and their astonishing 1,000-mile journey across the Kalahari Desert.
The herd is led by the 50-year-old matriarch Gaia. Meghan Markle's entertaining narration makes the production more engaging and lively than a typical documentary.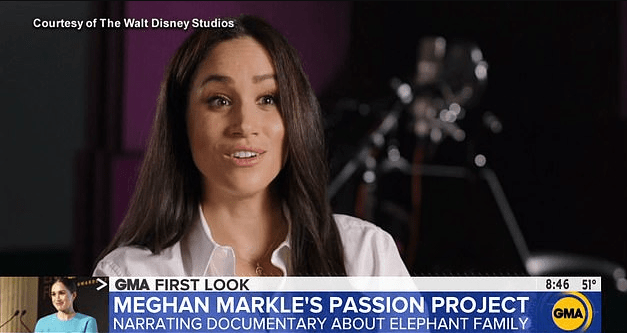 Further in the video, Markle shares:
"These creatures are so majestic and at the same time, they are so sensitive and so connected. We see in this film just how remarkable they are. Their memories are amazing, the close connection of the herd, the protectiveness of their young… I think they are a lot more like us than they are different."