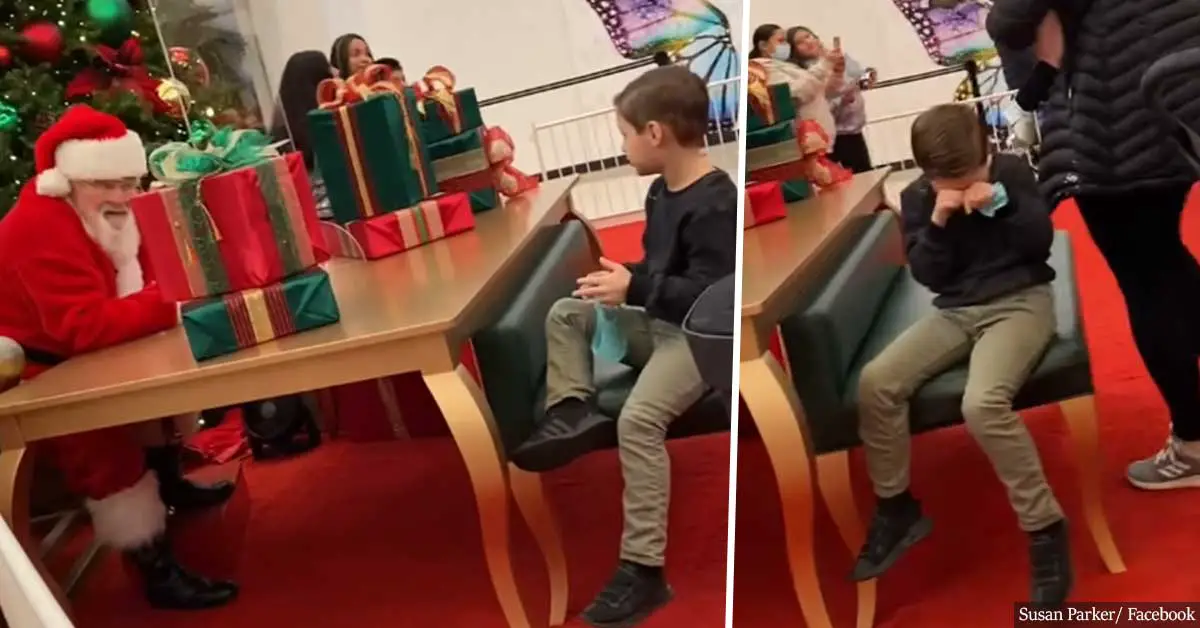 'I can't bring a gun to you': Illinois Santa slammed for making a young boy CRY
'No guns – not even a Nerf gun': A shopping mall Santa made a boy cry after telling him he can't have a Nerf gun for Christmas. 
A shopping mall Santa made a child cry after refusing to bring him a Nerf gun. 
The man was reportedly fired after the incident.
Thankfully, the 'real' Santa visited the boy and personally delivered him the toy gun he had wished for.
On December 6, Sabella DeCarlo took her son Michael to have a chat with Santa at Harlem Irving Plaza in Norridge, Illinois. Shockingly, she suddenly had to rush in to confront her boy after the mall Santa made him cry because he refused to bring him a Nerf gun for Christmas.
As Daily Mail reports, the distressed mother blasted the mall Santa on Facebook. She complained that by pushing "his own personal beliefs" the man stole her child's "Christmas magic." 
"This was the first year Michael was excited to go see Santa. It was supposed to be magical but instead I had to watch my sweet little boy fight back tears because Santa told him No."
Reportedly, DeCarlo received an apology from a representative from the shopping mall.
The mall Santa was fired after the incident. 
While Michael was with Santa, telling him what he wants for the holidays, his mom took a video of what she thought would be their jolly meeting. The footage shows the young boy sitting across from Father Christmas, at a social distance. There is also a Plexiglass barrier between them, as a COVID-19 safety measure.
When the white-bearded man asks the boy what he wants for Christmas, Michael answers he would like to have a Nerf gun. Instead of telling the child he can have the toy gun he wants, Santa says:
"No, I – nope, no guns. No, not even a Nerf gun"
Even when DeCarlo tries to clarify that her son wants a toy gun, not a real one, the man continues to refuse. He adds:
"If your dad wants to get it for you, that's fine, but I can't bring it to you. What else would you like? Lots of other toys. Legos. There's bicycles. There's cars and trucks. What do you think?"
After Santa tells him he can't have his dream toy for Christmas, the child bursts into tears. 
Thankfully, his mom was there to soothe him.
In a statement released from Harlem Irving Plaza, they confirmed that this particular mall Santa no longer works there.
"The HIP and our third-party Santa company are distraught and deeply apologetic about the unfortunate incident which occurred at Santa set on December 6, as both parties strive for families and their children to have a happy holiday experience.

Santa is heartbroken and crushed that he has made this child so sad and upset, and turned in his resignation. The Santa company will continue to remind all Santa's how important it is to not impose personal opinions during visits with the children."
There was a happy ending, after all! 
The 'real' Santa later visited the boy's home to personally deliver him the Nerf gun he had wished for. The shopping mall's staff wrote:
"We hope we restored Christmas magic to this boy and his family with Santa's special visit."