A lost GoPro camera shows footage of a curious bear playing around. 
Dylan Schilt, a hunter from Laramie, Wyoming, stumbled upon an unusual sight. What he found was a lost GoPro camera, which had fallen off a snowmobile months earlier. But that's not the most astonishing part of Dylan's story.
The action camera contained extraordinary footage filmed by a snoopy bear.
Schilt found the camera while hunting with a bow and arrow in the mountains nearby earlier this month, Daily Mail reveals. When he finally managed to charge the GoPro, he discovered the interesting video recorded by the intrusive mammal.
The clip includes mesmerizing views of the snowy mountain, as well as close-ups from inside the bear's mouth and a few wobbly selfies. At some point, the wild animal even tries to nibble on the camera.
The hunter posted the National Geographic-worthy video on Facebook, explaining:
"Last week when I was up archery hunting, I stumbled across a GoPro that was lost while snowmobiling. When I got back to camp I charged it up and couldn't believe what I saw.

After four months of it sitting there, a big old black bear found it and not only managed to turn it on but also started recording himself playing with it.

Hands down the craziest thing I've ever found!"
By the time of writing, the footage has been viewed over 421,000 times.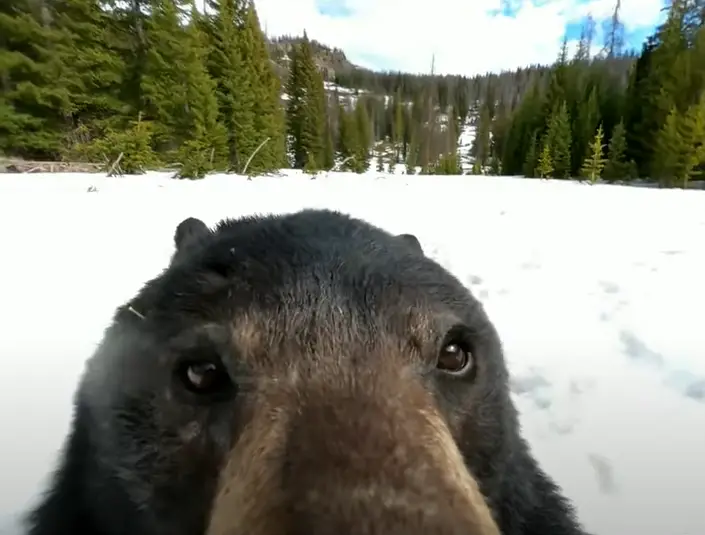 One person wrote in the comments:
"Hands down the best way to see the inside of a bear's mouth!"
Another said:
"I don't think he's playing with it… I think he's eating it, lol!"
On the contrary, some viewers expressed disbelief, claiming the scene was staged. For instance, a social media user commented:
"This guy just put a go pro in a well known bear area and put peanut butter on it."
Nevertheless, this video will surely make your day!