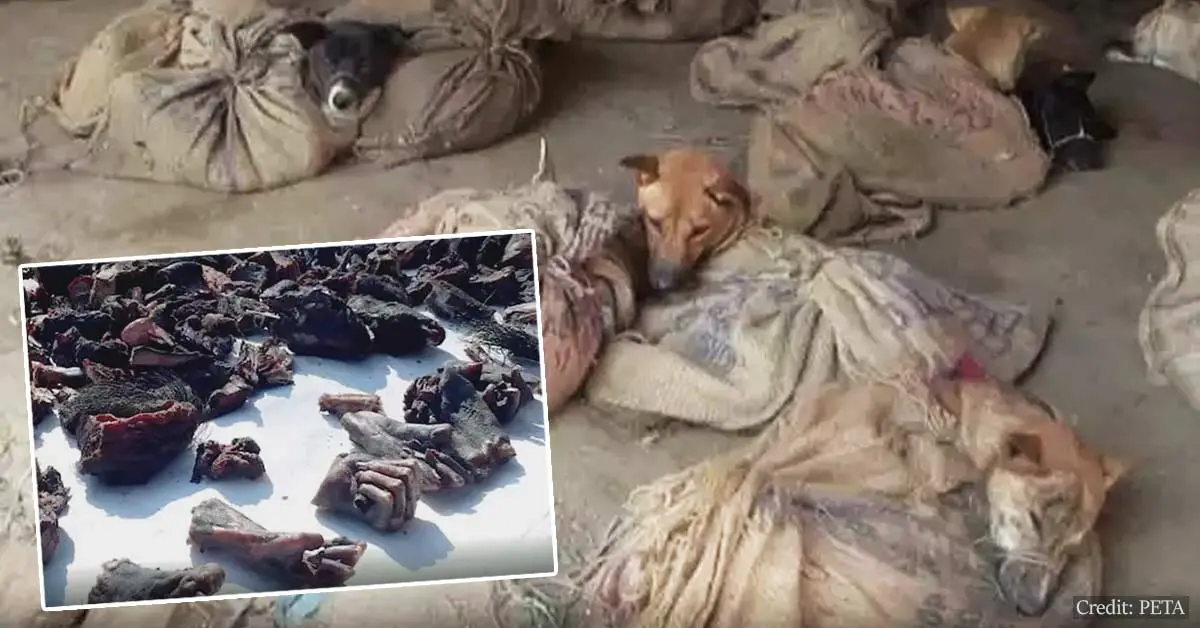 Horrifying PETA Video Shows Dogs Tied In Sacks And Charred Monkey Hands At Indian Wet Market
Traders in India have been seen selling animal parts, including monkey hands, in abysmal wet markets.
Dogs have been seen tied up in sacks awaiting their own slaughter. 
People for the Ethical Treatment of Animals (PETA) have been strongly critical of the findings and said the footage shows "rampant violations" of animal welfare and wildlife protection.
"Places such as these, crammed full of sick and distressed animals, are breeding grounds for deadly diseases.

"As long as live-animal markets are allowed to operate, humans will continue to be at risk and countless animals will needlessly endure miserable lives and a violent, painful death," PETA's director Elisa Allen told the Mirror.
Monkey meat, wild boars, barking deer, porcupines, and birds were found to be illegally sold at the Nute Bazaar in Manipur.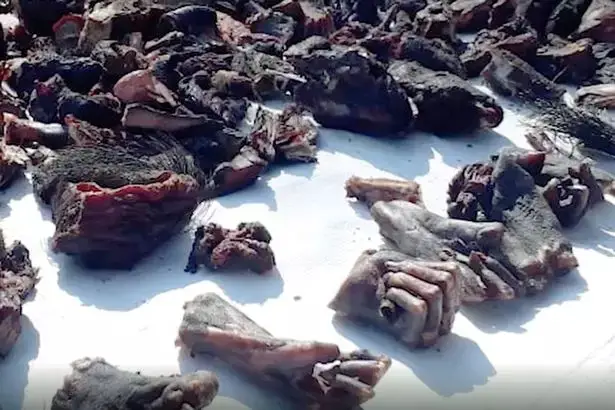 The organization found more monkey meat, wild boar, and deer being sold illegally in the market of Churchandpur.
Hands of monkeys were placed across a sheet, together with pieces of meat, the disgusting video shows.
Terrified dogs were murdered and sold for their meat at Dimapur's Keera Bazaar, in Nagaland, even though a ban on the sale of dog meat has been in place since the beginning of July.
India has gone back into lockdown after seeing a severe rise in COVID-19 cases.
Medical experts announced that cases had staggeringly grown from 906,752 to 936,181.
Currently, only the United States and Brazil have gone over 1 million infected, but India is following closely behind.
Recent reports said that 582 people had lost their lives to COVID, bringing the total number to 24,309.
However, it seems that Indian traders are completely ignoring the pandemic, which presumably began at a wet market in China.
According to the Chinese government, the virus was passed naturally from animals to humans from the Wuhan market.
In June, the communist government was forced to close Xindadi Market after the number of cases started rising again.
In addition, the country is also fighting an outbreak of the Bubonic Plague, which is believed to have been resurrected due to the consumption of wild marmots across the country.
And while India and China have a massive problem when it comes to the treatment of animals, recordings from Vietnam made a few months ago showed dogs being skinned on tables and frogs having their legs cut off.
Ducks and chickens were stuffed in cages next to headless animals while workers were seen walking around without protective masks.
The WHO has called for a stop of these practices as they put both humans and animals at great risk. 
They said:
"It increases the risk of contamination of the meat with food borne pathogens."
Alongside PETA, animal rights group Open Cages, have called for a worldwide permanent closure of wet markets altogether.
"When will we learn?

The COVID-19 outbreak has exposed how fragile, cruel and dangerous wet markets are.

So we can't leave animal wellbeing and safety of humanity in the hands of ineffective regulations," Open Cages CEO Connor Jackson said.
WARNING: VIEWERS MAY FIND THE VIDEO BELOW EXTREMELY DISTURBING!!!
What are your thoughts on these horrific findings? Let us know by joining the conversation in the comments and please share this article to spread awareness regarding the abuse of these animals and the threat of COVID-19.