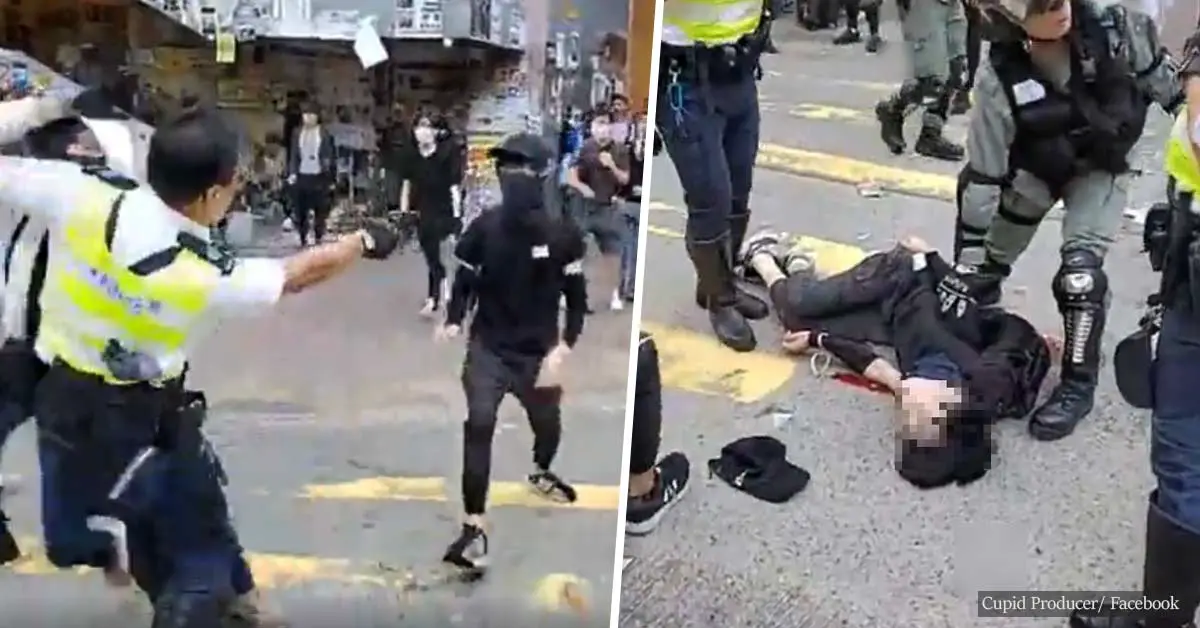 Hong Kong police officer shoots masked protester in shocking encounter broadcast on Facebook Live as chaos erupts at anti-Beijing protest
Panic in Hong Kong continues to rise as at least one pro-democracy protester was shot by a police officer on Monday.
The graphic incident was streamed live on Facebook.
The footage shows two masked men in the Sai Wan Ho area of Hong Kong confronting a police officer in the midst of a morning protest designed to block rush hour traffic.
It isn't clear what triggered the scuffle, but the policeman swiftly drew his gun and pointed it to the chest of one of the protesters while holding and dragging him with his free arm. The second protester tried to step in and the cop appeared to fire his gun in the direction of his torso.
The protester immediately fell to the ground. The cop fired two more rounds and the other protester was also forced to the ground, but it isn't clear whether he was hit.  The two protesters were handcuffed and transported to the hospital. They were alive and conscious when they were brought there, according to CNBC.
4 award winning photos revealing the brutality of #HongKong police. They are ready to shoot civilians. #HK #FreeHK pic.twitter.com/tY4xxdjTP8

— The Revolution Times (@revoltimes) November 3, 2019
The government of Hong Kong said that officers had been responding to complaints about acts of vandalism and disruptions to traffic before the incident occurred.
"During police operations, one police has discharged his service revolver, one male was shot," according to the report.
Online accusations that the officers had been ordered to "recklessly use their firearms" have been described as "totally false and malicious.'
Monday's riots came after a 22-year-old student had fallen to his death from a parking garage during a Friday protest, and the arrest of a number of pro-democracy lawmakers over the course of the weekend.  The violence in Hong Kong has seen a steady increase throughout the year.
WARNING!!! THE VIDEO POSTED BELOW CONTAINS GRAPHIC MATERIAL!!!
What are your thoughts on the Hong Kong situation? Let us know by joining the conversation in the comments, and please share this article if you've found it informative.