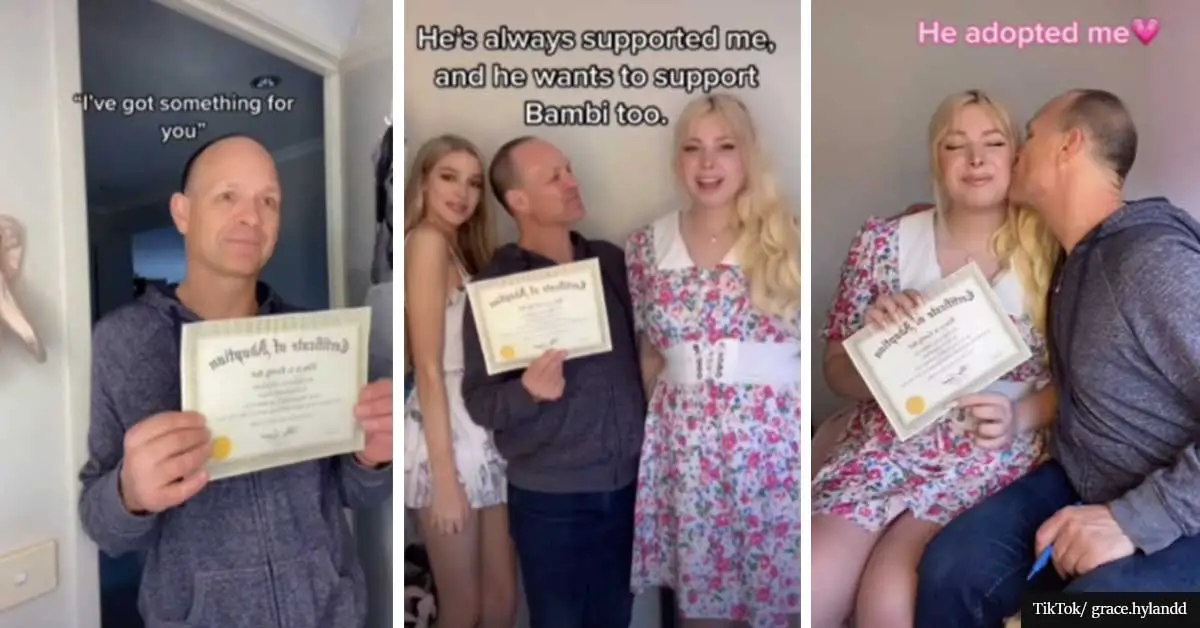 Home and Away star Mat Stevenson adopts his transgender daughter's best friend
Actor Mat Stevenson has symbolically adopted his transgender daughter's best friend, whose own father allegedly turned her away when she transitioned.
The Home and Away star decided to step in after his trans daughter Grace Hyland's best friend Belle Bambi was abandoned by her own father following her transition from male to female.
On Sunday, Grace shared an emotional TikTok video, telling her followers:
"We're sisters now! My BFF's dad left because she's trans. So we did this!"
The touching clip starts with Grace handing a bouquet to Bambi. It then cuts to Stevenson holding an adoption certificate and kissing her cheek, as a proud father would do.
Grace adds:
"He's always supported me, and he wants to support Bambi too."
Bambi also shared a video happily exclaiming: "He's adopted me!"
View this post on Instagram
As per Daily Mail, although the adoption is not legal, the certificate symbolizes that Mat is Bambi's "chosen dad" moving forward, making Grace her "chosen sister."
Meanwhile, Grace has been documenting her trans journey on social media since the moment she began identifying as a girl.
Luckily, her father has always been supportive of her, unlike Bambi's dad, who left her after her transition.
View this post on Instagram
Speaking to The Sunday Project earlier this year, Mat said:
"One of the boys came to me and said: 'I just, I don't get it, mate. I just don't get it.' And I said: 'It's okay, buddy. You don't have to get it. All I'm asking you to do is love my daughter and show her some empathy.'"
The loving father also mentioned the shocking suicide rate among transgender teenagers, saying he didn't want his daughter "to become one of those statistics." Stevenson explained:
"Sadly in this country, we have a really high adolescent suicide rate and it's a tragedy. Trans-adolescents are 36 times more likely to self-harm, to commit suicide. There's a distinct correlation between lack of support and self-harm. I didn't want my daughter to become one of those statistics."
What do you think of the actor's decision to adopt his trans daughter's best friend after her own dad rejected her? Let us know in the comment section!