Hilarious video shows wild deer's shocked reaction when a statue he's humping loses its head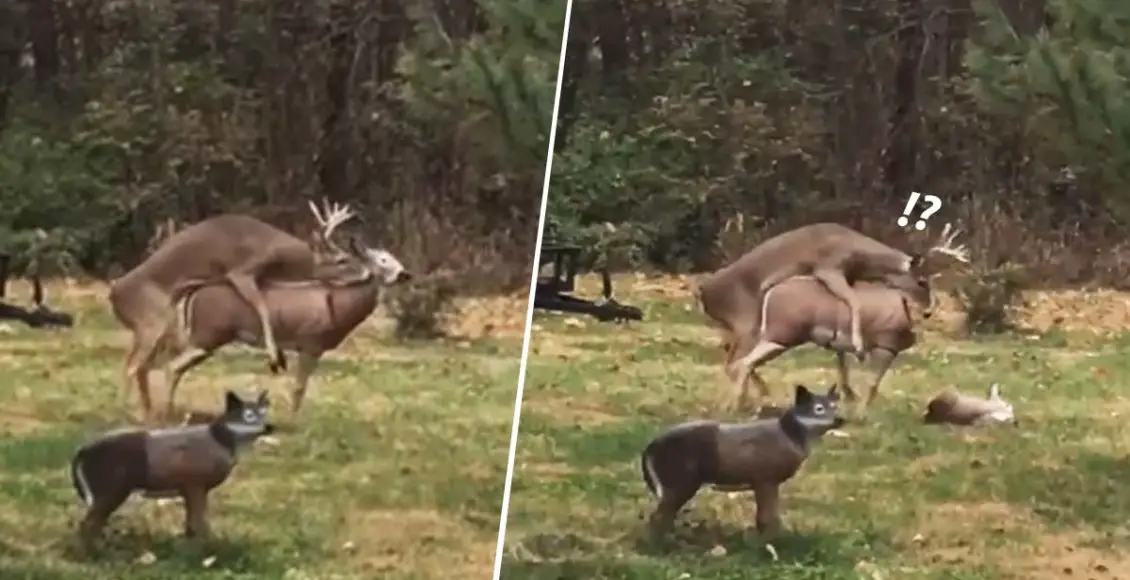 The Bergan family of  Eldorado, Illinois, recently sparked both laughter and shock around the world after releasing a video of a randy buck creeping up on what he believed was a beguiling doe on their lawn.
And the weird "sex tape" quickly went viral…
"Oh my gosh, I'm so scared right now," an unseen child can be heard saying as they peek out the sliding glass windows of their home.

"She's on top of it!" a shocked Lana Bergan, 39, responds as the horny — literally — deer prepares to mount his new lady friend. "Don't move 'cause he'll see us. Watch. Watch!"
The action unfolds as the song "Hero" by the band Family of the Year plays as a romantic background:
"I don't wanna be your hero / I don't wanna be a big man / Just wanna fight like everyone else."
Bergan starts chuckling as the animal keeps on humping away.
And that is where things go from hilarious to shocking.
It turns out that Lana and her husband Rostin are hunting enthusiasts.
"This nice buck was interested in our doe decoy," Lana tells the ViralHog video agency. "He pursued her until her head popped off."
In the meantime, the stunned deer is merely left to stare in soul-shattering disbelief at the fallen head of his lover on the lawn.
However, the hunting community has embraced this tragicomic love story, with sporting goods company Nose Down Scents' Facebook page getting more than 70,000 views on the video.
And here it is:
Nosedownscents.comHit the like button @nosedownscentsIllinois Rut is in full swing this video was taken by a close friend of ours pro staffers Rostin Bergans wife Lana Bergan at their house in Bergan Bottoms this morning#nosedownscents #tailsupnosedown #loverboy ##nosedownnation Nosedownscents.com

Posted by Nose Down Scents on Monday, November 11, 2019
What are your thoughts on this shocking video? Let us know by joining the conversation in the comments, and please share this article if you've found it entertaining.