Gunman, 17, charged for the killing of two BLM protesters in Kenosha
A 17-year-old has been charged with first-degree intentional homicide over the shootings in Kenosha that left two protesters dead.
WARNING: The article contains posts with extremely graphic content!
Two protesters were killed, and one was severely injured late Tuesday night in Kenosha, Wisconsin, during a violent BLM demonstration. One of the victims was identified as Anthony Huber, as reported by Daily Mail.
Kyle Rittenhouse, 17, was arrested and charged with the murders of the two demonstrators on Wednesday afternoon. His arrest came hours after footage of the scene surfaced, showing the gunman walking up to police with his hands in the air, and his semi-automatic rifle slung across his body. This appears to have happened just moments after the shooting.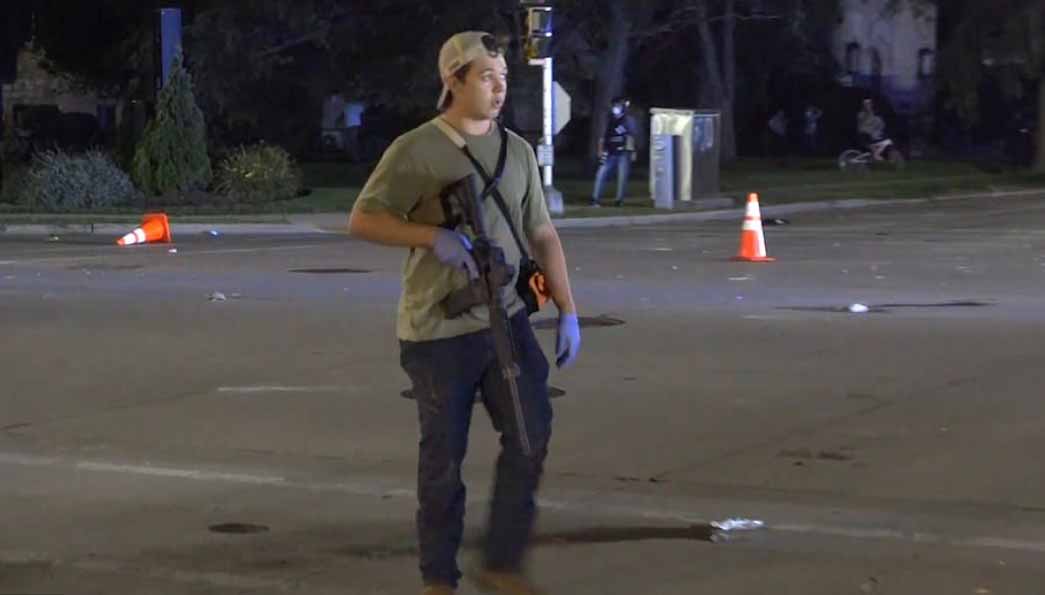 Another video from before the shooting allegedly shows the teen guarding a local car shop with a group of armed militia members. Rittenhouse was also one of the volunteers spotted earlier on Tuesday, cleaning graffiti from a high school.
Rittenhouse's arrest occurred shortly after President Trump claimed that Wisconsin officials had accepted federal law enforcement support. This decision followed several days of unrest across Kenosha provoked by the shooting of Jacob Blake.
Jacob Blake, 29, a father-of-six, was struck seven times in the back while unarmed and non-threatening by police who were following him with guns drawn. He was reaching to his car in a bid to walk away from the officers. Three of his young sons inside the automobile and witnessed their father being gunned down. Police have not explained why Blake was shot.
The gunman can be seen in video shooting someone in a car lot, then opening fire again as members of the crowd closed in him.
Police apparently then let him leave, which Sheriff David Beth explained as a result of the chaotic scene with 'people running all over the place'.
Rittenhouse was assigned a public defender in Illinois for a hearing on Friday upon his extradition to Wisconsin. In the state of Wisconsin, anyone 17 or older is treated as an adult in the criminal justice system.
A cellphone video of the same night shows a man who was shot in the head, followed by the gunman running away and saying: 'I've just killed somebody.'
However, it is still unclear what was the initial reason behind the shooting. Police fear it may have been provoked by a conflict at a gas station between 'self-styled militias' defending local businesses from looters.
The other two shootings were captures in separate videos. They show the 17-year-old stumbling and falling in the street before two men appeared to attack him. From his seated position, the gunman fired several shots, hitting one who fell over clutching his chest and another who stumbled away, putting pressure on his arm.
Onlookers say the shooter was 'definitely very agitated'. 
Witness Sam Dirks, 22, from Milwaukee, said:
"He was definitely very agitated. He was pacing around, just pointing his gun in general. Not necessarily at anyone specifically."
Julio Rosas, 24, described the scene where the gunman stumbled and fell:
"Two people jumped onto him and there was a struggle for control of his rifle. At that point during the struggle, he just began to fire multiple rounds and that dispersed people near him."
Another witness, Devin Scott, told the Chicago Tribune:
"We were all chanting 'Black Lives Matter' at the gas station and then we heard, boom, boom, and I told my friend, that's not fireworks. And then this guy with this huge gun runs by us in the middle of the street and people are yelling, 'He shot someone! He shot someone!' And everyone is trying to fight the guy, chasing him and then he started shooting again."
About 300 demonstrators defied the city's 8 pm curfew on the third night of protests in Kenosha.
Governor Tony Evers declared a state of emergency following a night of violence and destruction that saw rioters set fire to businesses and vehicles across the city.
Night 3 in #Kenosha starting off with plenty of fireworks and fence banging: pic.twitter.com/rH7LrBogiB

— Richie🎥McG🍿 (@RichieMcGinniss) August 26, 2020
After Kenosha County sheriffs deputies warned crowds they were engaging in an unlawful gathering, the people participating in the demonstration responded by chanting 'Black Lives Matter'. The police then fired rubber bullets towards the crowd. Gov. Evers said:
"We cannot allow the cycle of systemic racism and injustice to continue. We also cannot continue going down this path of damage and destruction."