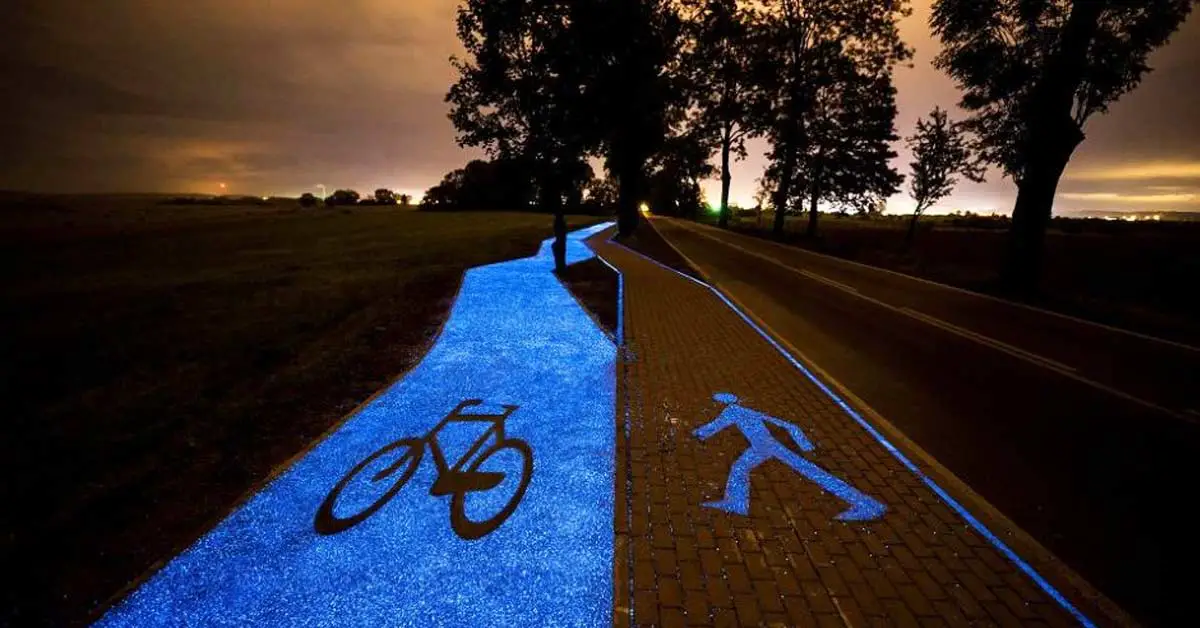 Glow-in-the-dark bicycle path charged by the Sun in Poland
Getting around on a bike not only lets you stay in shape, but it's also the most eco-friendly means of travel. While cycling, you can definitely help keep your carbon footprint down.
There is a town in Poland, where riding a bike is even more beneficial for the environment than usual.
In Lidzbark Warmiński, a local company has built a prototype bicycle path that absorbs sun rays by day so that it can illuminate the cyclists' lane at night.
This innovative bike path's surface contains phosphor. It is a synthetic material that can emit fluorescent light for hours in the dark, after absorbing sunlight all day long.
The inspiration behind the project was Van Gogh Path by Studio Roosegaarde in the Netherlands. This path is made of thousands of twinkling stones inspired by Vincent Van Gogh 'Starry Night'. It takes part in the plans of smart roads using energy and useful data that interacts with the traffic situation.
However, Poland's modern technology is quite different. While the Dutch version uses LED lights, this one is entirely dependent upon solar power collected during the daytime.
The glowing path was created by TPA Instytut Badań Technicznych Sp. z o.o. According to the president of the company, Igor Ruttmar, the material they have used gives light to the lane for over ten hours. This means that it will be illuminated throughout the whole night, and then reaccumulate light the following day.
Clearly, the main goal of this luminous path is to ensure

the safety of bikers during nighttime.
What's more, it is also sustainable, cost-effective, and absolutely mesmerizing. Besides, designers made the neat decision to use blue color, so it could match the surrounding landscape. 
If you love cycling, and you've thought about visiting Poland, here is one pretty good reason to do it!