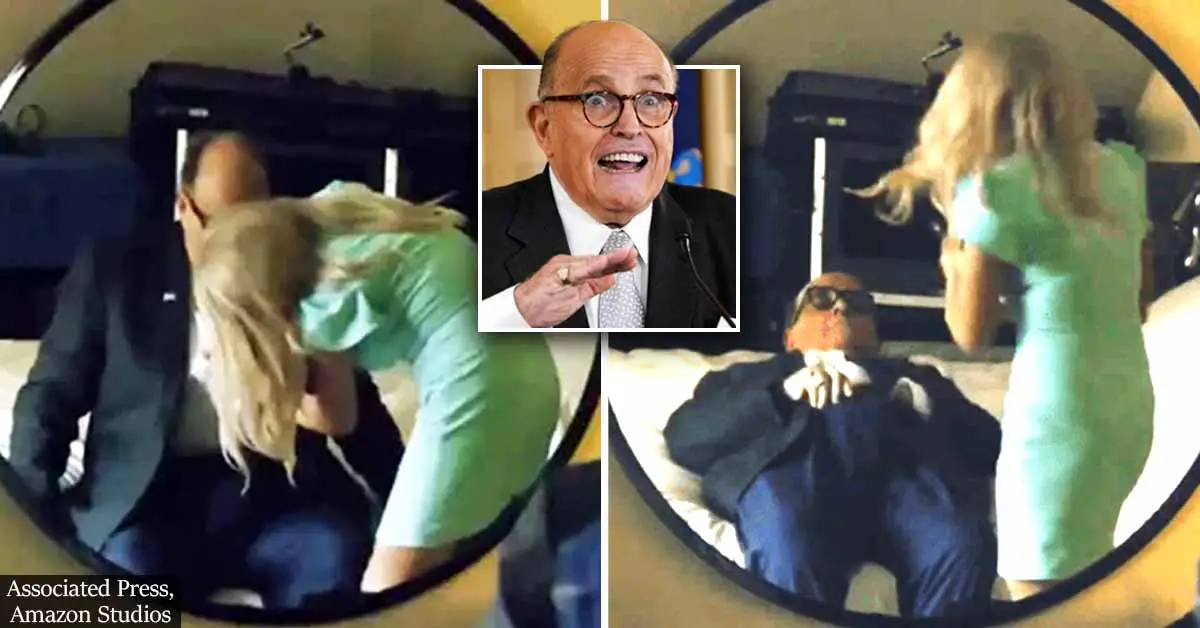 Rudy Giuliani, Trump's personal lawyer, might star in an embarrassing scene in the new Borat movie.
The new Borat film may contain a compromising scene of Rudy Giuliani in a hotel room with a fake female interviewer.
Trump's lawyer claimed that the video was a 'complete fabrication'. 
The news of the inappropriate scene comes as Giuliani said he got contents from the 'laptop from hell'.
In the awkward scene, Giuliani is interviewed by Borat's 'daughter' Tutar, posing as a conservative reporter, who then brings him to a hotel room, Daily Mail reveals.
While at the hotel room, the attorney lies on a bed and seemingly puts his hand down his pants. It was at this point when Sacha Baron Cohen's popular character Borat bursts into the room and interrupts him. The woman who plays in the role of Borat's daughter is 24-year-old Bulgarian actress Maria Bakalova.
In his well-known Borat style, Cohen says screaming:
"She's 15. She's too old for you."
Here's a still from Borat's Giuliani scene. You can thank me later. pic.twitter.com/0gJvLeSrds

— Nikora (@MoaVideos) October 21, 2020
Giuliani called the incident 'hit job'.
The former New York City mayor insists the scene was 'doctored by in any event'. He believes he was being targeted due to his role in revealing the contents of Hunter Biden's 'laptop from hell' as Trump calls it. In an interview with WABC radio, the president's lawyer said:
"They'll do anything, they'll attack me over anything possible. And now the idiot Borat is going after me with a totally sensationalized false account of a ridiculous movie, I guess, he has done. It's not an accident that it happens when I turn in all this evidence on their prince and darling Joe Biden, who is one of the biggest crooks in the last 30 years and since I have the courage to say that I'm the target"
(1) The Borat video is a complete fabrication. I was tucking in my shirt after taking off the recording equipment.

At no time before, during, or after the interview was I ever inappropriate. If Sacha Baron Cohen implies otherwise he is a stone-cold liar.

— Rudy W. Giuliani (@RudyGiuliani) October 21, 2020
According to Giuliani's explanations, he thought he was going to a 'legitimate' interview regarding the coronavirus pandemic. Stressing that he was fully clothed throughout the whole scene, he said:
"I was fully clothed at all times and I had to take off the electronic equipment and when the electronic equipment came off, some of it was in the back and my shirt got a little out, came a little out, although my clothes were entirely on."
The attorney says he realized it was 'a set-up' when the interviewer asked him if he'd like a massage. 
Describing the conversation he had with the actress in the hotel room, Giuliani said:
"She says something about, "Do I want a massage?" I realize now that this is a set-up and I call my security guy Brian who's right outside. And then all of the sudden crazy Sacha Baron Cohen runs in with a cape on and he's yelling and screaming all sorts of stupid stuff."
Additionally, claiming that he called the police, he added that if he was doing 'anything wrong', he would not be dialing 911, and Cohen would not have been feeding the scene.
(2) In fact, the NY Post today reports "it looks to me like an exaggeration through editing."

As soon as I realized it was a set up I called the police, which has been noted in THR article on July 8th.

— Rudy W. Giuliani (@RudyGiuliani) October 21, 2020
While Giuliani had described the bizarre situation in July, he did not mention his alleged participation in a compromising scene.

In a July interview for Page Six at The New York Post, the lawyer stated:
"This guy comes running in, wearing a crazy, what I would say was a pink transgender outfit. It was a pink bikini, with lace, underneath a translucent mesh top, it looked absurd."
However, he then failed to hint he may have been caught in an awkward set-up. Although, he did say he then realized the man 'must have been Sacha Baron Cohen' and that he felt proud of himself for not letting Cohen 'get' him.
Christianne Allen, Giuliani's spokeswoman, noted at the time that Cohen interrupted 'an interview for a documentary on Donald Trump's leadership during the COVID-19 pandemic.'
Un-fooled and placid, Mayor Giuliani notified security to call the police. It was then, upon hearing the word police, Cohen turned from a screaming banshee into a fleeing hyena.

I hear he was last seen running down the street in his bathrobe.

Better luck next time, Sacha!

— Christianné L Allen (@Christianne_L_A) July 9, 2020
The fiasco around the new Borat film scene comes as Giuliani said he got contents from the 'laptop from hell'.
Reportedly, the device contains personal photos of Hunter Biden, as well as emails that purport to show that his foreign business dealings stretched to include his father, Joe Biden.
(3) This is an effort to blunt my relentless exposure of the criminality and depravity of Joe Biden and his entire family.

Deadline Hollywood reports CAA had a distribution screening in September where there was no mention of the scene holding any importance.

— Rudy W. Giuliani (@RudyGiuliani) October 21, 2020
As per Delaware Online, on Monday, Giuliani shared files from the infamous laptop with the New Castle County police. According to Mat Marshall, a spokesman for Delaware Attorney General Kathy Jennings, Giuliani's team 'showed up with was evidence that they say was involved in a crime.'
(4) We are preparing much bigger dumps off of the hard drive from hell, of which Joe Biden will be unable to defend or hide from. I have the receipts.

— Rudy W. Giuliani (@RudyGiuliani) October 21, 2020
Furthermore, the following day, the president's lawyer suggested that the so-called crimes were of sexual nature.
'Borat Subsequent Moviefilm,' is expected to be released on Amazon Prime Friday.