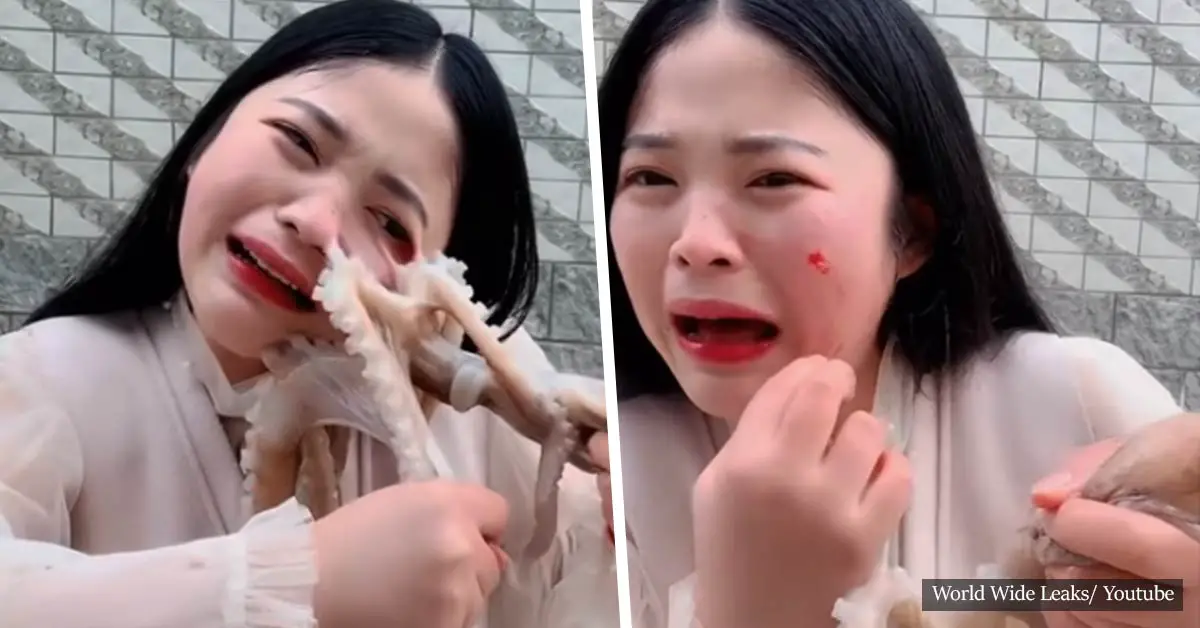 Girl Goes Viral As She Gets Attacked By An Octopus While Trying To Eat It Alive
A video blogger learned the hard way that food is not a toy to play with when she attempted to bite into a living octopus, only for it to viciously attach itself to her face and rip a small piece of her cheek off.
The vlogger, who affectionately calls herself "seaside girl Little Seven," publishes her clips on the Chinese platform Kauaishou.
During her livestream, she tried to eat a living octopus when she realized it had latched onto her face and would not let go.
The Daily Mail reported that Little Seven was trying to eat the creature alive when it activated its suckers, which resulted in her screaming in agony while trying to remove its tentacles.
She opened the stream fairly unbothered by the fact that she was going to eat a living being, but her chill attitude quickly changed to panic when she realized how hard it was sucked onto her face.
While trying to remove the creature, she screamed "I can't remove it," "painful."
When she finally managed to rip it off, it had taken off a tiny piece of her cheek skin. She screamed "My face is disfigured" and "I'll eat it in the next video."
On her Kuaishou page, Little Seven had posted other clips of her eating seafood.
One of the videos shows her playing with a living octopus at the beach, while in another she eats a spiced octopus.
As per reports, she has previously said she does not understand why she cannot gain popularity.
Her newest stunt may have made her more popular, but as per the Daily Mail, she is currently trending news on social media platforms in China, such as Weibo.
Her crazy video has been watched by people from all over the world.
Here are some of their reactions:
My goodness! Why would you risk eating something that can suck your face off first? https://t.co/eMbhaZtdUp

— Kelline Pickett (@Kellinajewel) May 7, 2019
Octopus 1, Vlogger 0 – People like this are why we have warnings on EVERYTHING 🤦🏻‍♀️ #idiot #nosympathy https://t.co/LCm76LzbOE

— Jodie Willis (@ltlblkdress) May 8, 2019
Iuch! That will teach her a lesson not to play with Octopus. Poor baby must have been terrified and eaten alive. ☹ https://t.co/rkAwBeXbOk

— Magdalen Jagri (@MagdalenJagri) May 8, 2019
You can see the full video in the link below:
What are your thoughts on this crazy video? Let us know by joining the conversation in the comments and please share this article if you've found it of interest.