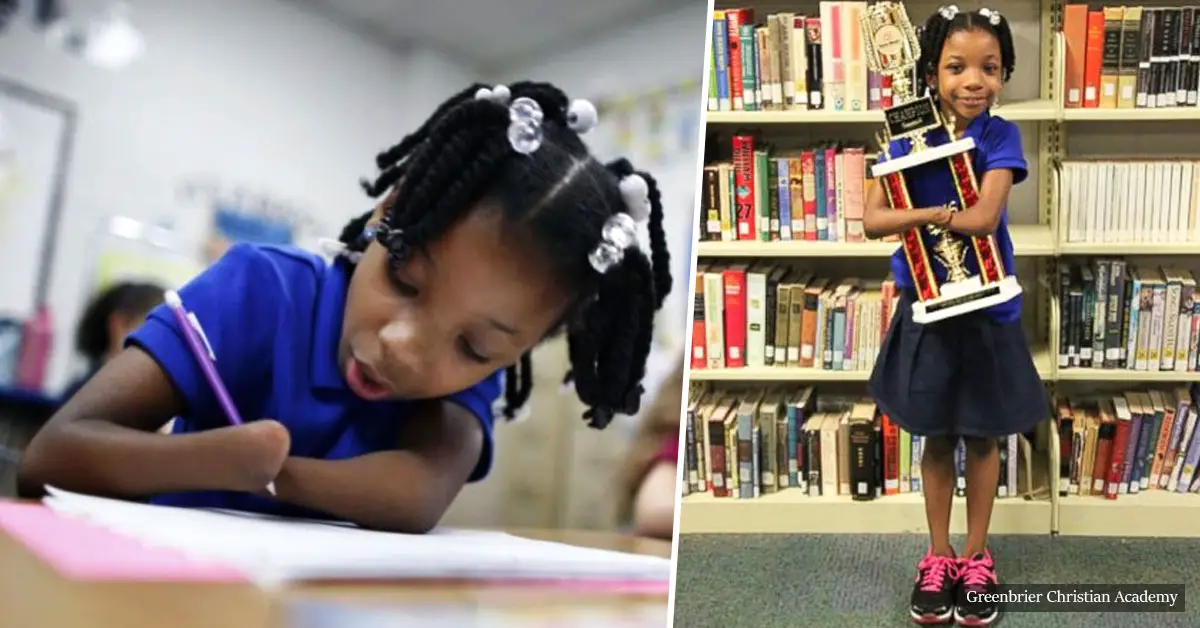 7-year-old girl born without hands wins a National Handwriting Competition
This 7-year-old girl has bested five other children from around the U.S. to win the National Handwriting Competition in 2016.
What's even more impressive is that she won the contest, even though she was born without hands.
The first-grader, Anaya Ellick, from Virginia, fascinated everyone with her amazing talent!
Image credits: Greenbrier Christian Academy
The National Handwriting Contest is an annual event promoting legible writing amongst children from kindergarten to the eighth grade.
Although we live in a world where most of the people with disabilities are still treated differently than the others, Anaya's school Greenbrier Christian Academy in Chesapeake didn't neglect her potential.
Image credits: Greenbrier Christian Academy
The school's principal Tracy Cox was the one who encouraged the girl to enter the handwriting contest. Cox was highly astonished by Anaya's unending abilities:
"There is truly very little that this girl cannot do. She is a hard worker. She is determined. She is independent. She is a vivacious and a no-excuses type of young lady."
Another reason why the 7-year-old's accomplishment is so remarkable is that she didn't use the help of prostheses to achieve it.
The little fighter won the 2016 Nicholas Maxim Special Award for Excellence in Manuscript Penmanship. This specific category of the contest encourages students with disabilities to embrace their talents.
Image credits: Greenbrier Christian Academy
Kathleen Wright, the director of the competition, was amazed by Anaya's handwriting, saying it didn't show her disability at all.
"We looked at her writing and were just stunned to see how well her handwriting was, considering she writes without hands. Her writing sample was comparable to someone who had hands."
Anaya's proud mother, Bianca Middleton, shared that people are constantly looking down on her baby girl. But after talking to her, and seeing her talents, they often become speechless.
"Out of this world, people always say 'oh my gosh she is beyond her years how she speaks, everything that she does.'"
In 2018, Anaya, then 9-year-old, won another handwriting competition!
This time it was the National Cursive Handwriting Contest.
Image credits: Greenbrier Christian Academy
Tracy Cox is probably the proudest school's principal. She expressed her astonishment with the extraordinary girl.
"Anaya is an extraordinary young lady.  Her tenacity continues to inspire all of us at GCA. Anaya's well-earned first place finish reminds us all what determination and hard work can achieve. We are so proud of Anaya and her accomplishments."
Image credits: Greenbrier Christian Academy
Congratulations to this incredible little girl! Her stunning determination and she's an inspiration to us all!