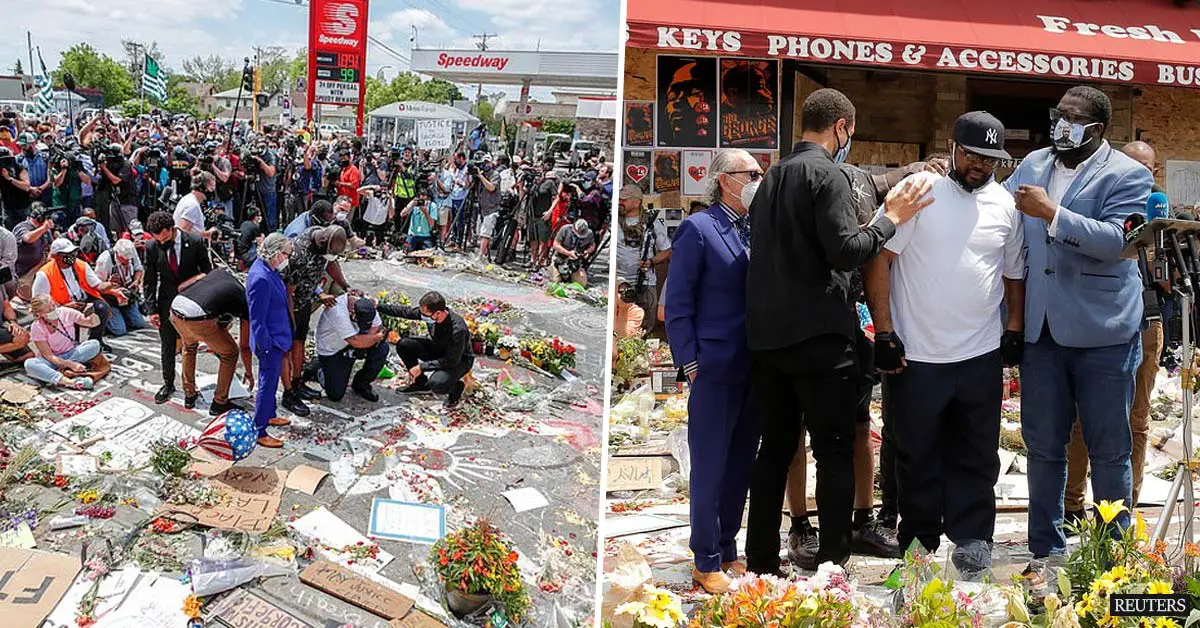 George Floyd's Brother Calls For An End To The Violence
After a week of protests, rioting, looting, and violent encounters with police, George Floyd's younger brother went to the Minneapolis intersection where Floyd died one week ago. 
Terrence Floyd went down on his knees and prayed with tears in his eyes. He talked to the people around him of peace and called for an end of the violence that has erupted as a result of his brother's passing. Later, he led the crowd through a number of chants, which included "Peace on the left, justice on the right," as if to say the two are inseparable.
When he arrived, Terrence was filled with emotion and two men who stood beside him even had to keep him from falling. His brother was a member of a religious family from Texas. So Terrence knelt down, cried, and prayed amid the balloons, flowers, protest signs, and candles left at the location of George's death.
Full speech by George Floyd's brother, Terrence Floyd

"What are y'all doing? Y'all doing nothing. Because that's not going to bring my brother back at all."

"Let's switch it up, y'all. Let's switch it up. Do this peacefully. Please."pic.twitter.com/NKewXbzZpN

— Breaking911 (@Breaking911) June 1, 2020
The signs surrounding Terrance said things like "I Can't Breathe", and "WE CAN'T BREATHE". Most of the people who watched him were wearing masks. 
At some point people began yelling, "Take a knee!" and more than 50 people did so.
"First of all, first of all," Terrence Floyd said. "If I'm not over here wilin' out, if I'm not over here blowing up stuff, if I'm not over here messing up my community — then what are y'all doing? Nothing, because that's not going to bring my brother back at all."

"So let's do this another way," he added. "Let's stop thinking that our voice don't matter and vote…because it's a lot of us and we still going to do this peacefully."
— TONY 2.0™️ (@TONYxTWO) June 1, 2020
The grieving brother then led the group in a chant of, "Peace on the left and justice on the right."
Terrence thanked the people for their support and urged them to continue to fight for justice in the case of his brother's death. Then followed a chant referring to the fact that only one of the four officers involved in the case has been arrested and charged by police: "One down, three to go."
What are your thoughts on this story? Let us know by joining the conversation in the comments and please share this article if you've found it informative.