Gay couple, who tried to 'pray away the gay' while being raised as Mormons, welcome triplets
Gay couple who were raised as strict Mormons celebrates the birth of their triplets.
Jake and Sean Taylor-Baumann are now the happy fathers of three beautiful babies.
Both men were raised in strict Mormon households and even tried to "pray away the gay," but their love prevailed.
After seeing their triplets for the first time, they are certain they "wouldn't change a thing."
 

View this post on Instagram

 
Jake and Sean Taylor-Baumann from Salt Lake City, Utah, are now the happy fathers of adorable triplets, Daily Mail reports. The couple fell in love after meeting via a dating app. Although they were both raised in strict Mormon households, and they even tried to "pray away the gay," faith had other plans for them.
Jake, 30, and Sean, 27, met on Grindr back in 2012. They became best friends with a similar cause – to "work through the gay thing" and find "understanding wives" who will help them remain in the church. But instead of forming a friendship, they were slowly falling in love. Jake said:
"We realized that our friendship was more than that and we fell in love pretty fast becoming each other's very first boyfriends."
 

View this post on Instagram

 
The couple decided to follow their hearts, so they left the church and came out to their families. 
 

View this post on Instagram

 
Luckily, both Jake's and Sean's families accepted their love after seeing how happy they are together. Jake commented:
"Initially, it was tough for our families when we came out to them. Luckily, they are incredible people, and could see how truly happy we were finding each other. It didn't take long for them to embrace what they didn't understand and accept our authentic selves."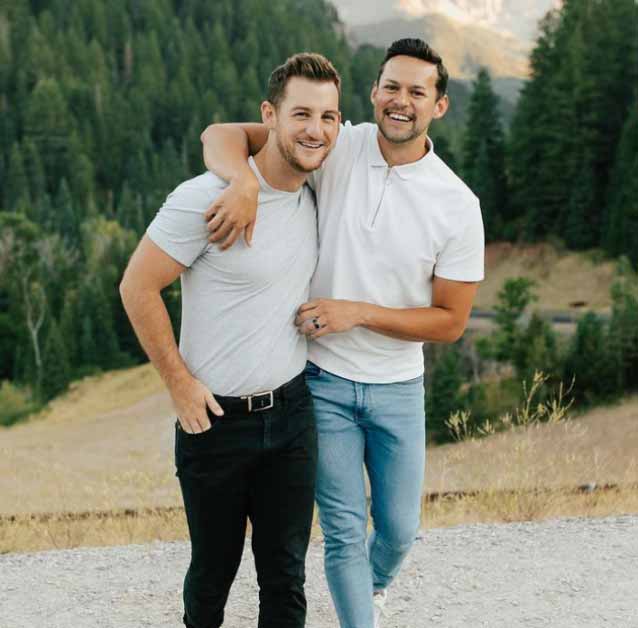 In 2016, with their loved ones' blessing, Jake and Sean got married with the intention to start a beautiful family. They initially considered adoption, but later decided on surrogacy.
Sadly, their first attempt was unsuccessful. The mother lost the baby at only 12 weeks. It was a devastating moment for the newlyweds.
Eventually, they were introduced to Heather, 32, who became their new surrogate. Although the family hoped for one child, they were surprised to learn that Heather was pregnant with triplets.
The babies Wren, Willow, and Winston, were born on January 23. 
Unfortunately, the triplets had to spend their first weeks in the hospital because they were delivered earlier than expected. Jake continued:
"They came early at 32 weeks and so spent their first twenty-three days of life in the hospital. It was honestly so surreal seeing our babies for the first time. It was such a high risk pregnancy that we had so much anxiety and worry. When we saw their little faces we were overwhelmed with emotion and tears of joy."
Heather, a mother of triplets herself, supports Jake and Sean on every step of their fatherhood. Jake said:
"She has been so helpful with tips and tricks on how to handle three babies. We ended up learning so much during that time and quickly learnt how to change nappies and feed them from the various nurses. We quickly became obsessed with our three biggest blessings."
The fathers-of-three share there's "nothing that prepares you for this experience."
Even though both Jake and Sean were aware that their new adventure as fathers would be tough, they say: "It's definitely harder than we even imagined."
Jake explained:
"The biggest advice we have received and can give regarding multiples is to stick to a schedule. When one wakes up to eat we wake them all up. It's the only way we can have at least a semblance of normality in our schedule.

All that being said, it has been so worth it. All the years planning, money spent, the terrible miscarriage we went through, and now the sleepless nights. We've definitely been learning patience because everything takes triple the time and it's ok to slow down the pace a bit.

We've learned to enjoy the little moments and to be more present. Our hearts are bursting with love for each one of them. We wouldn't change a thing."
Congrats to the happy couple!