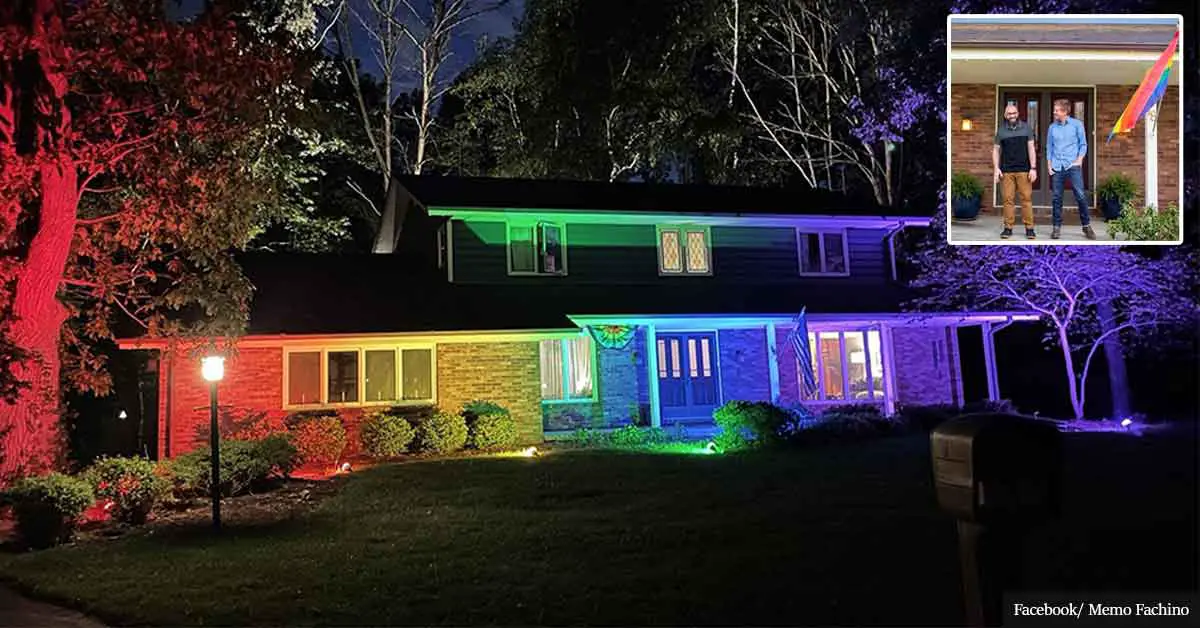 Gay couple told to remove Pride flag from home cover it with rainbow floodlights instead
A gay couple who were told to remove their Pride flag decided to set up rainbow-colored floodlights across the entire front of their house.
According to a new HOA law, a Wisconsin gay couple had to remove their Pride flag from the front of their house. 
The day after the new rule was introduced, the pair received an e-mail that someone had reported them for violating the guidelines, and they had to take the flag down. 
As a response, the couple set up rainbow floodlights all over the exterior of their home. 
Memo Fachino, 35, and Lance Mier, 36, from Wisconsin, have been together for eight years. The couple got married five years ago and have had a Pride flag hanging outside their home since 2016.
To their surprise, the Homeowners' Association(HOA) recently voted on a new rule banning all flags in the neighborhood, except the U.S. national flag. Following the new law, an anonymous neighbor apparently called to complain about Fachino and Mier's rainbow flag, so they were forced to remove it.
However, as Daily Mail reports, the couple found a clever loophole in the new guidelines. Even though they had to take down the Pride flag, the law didn't say anything about rainbow lights. So, Fachino and Mier put on colorful floodlights that cover the entire front of their house.
The couple shared their story on Reddit, and their post got tens of thousands of reactions in no time.
In the post, Memo and Lance explain:
"Our HOA decided last month that we're only allowed to fly the USA flag, and nothing else. The day after the decision, we receive an email that someone reported our Pride flag (that we had in our house since 2016), and that we needed to take it down."
As the good neighbors they are, instead of opposing the rule, they complied and took the flag down. Although, they weren't finished with their response to the situation.
"Looking through our new rules, we noticed that removable lights are permitted without restriction so… we bought 6 colored floodlights, and we washed our house in pride colors.

A little less subtle than our simple flag. A lot more fun for anyone complaining about the flag itself and what it represents."
Despite the disturbance, the couple doesn't believe that the new HOA law aims to attack them personally. 
In an interview with BBC, Fachino said:
"The board passed this rule trying to be proactive, and to prevent friction between neighbors who may be flying opposite political or opinion flags. It's a simple rule that applies to all of us equally. We don't feel like it was created to prevent us from flying our flag or trying to have it removed ahead of Pride month."
Speaking to the Milwaukee Journal Sentinel, he added:
"We're not trying to stick it to anyone. We don't feel targeted or attacked in our community. It was just a fun way for us to show our individuality and support in a way that didn't break any HOA rules."
Nonetheless, the couple was told to remove their Pride flag only after a neighbor complained about the violation. 
Fachino commented:
"There are some other flags still flying around the neighborhood that have not come down mainly because nobody reported them. For whatever reason, one neighbor just happened to report mine. I don't know the reason for it and didn't go around reporting everyone else. We also didn't try to make a huge statement (against the association)."
Luckily, many of Memo and Lance's neighbors "have been supportive." 
Expressing his delight with the loophole they found, Fachino told the Huffington post:
"We wanted to have a Pride display for June, and we wanted to abide by the rules, so we found a way to do both.

We are proud to be able to do this. We recognize this privilege. We feel strongly that diversity and self-expression enhances the neighborhood and makes it a more inclusive place to live."