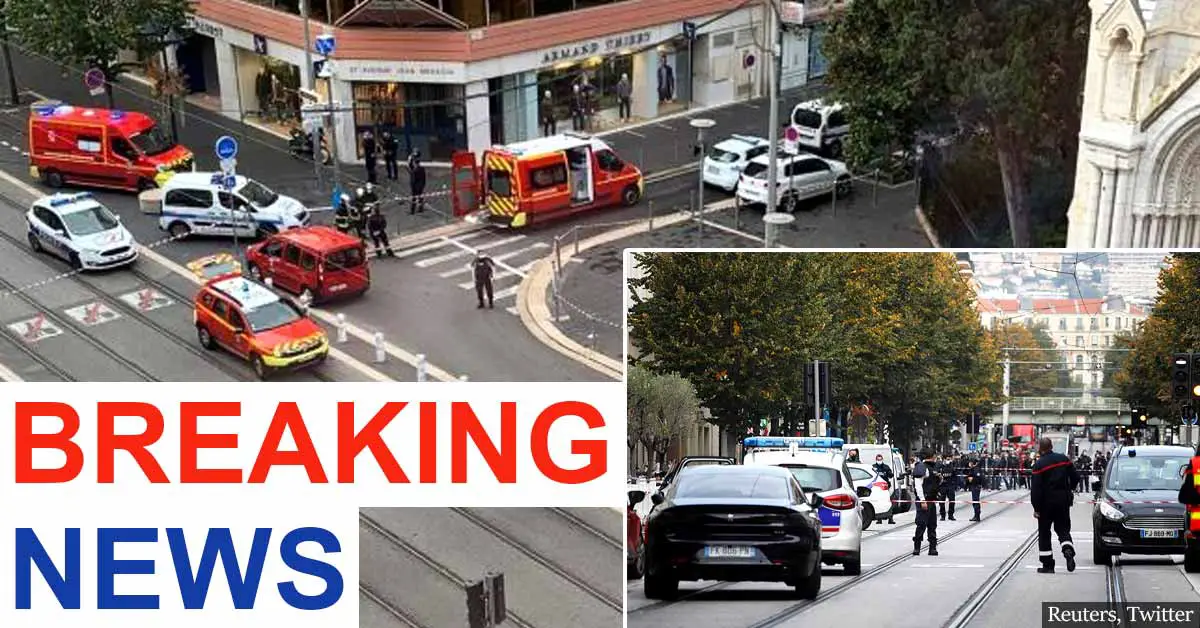 France Terror Attack: Woman and Man Beheaded in Mass Stabbing at Church in Nice
A man and a woman have been beheaded in a terrorist attack outside a French church, media outlets report. 
French publications reported that at least three people have been murdered, others have been severely injured, and a man has been arrested after being gunned down.
According to Actu17, a woman was beheaded and a man's throat was slashed open outside the church before the terrorist was shot.
In a tweet, Nice's mayor Christian Estrosi said:
"I confirm that everything suggests a terrorist attack."
Estrosi also told reporters that the attacker,
'kept shouting Allahu Akbar even after being medicated', and that 'the meaning of his gesture is not in doubt'.

'Enough is enough,' he added. 'It's time now for France to exonerate itself from the laws of peace in order to definitively wipe out Islamo-fascism from our territory.'
Yeasterday, President Erdogan of Turkey warned of France wanting to start a new crusade.

This morning, Islamic terrorists murdered two Catholics in Nice, beheading one Catholic woman and slitting a Catholic man's throat.

They also stabbed several others. pic.twitter.com/Ltu5bgaJqO

— Catholic Arena (@CatholicArena) October 29, 2020
The horror story comes following heightened fears in France due to the recent cartoons of the Prophet Mohammed released by Charlie Hebdo.
Gerald Darmanin, the French interior minister tweeted:
"A police operation is in progress.

"Avoid the area and follow the instructions."
He also said he has summoned a "crisis meeting" because of the terrorist attack.
French police said:
"A man has been arrested at the scene after being shot by police.

"At least two people dead and others injured."
Police confirm the beheading of one woman at the #NotreDame church in Nice in #France. The terror attack leaves 3 dead so far. The terrorist has been shot and is in critical condition. pic.twitter.com/fNpJ4iv79F

— IndSamachar News (@Indsamachar) October 29, 2020
France has angered Turkey and Iran as it has taken a firm stance to defend its right to free speech by standing behind Charlie Hebdo.
France's crackdown on Muslim groups after the beheading of a schoolteacher has angered Muslim nations, which are calling for a boycott of French products. https://t.co/e7Ra6NrvT6

— The New York Times (@nytimes) October 27, 2020
47-year-old Samuel Paty was beheaded by Abdullah Anzorov, 18, earlier this month after he used the cartoons to teach his pupils about the crucial importance of free speech.
Paty, a history and geography teacher, had been awarded the Legion d'Honneur – the country's most prestigious award – and president Macron insisted that France would "not give up our cartoons."
Cartoons of the Prophet have been publicly displayed in the country in solidarity with the teacher to stand behind the values of secularism and free speech. 
France Projects Giant Images Of Charlie Hebdo Cartoon Of Prophet Muhammed On Buildings Following Teacher's Beheading https://t.co/1dBd05fFut

— Daily Caller (@DailyCaller) October 24, 2020
Emmanuel Macron has said he would reinforce efforts to fight against conservative Islamic beliefs that go against French values.
His words have angered many people in the Muslim world.
The country has been cracking down on what it believes is radical Islam, stating it has searched over 120 houses and shut down a mosque in the city of Pantin.
Paty is being hailed as a champion of Western values by many people in France after his horrific death.
The drawing he showed to his students was the same one that ignited the attack on Charlie Hebdo's offices that cost the lives of 12 people.
Nine people – including family members of the terrorist – have been put under arrest.
Paty's murder comes after another stabbing near the former offices of the publication just weeks prior – in which a terrorist is thought to have tried to target Charlie Hebdo.
Do you believe conservative Islam poses a threat to free speech? Let us know your thoughts by joining the conversation in the comments and please share this article if you've found it of value.