Footage Of "Real-Life Tarzan", Who Recently Passed Away, Shows Precious Moments When He First Entered Civilization
The real-life Tarzan who lived in the jungles of Vietnam for 40 years has passed away of liver cancer aged 52. 
Ho Van Lang returned to civilization back in 2013 after he spent most of his life in the jungle with his father, Ho Van Than.
The two were advised to return to their village after the father's health condition worsened. He passed away in 2017 at the age of 86.
The father and son made the jungle their new home in 1972 after an American bomb wiped out half their family during the Vietnam war.
For 41 years they survived on plants and wild animals while living in a hut made of timber.
According to explorer Alvaro Cerezo, who eventually became good friends with them, Than was scared of leaving the jungle "as he did not believe the Vietnam War was over."
When Lang and Than finally re-entered civilization eight years ago, they were wearing loincloths made of tree bark and had made little human contact.
Lang was a 2-year-old baby when his father grabbed him and sought refuge in the jungle, and he couldn't speak much of the local language.
He also did not know of the existence of women, according to Cezero.
At the end of his life, Lang decided to stay in his home village and lived next door to his brother, working on a farm and bonding with his nephews and nieces. 
Last year he was diagnosed with terminal liver cancer and passed away recently with his family by his side.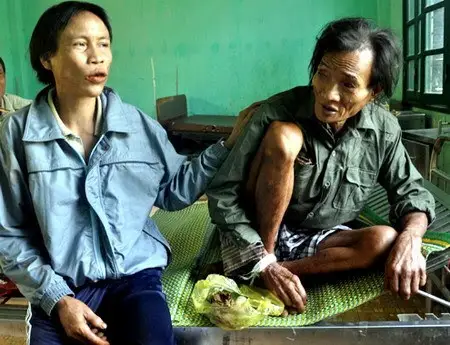 Cerezo said of his dear friend:
"I'm so sad to see him go, but for me, his passing is also a liberation because I know he was suffering in the last months.

"He was a beautiful human being, to forget him will be impossible, I will miss him every day.

"But I didn't like seeing him living in civilisation. I was always concerned that he and his body wouldn't be able to handle such a drastic change.

"He had spent all his life living in the jungle and then came to live in the 'civilised world' where he started eating processed foods and sometimes even drinking alcohol."
Footage of the real-life Tarzan was recently released, showing the precious moments of his first contact with civilization after four decades of jungle life:
To watch the full documentary on Ho Vang Lang's life, please click below.
What are your thoughts on this touching story? Let us know by joining the conversation in the comments and please share this article if you've found it of value.