Flying turtle shattered a car windscreen on a US freeway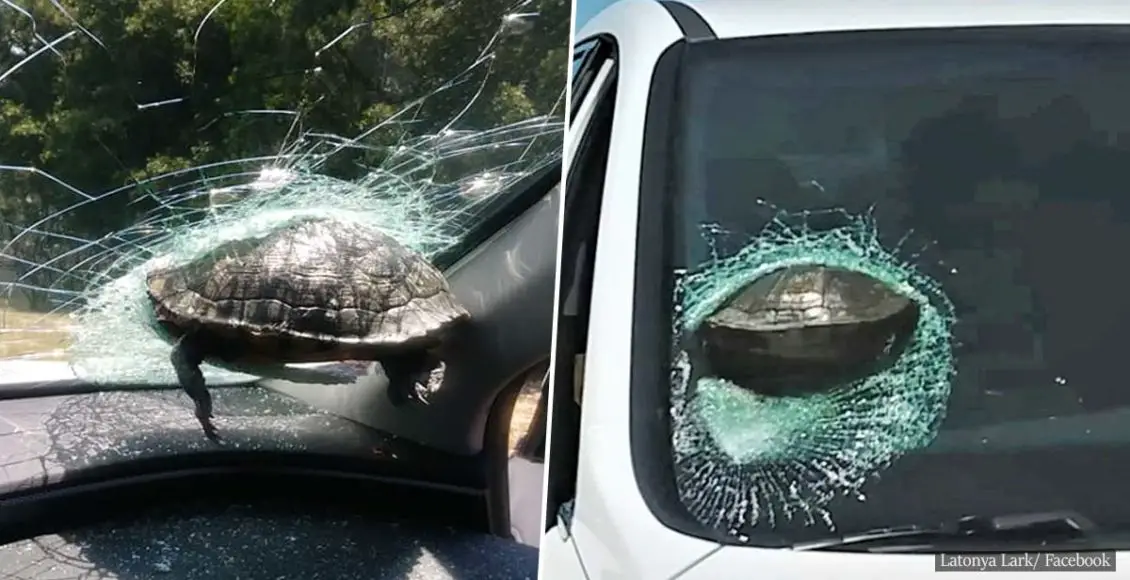 Earlier this month, a flying turtle crashed into a car windscreen on a Georgia freeway.
No, it wasn't a Teenage Mutant Ninja Turtle, but the incident was indeed almost fictional.
On May 12, Latonya Lark and her brother, Kevin Grant, were calmly driving down the Savanna freeway in Georgia, as UNILAD reports. They had no idea they're going to be involved in a chilling experience just a few moments later. Suddenly, a flying turtle smashed into their windscreen.
The unfortunate reptile had been probably clipped by another vehicle, leading to its crash into Lark's windscreen. After smashing into the glass, the flying turtle stuck into the window.
Understandably, the windscreen was badly damaged.
Luckily, the driver, Latonya, remained unharmed.
Meanwhile, her brother suffered a few minor cuts.
In a Facebook post, Lark shared about her unusual experience. She wrote:
"My prior delimer… Mr Turtle was found at fault but he did not have insurance. He got escorted to the Wildlife reserve, I got stuck with the bill. So beware Savannah of flying turtle on the Truman Parkway. My brother almost lost his head. Besides my sugar going off the roof.. I am fine but disturbed.."
A friend of Latonya commented:
"Just when you think you've seen it all.
Corona, murder hornets, now flying turtles! We're doomed ! 😂"
At first, Lark thought the flying object was a brick, as she shares with the news channel WSAV. The driver has urged other drivers to pay attention when being behind the wheel. She adds:
"Even the police officer said if that glass wasn't as thick as it was and I didn't slow down the way I did when I saw the object coming, it would've been disastrous."
Sadly, shortly after the poor turtle was taken away to Savannah Animal Care for medical treatment, it succumbed to its injuries.
At least Latonya and Kevin went unharmed form the incident.