Fed-Up Citizens Spray Ink And Play The Bagpipes In The Faces Of Climate Change Activists For Blocking The Roads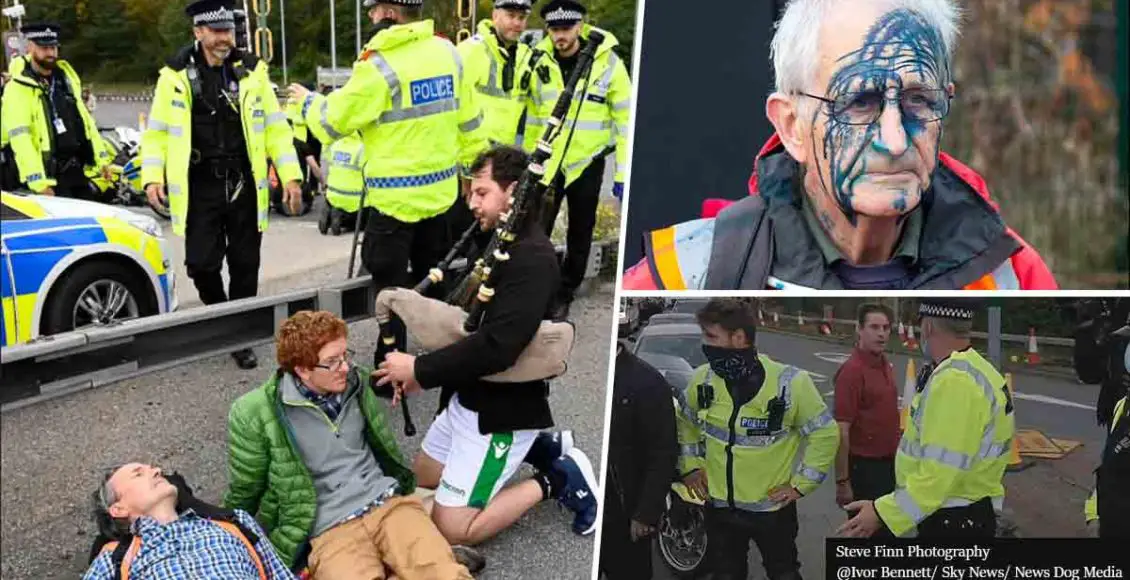 British motorists have taken matters into their own hands by spraying climate change activists with ink and playing bagpipes loudly in their faces while they blocked roads. 
The Insulate Britain activists blocked sections of the A206, near the Dartford Crossing, and the A40, in West London, recently in their 16th blockade of England's streets and highways.
Footage shared by the activist group from the latest scene in London, showed a man spraying and covering demonstrators' faces with Ink, as he walked by.
According to Metropolitan Police, such an attack on a citizen can carry up to six months in prison, but no arrests in connection with the incident have been made yet.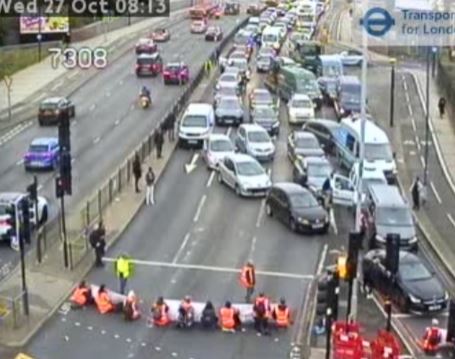 Another fed-up citizen was recorded playing the bagpipes at the protesters' faces, so they could understand how "obnoxious" they were being.
The man, who was wearing football shorts and appeared to have a Scottish accent, brought the bagpipes from his car to annoy the activists.
He said:
"They are holding up ambulances, fire trucks. Disgraceful. You're damaging your cause.

"What I was doing, obnoxiously, bagpiping in your face, is what you're doing to all this traffic – you're obnoxiously holding up people's lives."
Christian Murray-Leslie, the 77-year-old retired doctor, who was on the receiving end of the ink spraying said in an interview:
"It wasn't painful, it didn't hurt. It was unpleasant, and sad. The whole thing is sad. It's sad that we have to do this.

"I hate doing this. I'm a retired doctor and have spent my life trying to help people and now I'm reduced to having to do this."
Murray-Leslie, who hasn't had a license to practice since 2009, went on to say that he was extremely worried about provoking more violence against him from other citizens. He has also been involved in causing traffic disruption for the last ten years.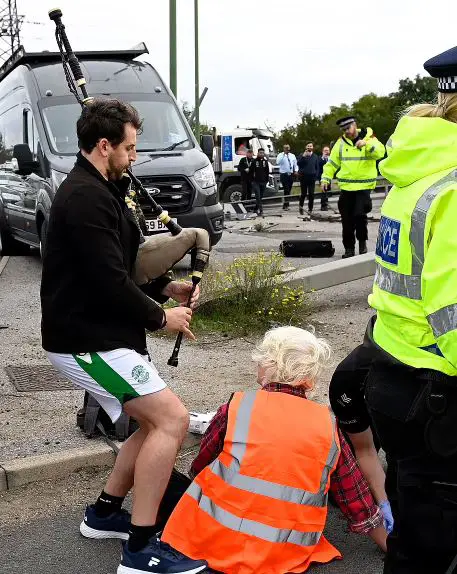 Murray-Leslie is the head of an activist group in Derbyshire who do nightly shifts to stop frogs from getting run over as they cross the road. 
The Derbyshire Amphibian and Reptile Group uses buckets to prevent frogs from being squashed by vehicles and tries to talk drivers into slowing down so the animals won't get hurt.
Police arrested 17 Insulate Britain protesters, six of whom had literally glued themselves to the ground and succeeded in creating a three-hour traffic block. Kent Policemen arrested 32 people for obstructing traffic in a couple of places.
The protest on Wednesday was the first time the group had returned to blocking traffic following the countrywide injunction against them from blocking any motorway or A-road.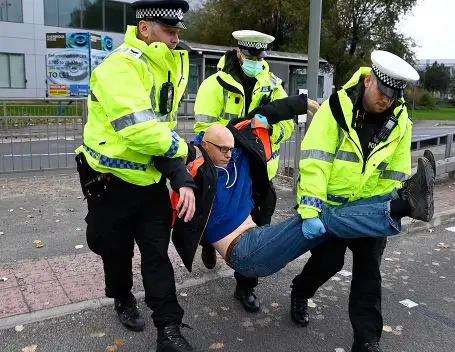 Transport Secretary Grant Shapps said that National Highways were successfully granted the injunction on Monday night, before a "long term" solution is put in place in the form of new police powers in the proposed Police, Crime, Sentencing and Courts Bill.
What are your thoughts on this story? Let us know by joining the conversation in the comments and please share this article if you've enjoyed the read.