Emotional video shows famous Youtuber "Grandpa Kitchen's" final ascend as he sadly passes away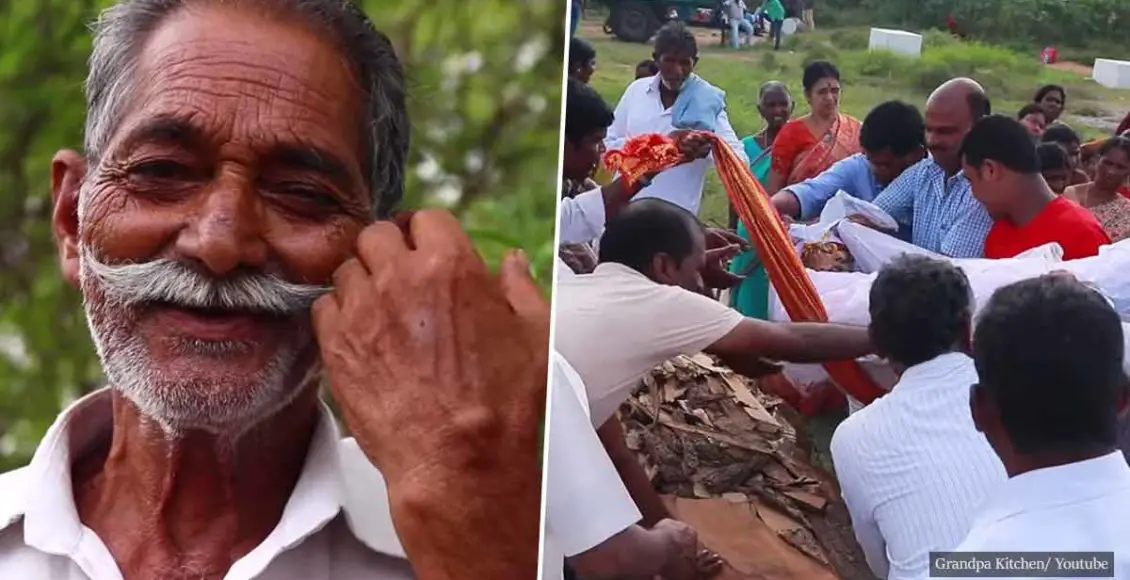 If you have been active on YouTube, you may have seen Narayana Reddy, the 73-year-old-man from Telangana, India, with a heart of gold.
He has been melting the hearts of people around the globe with his joyful videos where he would cook huge meals to feed homeless and orphan children while filming the process.
Grandpa from Grandpa's kitchen is dead. He was the most wholesome man on all of youtube, making large meals which he shared with orphans in his community. Been following him for a long time, and I cant really put into words how painful this is for me.

Rest in Peace pic.twitter.com/ULgDPAUQD6

— Horrifying cheese (@YellowishCheese) October 30, 2019
His YouTube channel named Grandpa Kitchen has accumulated more than 6 million subscribers since it was first opened in 2017 with millions of views for each clip.
He would use traditional cooking methods to make his tasty meals and the children who received the food were more than happy to eat it. It certainly looks delicious!
We will, however, not have the pleasure of watching his wonderful videos anymore, as he has sadly passed away last Sunday (October 27th), his latest and likely last video reveals.
not my grandpa but, I'm gonna miss your cooking video. utterly devastated to know that you are gone. Rest in peace grandpa.😭😭😭.#GrandpaKitchen // Grandpa's Kitchen. pic.twitter.com/QQuesIFN7K

— ₩HΔCKBØł (@WHACKBOI) October 30, 2019
The tribute video shows his final moments and his funeral and is heartbreaking to watch. A lady, believed to be his wife, cries by his bedside as he rests on his deathbed.
The funeral ceremony is prepared and Grandpa is being cremated, along with some of his personal belongings such as his glasses. The emotional video also showcases many of the beautiful moments of him feeding the orphan children.
Just found out that grandpa from Grandpa's Kitchen YouTube channel has passed on. This man is a real hero, cooking to feed the less fortunate kids. Loved his videos.

I hope whatever he started is carried on by someone else. RIP grandpa Narayana Reddy, the world has lost a hero. pic.twitter.com/aYepGxBmRf

— Meeran Siva (@MeeransGTR) October 30, 2019
Grandpa not only fills the orphans' hungry tummies but he also uses the proceedings he makes through his videos and Patreon page to provide essentials such as clothing, school supplies, and even birthday gifts to the orphanages.
People around the world were grieving for the precious old man who put a smile on the faces of so many. They could not believe he was gone forever and said they will cherish his memory because he brought positivity and meaning into their lives.
You can watch the full video in the link below. 
Rest In Peace and may God grant you eternal happiness, Grandpa! You will be missed dearly!
What are your thoughts on this wonderful man? Let us know by joining the conversation in the comments, and please share this article if you wish to pay tribute.