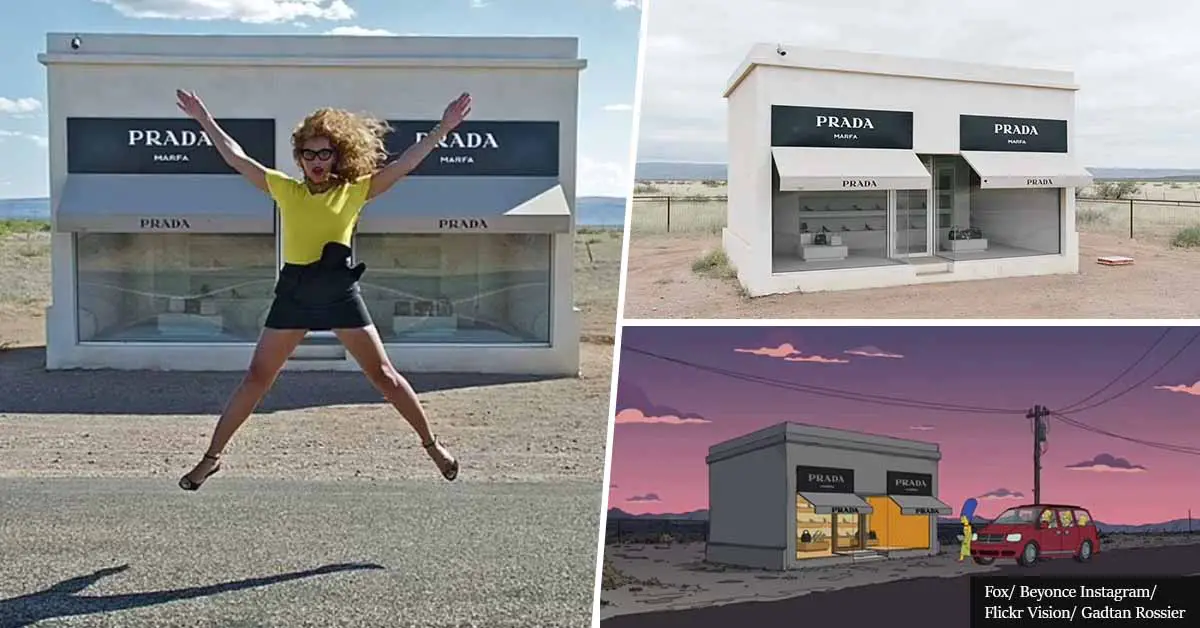 FAKE PRADA store in the middle of nowhere becomes cult destination
A fake Prada store in the middle of nowhere becomes a viral destination. 
Do you remember that scene from The Simpsons with the Prada Marfa store in the middle of the Texas desert? Well, the store is absolutely real! Okay, not 'real' as you cannot buy anything from it, but it does exist!
As Daily Mail notes, the bizarre store is located by the road in the middle of the West Texas desert. Inside the shop, there are original 2005 Prada items, including 20 pairs of heels and six handbags. However, you can't buy any of them.
The store is called Prada Marfa after the Chihuahuan desert small town Marfa. While it looks like a place you can shop in, it is actually a permanent art installation. It was created in 2005 by two Berlin-based Scandinavian artists – Michael Elmgreen and Ingar Dragset.
The unique project was supported by the Art Production Fund (APF) and Ballroom Marfa. Meanwhile, Miuccia Prada, head designer of the supreme brand, handpicked the merchandise for the store's interior and permitted the creators to use the Prada logo.
Originally, the installation was developed as an act of protest against the high-priced commercialism in the U.S. 
Although it was meant to stay for a while and disappear before anyone could ever notice it, the fake Prada store quickly became a viral destination. Celebrities like Byoncé posted in front of Prada Marfa, massively boosting the location's popularity.
It was also included in a Simpsons cameo in 2019, with Marge saying: "It's on the side of the road, so by definition it is a bathroom," while Homer relieves himself around the back of the building.
What's more, the iconic show Gossip Girl also referenced the Prada Marfa building under the spotlight. Though, in the show, the store was actually inside Van Der Woodsen's penthouse.
Today, the fake Prada store is both a cult destination and a hot topic for many influencers and travel vloggers.
Have you ever been to Prada Marfa? Would you like to go and see this bizarre yet stunning location? Let us know in the comment section!