Estonian Workers Think They've Saved A Dog From A Freezing River. It Turns Out To Be A Wolf
On Wednesday, February 20 a group of kind-hearted workers saved an animal that looked like a dog from a freezing river.
But then they found something shocking about it.
A group of men from Estonia was working on the Sindi dam on the Pärnu river when they noticed an animal trying to get out the cold water.
They didn't waste time and hurried to save the struggling animal they thought was a dog. The men made a path in the ice and took the dog out of the water. Then they took it to a vet clinic.
Surprisingly, there the doctors told them this wasn't a dog, but a wolf.
BBC informs that, the vets weren't 100% sure if the wolf was one. But a local hunter assured them the animal was a young male wolf.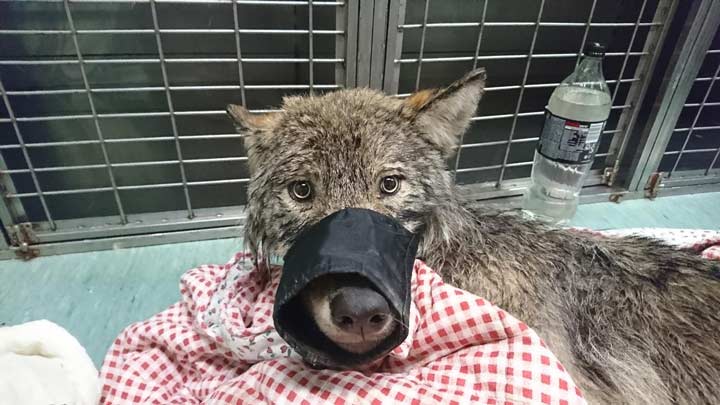 Source: Eestimaa Loomakaitse Liit
The Estonian Union for the Protection of Animals (EUPA) posted the story on Facebook soon after the wolf had been saved. EUPA said they would pay all the medical bills in the clinic.
Here is what happened:
When the three young men – Kartsepp, Robin Sillamäe, and Erki Väli -reached the shore, the poor animal was exhausted and almost frozen. They rushed to the car, took a towel and dried the wolf they took for a dog. Then they carried it inside their car to warm up and informed EUPA. Employees at the Union advised the men to drive the animal to the Terveks vet clinic in Pärnu.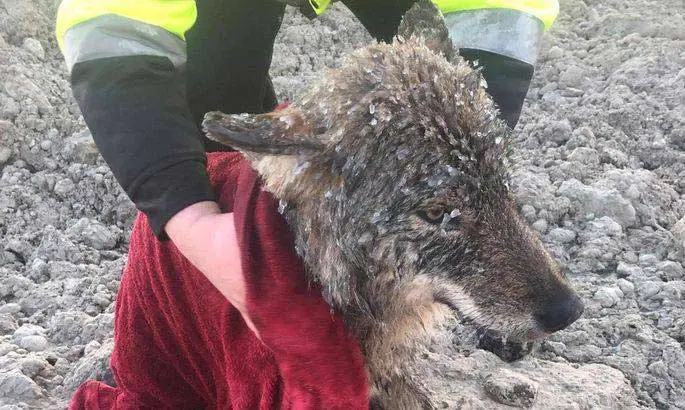 Source: Eestimaa Loomakaitse Liit
On the picture above you can see one of them covering the wolf with a towel just after they've pulled it out of the water.
Kartsepp – one of the animal's saviors said:
It was swimming on its own; we cleared a path for it through the ice. We had to carry him over the slope. He weighed a fair bit.
They got to the hospital after travelling peacefully with the "dog" sleeping all the time. At the clinic, the vets informed them that the 'dog' was, actually, a wolf. And as previously mentioned a local hunter also confirmed that.

Because of this unexpected discovery, the vets decided to put the wolf in a cage. Just to be on the safer side.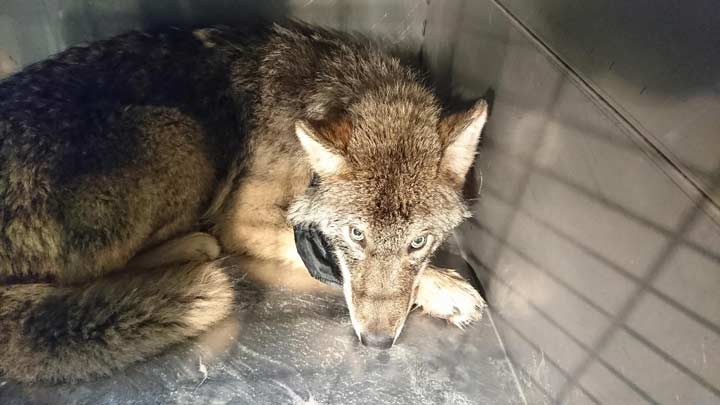 Source: Eestimaa Loomakaitse Liit
Happily, the wolf recovered entirely on the same day. Scientists from the national environmental agency put a GPS collar on the animal and released it into the wild.