Baby boy X Æ A-12 has made a surprise appearance during one of his dad's Zoom calls. 
WARNING: Cuteness overload!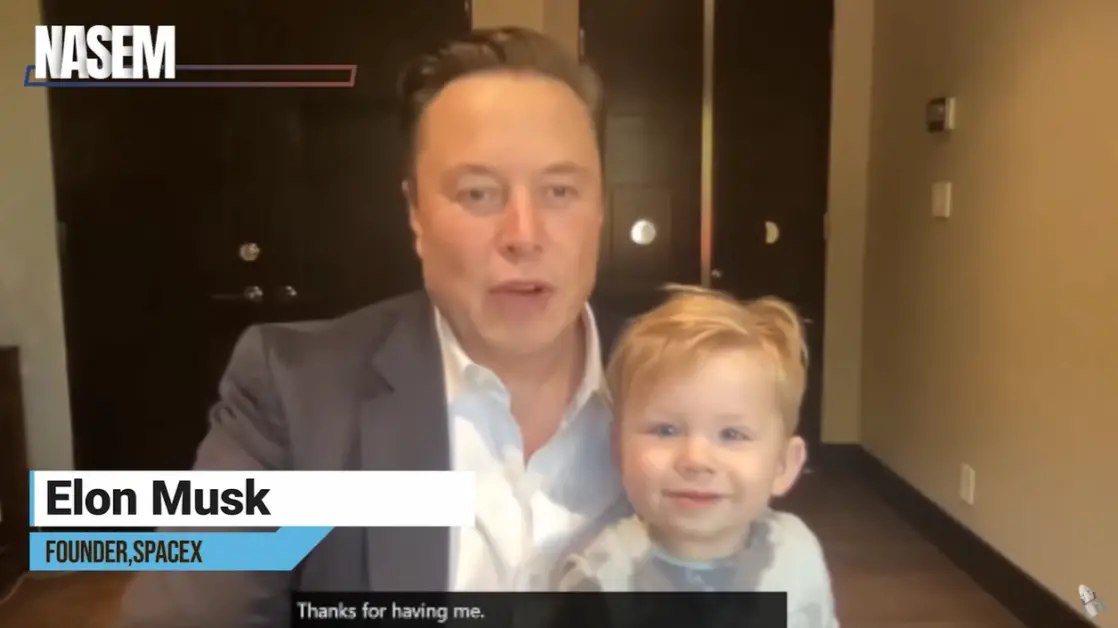 Elon Musk recently had an important conference call with members of the National Academies of Sciences, Engineering, and Medicine. During the Zoom meeting, SpaceX's founder provided a valuable update about the Starship spaceship.
But someone else absolutely stole the show from the richest man in the world.
It was his adorable son X Æ A-12, who made a surprise appearance at the beginning of the meeting. The baby boy can be seen smiling curiously at the monitor and getting excited when seeing footage of the rocket.
At one point, Baby X even says "Hi!" to the camera, joyfully waving his arms around. Meanwhile, his dad can be heard chuckling at his charming playfulness.

Credits: SpaceXly / YouTube
Later in the video, X Æ A-12 can be heard saying "Beep, beep!" at the spaceship his dad is about to launch into orbit for the first time early next year.
As Unilad notes, the heartwarming scene gave viewers a rare insight into the billionaire's home life.
Unfortunately, a few minutes into the conference call, someone comes into the room to take Baby X, so Elon Musk can focus on his work. Just as the person closes the door, the little one can be heard crying, clearly disappointed to be missing out on the Starship update.
X Æ A-12 was born on May 4, 2020. His mother, Elon Musk's former partner Grimes, explained the unusual choice of name for their baby in a tweet.
•X, the unknown variable ⚔️
•Æ, my elven spelling of Ai (love &/or Artificial intelligence)
•A-12 = precursor to SR-17 (our favorite aircraft). No weapons, no defenses, just speed. Great in battle, but non-violent 🤍
+
(A=Archangel, my favorite song)
(⚔️🐁 metal rat)

— 𝔊𝔯𝔦𝔪𝔢𝔰 🐉 ᚷᚱᛁᛗᛖᛋ (@Grimezsz) May 6, 2020
Check out the full video of the Starship update with Baby X's surprise appearance: