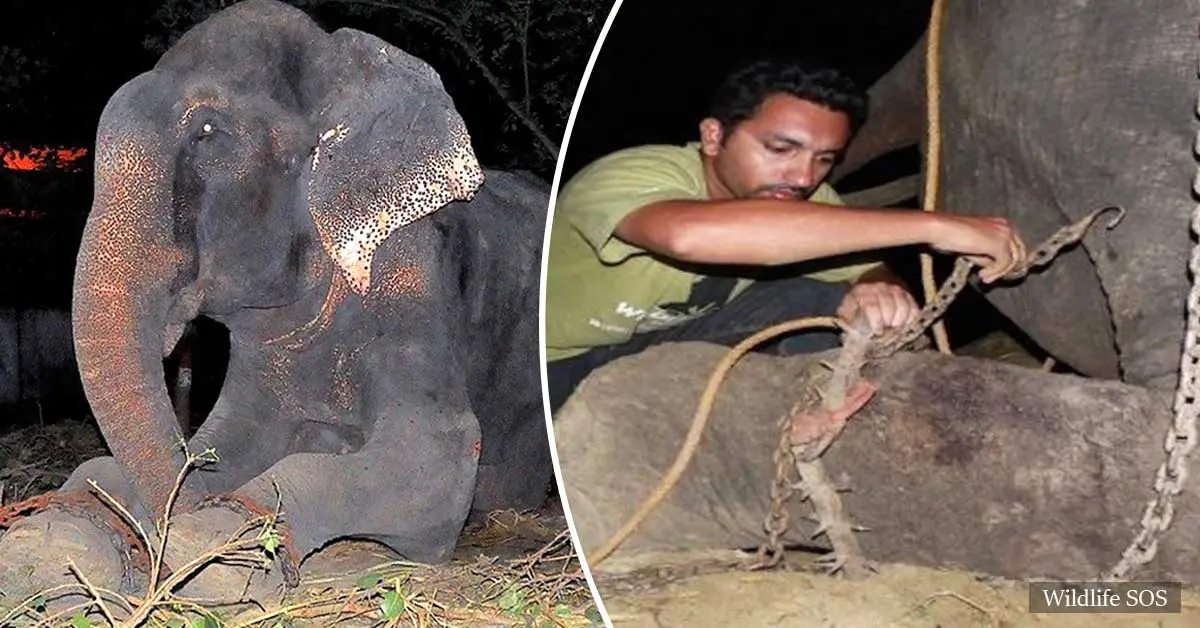 Elephant cries tears of relief while being rescued after 50 years of confinement
Following a five decade long struggle in confinement, with hurtful chains around the feet and treated as property, elephant Ruju was granted his freedom, at last, in the summer of 2019.
For a period of fifty years, Ruju walked on the dusty roads of India, begging for food and coins.
When he was saved, he had marks of physical abuse and had been suffering from malnutrition, but the trauma he had gone through was indescribable.
Pooja Binepal of Wildlife SOS said:
"Raju's case was particularly tragic. He has been sold on and on. We believe he has had up to 27 owners. By the time we found him he was in a pathetic condition.

He wasn't fed properly and was in a state of hunger and exhaustion. He began eating plastic and paper. His nails are severely overgrown, he has ¬abscesses and wounds because of his spiked shackles and ¬continually walking on a Tarmac road has led to his footpad overgrowing."
Ruju was reportedly taken from his mother's care fifty years ago, and he had been suffering ever since. Last July, he was finally set free by UK animal charity Wildlife SOS, and as he realized they had arrived to rescue him he started to cry.
"Raju was in chains 24 hours a day, an act of ¬intolerable cruelty. The team was astounded to see tears roll down his face during the rescue. It was incredibly emotional.

We knew in our hearts he realized he was being freed. Elephants are majestic and highly intelligent animals. We can only imagine what torture the past half a century has been for him,"  Pooja added.
His painful situation was made widely known one year ago, and the rescue team, with the help of local authorities, set in motion a legal process to confiscate the poor creature from his keeper. 
Later on, he was taken 350 miles away, to Wildlife SOS's Elephant Conservation and Care Centre at Mathura, where he was given much needed medical care and started building friendships with the other rescued animals.
Wildlife SOS-UK founder Kartick Satyanarayan said:
"The other elephants in the sanctuary awoke from their sleep as we pulled in and came to have a look — it was an extraordinary moment."
Ruju was kept in isolation for one week so he could receive the needed medical attention, and wildlife officials fought hard to raise money so he can spend his remaining days in a new, more caring environment.
I may be wrong but that looks like a massive smile on # Raju the #Elephant's face 🐘. Thanks to everyone at @WildlifeSOS 👏 👏. pic.twitter.com/CYmvfwoBAC

— PROTECT ALL WILDLIFE (@Protect_Wldlife) November 22, 2016
"All he's known from human beings is pain and suffering — now we're asking to help us help him live out his days, with grass under his feet — free from humiliation and pain. It will be a long rehabilitation process, but we will teach him that humans don't mean pain and brutality, but it's going to take time," Satyanarayan said.
Binepal added:
"Until we stepped in, he'd never known what it is like to walk free of his shackles. But today he knows what freedom is and he will learn what kindness feels like."
Thankfully Ruju is living a better life now.
What are your thoughts on Ruju's story? Let us know by joining the conversation in the comments and please share this article if you wish to spread awareness.