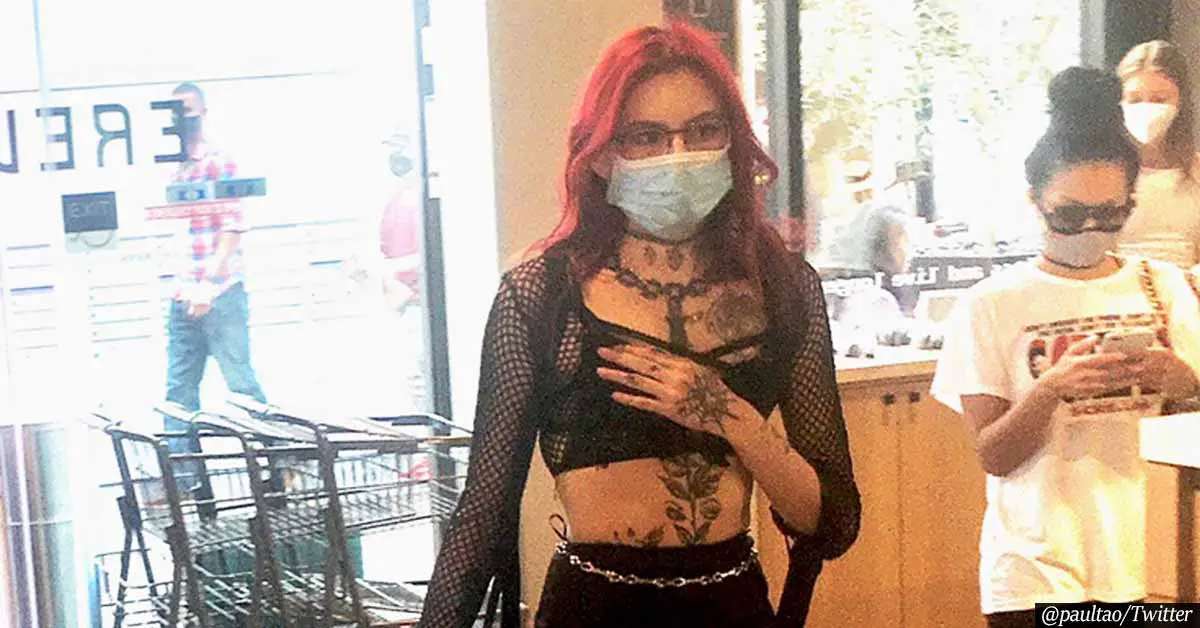 Dominatrix shocks the world after walking man on leash through supermarket
Shoppers at an LA grocery store were left with their jaws dropped after witnessing a kinky public display of a dominatrix taking her slave on a walk on all fours, to buy some necessities. 
An Erewhon shopper was able to take a snap of the dominatrix and her pet. Later, someone sent the photo to IAMSOUND record label co-founder Paul Tao and it went viral in no time.
Tao then tweeted the picture during the weekend and here's what it looks like:
Spotted at Erewhon today. pic.twitter.com/krKoPrXVGX

— Paul Tao (@paultao) October 18, 2020
The Daily Dot found out that the dominatrix in the photo is called Mistress Lark, a 21-year-old bisexual illustrator, and musician.
After an alleged assault by a member of her family, Lark was left homeless at the age of 17.
She became a dominatrix when she was 18 after responding to a sex dungeon advertisement. 
She said:
"I had a few encounters with sex work underage. It was something I wasn't hesitant to do."

"I came across an ad for a dungeon on craigslist, and they said if you qualified you can live there as well. So that's where the journey began."
Lark told The Daily Dot she offers "standard femdom kinks," but enjoys "true, long-term, dedicated" submissives much more.
Here's what she had to say about the day she pulled her shopping stunt:
"I just wanted some juice."

"I was out with my sub and my friends shooting some videos and just doing shopping. We stopped in Erewhon."

"Lots of cameras and attention, but the security let us through valet and let us check out our pricey basket before finally asking us to leave."
— 🏰🏰🏰 (@thatgothdom) July 2, 2020
Despite her appearance and being asked to leave, Lark complimented the employees for their handling of the situation. 
"They said 'we respect what you are trying to do, but we are going to have to ask you to leave'."

"The funny part was that we did have to walk back through the store in order to get the car out of valet."

"The security guards followed us out, lol, but the valet did still give us our free water! Can't knock their service I guess."
The dominatrix refuted claims by people who said she was asked to leave the shop because she was "whipping the guy" or she "sat on the patio and fed him out of a dog bowl" before whipping him "with a crazy belt."
She explained:
"Didn't have a dog bowl yet. We bought one after."

"I did paddle him. No more than twice though."

"He tried to touch my leg too high up my thigh and I didn't like it. There weren't any children nearby or anything."
Tao's sharing of the picture featuring Lark and her human pet stirred quite the debate on social media. 
Tao responded to this by saying:
"I just thought it was really funny. If I had actually been there I prob would have just taken a photo and then gone about my business."

"Definitely surprising but you know, the Erewhon is like a block away from Rough Trade the bondage store so it's not that insane."
Also, he defended the two by saying they were in a public space "and obviously not shy" about their appearance.
He said Lark contacted him to express her interest in further exposure. 
"She asked me to tag her and on her Instagram [and] is telling every big account that posts it to tag her, so she def wants to be in the public eye."

"She only had like 500 followers on Twitter when this started."
What are your thoughts on this story? Let us know by joining the conversation in the comments and please share this article if you've found it of value.