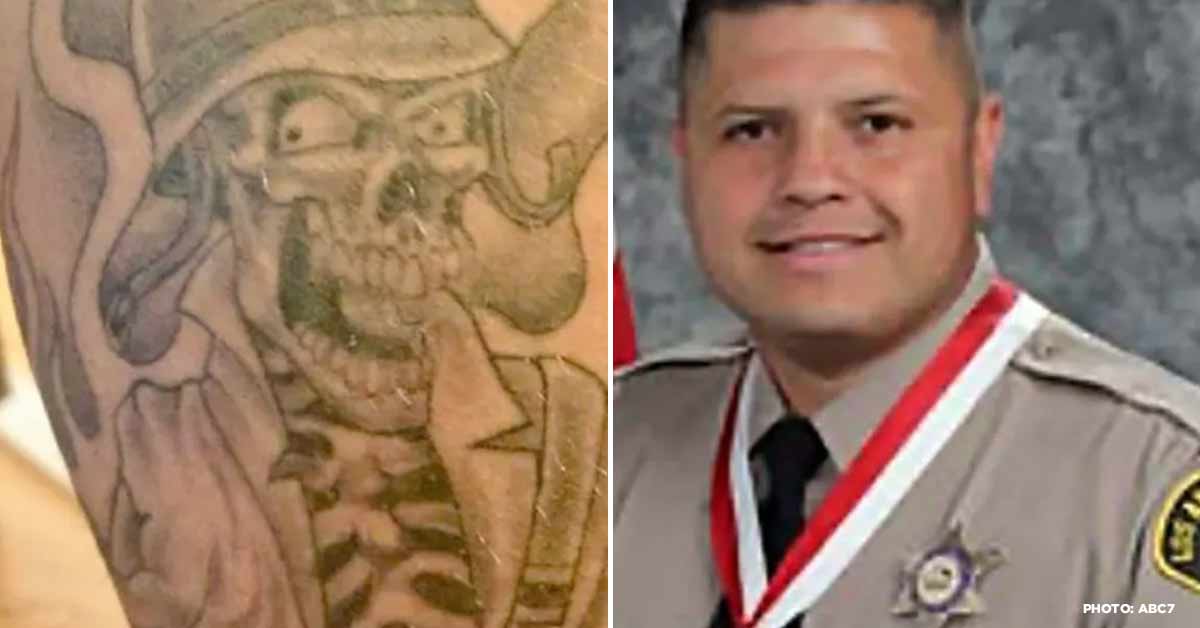 Did an L.A. Sheriff Deputy Kill a Teenager as Part of Police Gang Initiation?
LA County Sheriff's deputy Art Gonzalez has been living in fear because he stood up to an allegedly violent group of police officers. 
He gave a six-hour court testimony regarding a gang of cops at the Compton station referred to as the Executioners.
In his excessive-force lawsuit testimony, he noted that deputy Miguel Vega murdered Andres Guardado, 18, in hopes of being initiated into the gang by proving his worth.
Gonzalez, an ex U.S. Marine decorated for his service in the Middle East, claims he was forced to leave his position as a field training officer because he feared revenge from fellow cops.
He could not hold his silence after witnessing fellow deputy Thomas Banuelos being assaulted by an Executioner. Following the incident, he left an anonymous message on a confidential hotline that was intercepted and sent straight to the Executioners.
After reporting the attack, a note saying "Art is a rat" was placed on the patrol station's entrance keypad.
LASD whistleblower Deputy Art Gonzalez said – under oath – the deputy who shot and killed 18-year-old Andres Guardado was a prospective member of the Executioners, an alleged violent clique of tattooed deputies inside the Compton Sheriff's station. #andresguardado

WATCH: pic.twitter.com/5hZ1TzKTx3

— Kate Cagle (@KateCagle) August 30, 2020
Gonzalez claims there are around 40 members of the Executioners – half of them full-fledged and the other half prospective – at the Compton station, located in close proximity of south LA.
The gang identifies itself by a tattoo of a skeleton wearing a Nazi-style helmet and holding an assault rifle.
According to Gonzalez, they celebrate deputy shootings with "inking parties" where fresh members are initiated into the gang.
"Often the inking is attached to some act of violence, including a shooting. It's the ultimate expression of your commitment to policing and your commitment to the gang," Professor Sean Kennedy of Loyola Law School told ABC 7 News.

"We have a gang here that has grown to the point where it dominates every aspect of life at the Compton station," Alan Romero, an attorney representing Gonzalez, said according to Business Insider.
He added.
"It essentially controls scheduling, the distribution of informant tips, and assignments to deputies in the station with preference shown to members of the gang as well as prospects."
Gonzalez claims that no female and black cops are allowed to join the group.
Deputy Banuelos says he was bullied and intimidated for 5 years by the gang. It was his attack by deputies that made Gonzalez leave his anonymous tip.
Banuelos was told to meet with the enforcer of the Executioners where he was badly beaten and told
"not to cooperate with investigators and to lie about the violent attack."

"It was a very serious, violent and bloody assault which could have killed Deputy Banuelos," Romero said. "He had him on the ground and was literally just bashing his head in with his elbow over and over and over again."
The enforcer told Banuelos,
"if you open your mouth, you'll be labeled as no good, which essentially means that you're open for retaliation in the station by all members of the gang," Romero added.
The family of Andres Guardado, 18, who was fatally shot five times in the back by a Los Angeles sheriff's deputy, has filed a wrongful death lawsuit amid allegations from another deputy that the station is home to a gang or clique of officers. https://t.co/j6s7qLhova

— NBC Latino (@NBCLatino) September 3, 2020
The most shocking allegation made by Gonzalez is that the murder of Guardado was part of an initiation process.
Guardado was approached by officers while he was working his security guard shift at an auto body shop in Gardena. The teen ran and was gunned down by officer Miguel Vega.
Witness Andrew Heney says that the boy
"got down on his knees and surrendered with his hands behind his head but was still shot seven times in the back."
Vega's lawyer says that when the cop approached Guardado, who was lying on his stomach, he quickly grabbed for a weapon and the officer shot him in self-defense.
According to Heney, CCTV footage from the crime scene was confiscated and destroyed by police after the incident.
The case is still under investigation, but the victim's family has filed a lawsuit against the Sheriff's Department and those involved in the crime.
What are your thoughts on this shocking news? Let us know by joining the conversation in the comments and please share this article if you've found it of value.