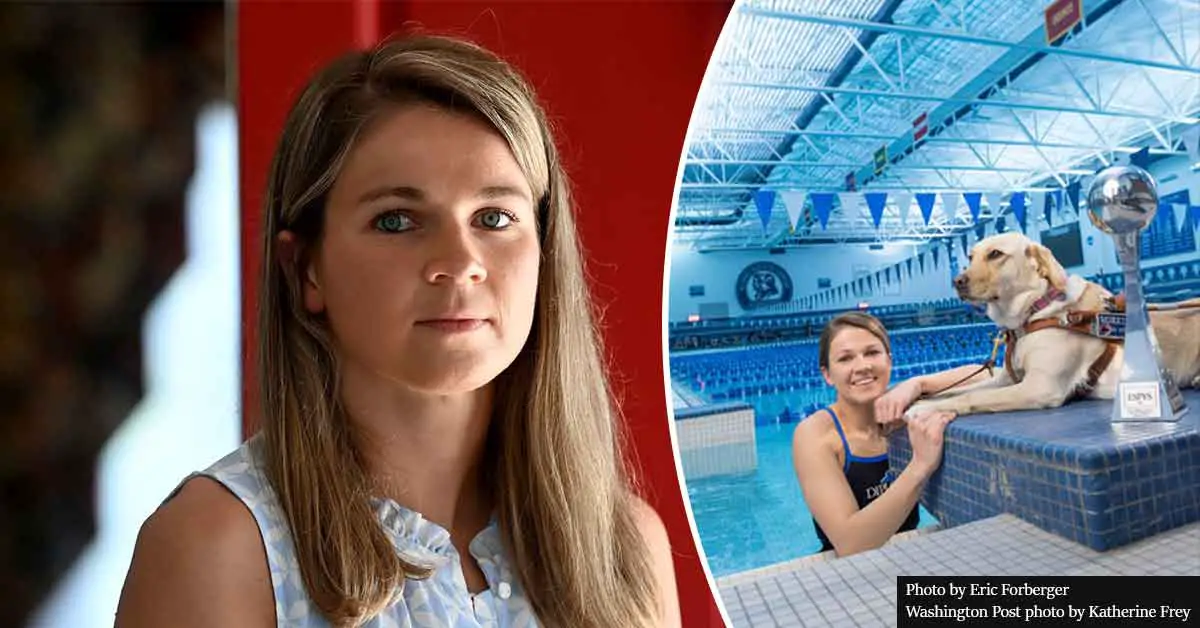 A deaf-blind medal-winning swimmer quit Team USA after they forced her to go alone to the Tokyo Paralympics. 
Becca Mayers, a deaf-blind Paralympian, has left Team USA weeks before the start of the 2020 Tokyo Paralympics.
The swimmer withdrew from the team after the USOPC denied her bringing her own personal assistant, despite her delicate condition. 
The committee told Mayers she is not allowed to have her own PCA due to Covid-19 restrictions and that there will only be one single PCA for the whole team of 34 Paralympians.
Becca Meyers, a 26-year-old deaf-blind Paralympian, who has won multiple gold medals, announced her withdrawal from Team USA for this year's Tokyo Paralympics. The medal-winning swimmer informed U.S. Olympic and Paralympic Committee(USOPC) officials that she refuses to be a part of the team after being denied the right to go to Japan with a personal assistant, whom she needs due to her condition.
As per The Washington Post, Becca said:
"I would love to go to Tokyo. Swimming has given me my identity as a person. I've always been Becca the Swimmer Girl. I haven't taken this lightly. This has been very difficult for me. [But] I need to say something to effect change, because this can't go on any longer."
Mayers was born with Usher syndrome – a condition characterized by partial or total hearing loss and vision loss that worsens over time. Therefore, she requires a personal care assistant(PCA) to perform her duties as a professional athlete and lead a wholesome life like any other human being.
Unfortunately, the athlete was deprived of the chance to compete in this year's Paralympic games the moment she was denied a PCA. 
Back in 2016, at the Rio de Janeiro Paralympics, Becca went through a nightmare having no one to guide her. She had even stopped eating, as she couldn't find the athletes' dining area. Thankfully, her parents rescued her from her living hell and helped her regain her confidence. At the games, five years ago, Mayers won three gold medals and a silver for Team USA.
The following year, the USOPC permitted the swimmer to have her mother, Maria Mayers, travel with her to international competitions as her PCA. With the help of her mother, Becca was motivated to win five gold medals at the Pan Pacific Para Swimming Championships in Cairns, Australia in 2018, and four medals and two world records at the London World Para Swimming Championships in 2019.
Sadly, her winning streak is now halted as her mother won't be permitted to join her at the Tokyo Paralympics.
Upon learning that she would have to go alone, the 26-year-old swimmer made the difficult decision to withdraw from Team USA.
Maria Mayers, Becca's mom, said:
"She's given her entire life for this. It's unacceptable. It's heartbreaking. She is terrified to go [alone]. And I mean terrified — like, rolled up in a ball, shaking."
Becca added:
"I haven't been sleeping. I'm so stressed. My training started to suffer because of this situation, and I just haven't been able to be the best I can be. I know I can be the best I can be with the resources I need. It's worked for the last four years."
The USOPC explained that according to the Japanese government and the Tokyo 2020 organizing committee "there remain no exceptions" even for a PCA. 
Rick Adams, chief of sport performance and national governing body services for the USOPC, wrote an e-mail to Becca's father, Marc Mayers, saying:
"There remain no exceptions to late additions to our delegation list other than the athletes and essential operational personnel per the organizing committee and the government of Japan. As I said to you both on the phone and over email, I fully empathize with your concerns and wish we could fine [sic] a way as we have in the past."
However, Mr. Mayers disagrees with Adams' statement. He commented:
"We contacted the Maryland secretary of state. We had somebody contact the Japanese government, the ambassador — they all say it's not the government [and] it's not the organizing committee. It's the USOPC that's blocking this. They can ask for more [official credentials]. … They just did not plan for her. They knew about this [issue] in February. They said, 'Sorry, we can't help you.' They've had time to fix this, if they asked the right people. They've chosen not to."
The young swimmer confessed:
"No one has ever asked me what I need. No one has ever asked me that question. When we had a meeting in May to discuss this, I presented my case and I said, 'Okay, how do we make this work?' They talked right over me. They dismissed me. They said, 'This is what we have; you're going to have to deal with it.'"
Despite the family's accusations, the USOPC denies taking responsibility.
In a statement, the committee said:
"We are dealing with unprecedented restrictions around what is possible on the ground in Tokyo. As it's been widely reported, [the Tokyo Organizing Committee of the Olympic and Paralympic Games], at the direction of the government of Japan, is not permitting any personnel other than operational essential staff with roles related to the overall execution of the games, into the country.

This position has resulted in some athletes advising us that they will not accept a nomination to Team USA for both the Olympic and Paralympic Games. We are heartbroken for athletes needing to make agonizing decisions about whether to compete if they are unable to have their typical support resources at a major international competition, but our top priority is ensuring the safety of our athletes, coaches, staff and the citizens of the host country."
Moreover, the USOPC has told Mayers there would be only one PCA for the entire U.S. Paralympic swim team, which consists of 34 athletes.
Becca Mayers: "This is the Paralympics. We should be celebrating everyone's disabilities!"
In an emotional Instagram post, the athlete wrote:
"I've had to make the gut-wrenching decision to withdraw from the Tokyo 2020 Paralympics. I'm angry, I'm disappointed, but most of all, I'm sad not to be representing my country.

The USOPC has denied a reasonable & essential accommodation for me, as a deaf-blind athlete, to be able to compete in Tokyo, telling me repeatedly that I do not need a personal care assistant (PCA)."
As for her teammates, 9 of whom are also designated as sight-impaired, she said:
"They all need support. The other athletes need a dedicated PCA as well, but now they're sort of fending for themselves. They're trying to figure out how they're going to get around. I've talked to some of them, and they're afraid."
Despite the current unfortunate development of Becca's situation, at the Paralympic trials last month, she posted the best S12 400-meter freestyle time in the world this year!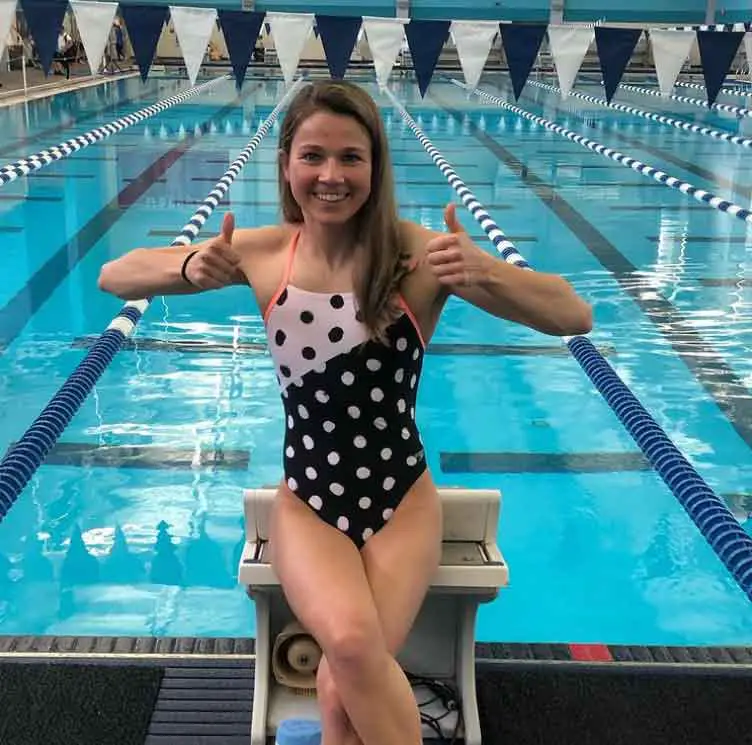 The swimmer concluded her emotional message with the words:
"I'm speaking up for future generations of Paralympic athletes in hope that they never have to experience the pain I've been through.

Enough is enough."