Dance teacher leads students in 'Thriller' flash mob in school hallway
"Cause this is thriller, thriller night." A Michigan dance teacher thrilled the school's halls with a Halloween-inspired flash mob.
Southfield's Birney School's halls were filled with music, dances, and astonished faces, as the dance teacher performed an unusual flash mob. Jennifer Hawkins, who teaches children from kindergarten to eighth grade, led a group of students dancing to Michael Jackson's "Thriller". The entertaining flash mob occurred in the school's main hallway a few days prior to last Halloween, as the New York Post reveals.
The Undisputed Teacher of the Year. pic.twitter.com/2eqLs4yF8P

— O.J. Spivey 🎙📝🏟✊🏾 (@OJPhilly) October 28, 2019
The awesome dance routine was captured on a video that has rapidly gone viral.
So far, it has gathered nearly 40,000 retweets.
What's more, it has been viewed over 4 million times!
In the footage, Ms. Hawkins can be seen leading a large group of students as they perform a zombie-march to the iconic Michael Jackson's song "Thriller". As the mob dances through the hallway, their classmates on the sidelines can be heard clapping and cheering for the amazing performance.
O.J.Spivey, who posted the video on Twitter, wrote:
"The Undisputed Teacher of the Year"
The short video has reminded the viewers of the priceless legacy the emblematic singer has left.
Many netizens have left heartfelt comments such as: "This made me cry. I haven't cried in like a year. Strange things emotions. I guess I'm in love with her now."

Another wrote: "Love that people still enjoy his music!"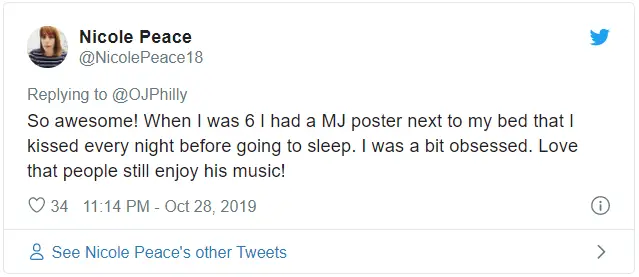 Others were completely stunned by the performance and the Birney School's teacher's awe-inspiring talent. An admirer commented: "I'd love to see their entire routine! I'm loving this on so many levels!!!"

Quite a few of the Twitter users wished for the video of the Halloween-influenced mob to be longer, or at least have a second part.

Ms. Hawkins' choreography has definitely left the viewers beyond astonished.
Are you a fan of Michael Jackson's music? Let us know in the comment section!