Dad goes crazy over daughter's Christmas list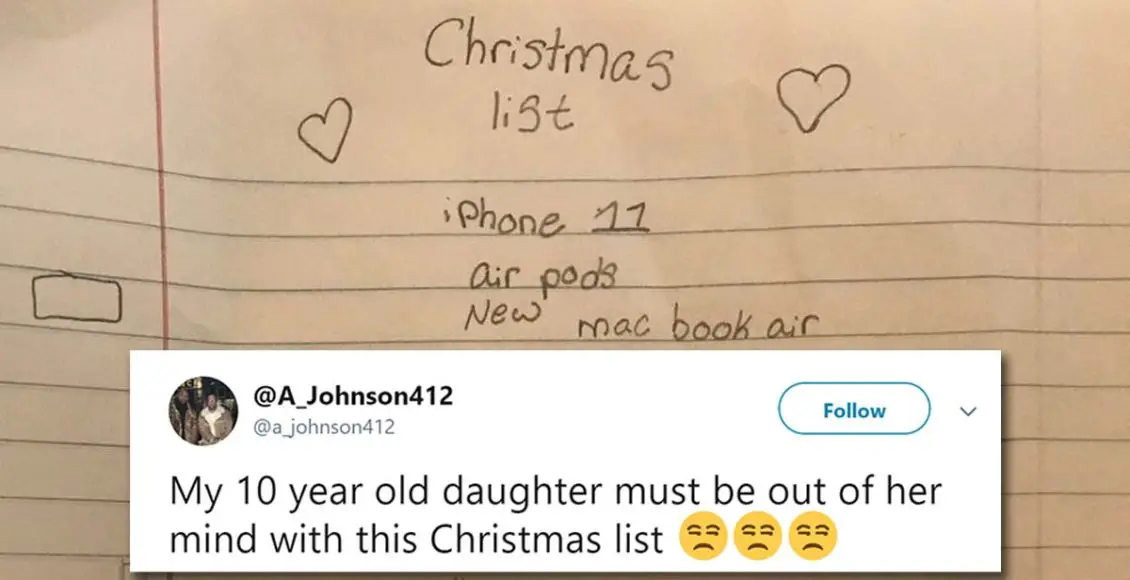 Christmas season is one of these times when kids go crazy.
They can't wait to write their Christmas lists and send them to Santa.
We've all been kids a while ago, so we know how it feels.
However, kids' wishes today are a bit different than they were before. We used to want things like toys, dolls, dinosaur pets, magical powers. Nowadays, children are aiming much higher, wanting the latest iPhones, Gucci sliders, and expensive jewelry.
This dad just cracked up when he saw his daughter's Christmas list.
Apparently, his 10-year-old girl knows what she wants. She wants everything!
My 10 year old daughter must be out of her mind with this Christmas list 😒😒😒 pic.twitter.com/Qqsje79rda

— @A_Johnson412 (@a_johnson412) November 13, 2019
Here's the full Christmas list:
iPhone 11, AirPods, New Macbook Air, a real bunny, hydro flask, clothes, makeup, pink Puma trainers, Gucci sliders, Chanel purse, perfume, essential oil, American girl doll car, new shoes, earrings, jewellery, chequered vans, GoPro, pink duct tape, food colouring and laundry detergent, clothes for bunny, $4,000, LOL doll with camper and chalet, new sheets and cover, and an alarm clock.
Okay, we get the material stuff and the clothes, but how about those $4,000 at the bottom of the list? A lot of people commented on this and loved the idea of putting the money down the list, between the bunny clothes and the LOL doll.

To this comment, the father jokingly replied:
"Right like oh yea lemme ask for 4K too. Right by the bunny clothes."
As he says, this girl must be out of her mind. Or is she? Some of the people's reactions are quite hilarious.

Others believe the girl's wishes are way too much for a 10-year-old. Indeed, we can't disagree that this list is a bit over the top for a little girl.

Meanwhile, some people are actually loving this fully-detailed Christmas list.

Well, we've got to admit that this girl is going places. This baby queen definitely knows what she wants. Being only 10-years-old, she already has her priorities checked. Not a lot of adults can say the same for themselves.
Since the Christmas list was posted on Twitter, it got over 120,000 likes and nearly 25,000 retweets. Even though it's still November, obviously people are already captivated by the Christmas spirit.
What did you put on your Christmas list when you were little?