Child battling cancer, who was isolated in hospital for two months, is finally able to travel to receive treatment
After two months of hospital isolation, a cancer-diagnosed child has finally been allowed to travel for treatment. 
Boy, 5, who was battling cancer since January 2020 and was under a two-month hospital isolation, has now been allowed to travel to receive specialized treatment. 
The family got the news that their child is in remission on Friday, after a year-long struggle with the disease. 
The child will now be able to travel to America for a $290,000 pioneering treatment hoped to prevent cancer from coming back.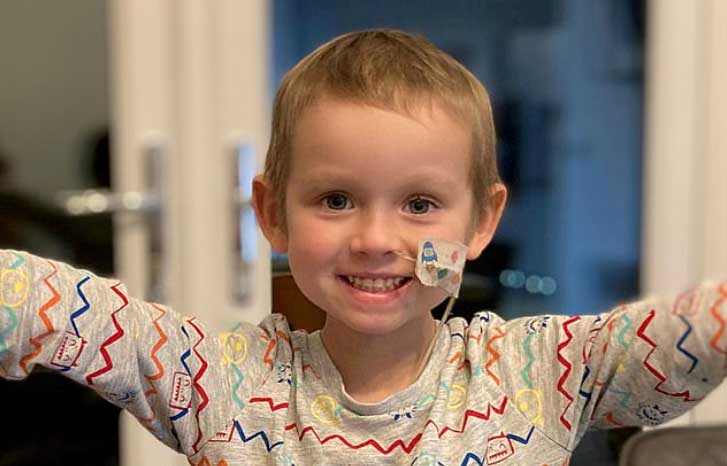 Oliver Stephenson, a 5-year-old boy from Ackworth, West Yorkshire, was diagnosed with neuroblastoma in January last year. While examining his condition, doctors found that the disease had spread to the child's skull, eye sockets, and bone marrow.
With this petrifying diagnose, Oliver had to undergo chemotherapy, surgery, stem cell treatment, and a bone marrow transplant. Thankfully, as Daily Mail reports, the kid finally got the amazing news that he is now in remission since Friday, March 26.
However, during the procedures needed to keep him stabilized, the 5-year-old was forced to isolate in hospital with his father for seven weeks. James Stephenson, 33, Oliver's dad, didn't leave his son's side even for a second while the pair was quarantined in a 15ft hospital room at Leeds General Infirmary for nearly two months.
Тhe boy will now be able to travel to receive a treatment hoped to prevent the cancer from coming back. 
Since Oliver learned he is in remission, he was also allowed to travel to America, where he will receive a pioneering clinical trial vaccine called bivalent. The treatment hoped to block the disease from returning is carried out in New York.
Unfortunately, it is an expensive procedure that costs £210,000($290,000). But thanks to crowdfunding pages which raised £300,000($412,000) to support the 5-year-old and his family in these difficult times, the pioneering vaccine is now possible.
Laura, 35, Oliver's mom, said she was "overwhelmed" at the news that not only will she and her husband be able to pay for their child's treatment, but they will also have enough money to cover their travel expenses for the several journeys they need to make between England and the United States. Additionally, the family has already sent some of the funds to another child battling cancer.
The grateful mother shared:
"We're absolutely ecstatic. When I heard Oliver got the all-clear my stomach did a flip. It was a really emotional and overwhelming moment, I feel like I walked around in a daze for the rest of the day. It is honestly better than winning the lottery. After everything he has been through this is a massive moment, it means we can start the next stage of the journey."
After the doctors allowed Oliver to travel to receive the specialized treatment, the family celebrated the wonderful news. 
Laura and James were thrilled to find out their son will finally be able to live a cancer-free life. Just after the boy had finished immunotherapy, his subsequent tests showed no signs of the disease.
The thankful parents told Oliver and his brother Alfie, 3, the amazing news during a celebratory dinner. Their mom explained:
"I asked Oliver, 'Do you know why we are celebrating?' And he said he thought it was because of the Easter holidays, as he had just broken up from school. I told him, 'Mummy and daddy went to the hospital today, we saw your doctor and she said you're better.' He understands he was ill but he's so young that he just took the news in his stride, although he was happy to hear that he only needs to take one medicine a day now."
She added:
"It's amazing to see how far Oliver has come, he's doing so well!"
The trial procedure will require five trips to New York and a total of seven vaccines in the period of 12 months. 
Oliver and his family will travel to the US later this year to begin the bivalent treatment at New York's Memorial Sloan Kettering Cancer Center. In case it proves to be successful, the child's immune system will be able to identify and destroy neuroblastoma cells lurking in his body.
Laura commented:
"It is a clinical trial so we don't know what will happen. But 60% of people who recovered from neuroblastoma end up relapsing, so we want to everything we can to stop that happening to Oliver."
She continued:
"The incredible support and donations not just from our friends and family but around the world has been overwhelming. We are so grateful to everyone who has helped. It's been a really difficult year for us and back in January Oliver's prognosis wasn't good at all. But he has battled through everything is doing well now, he's fit and strong and even back at school."

"Now we can prepare for the next step of our journey."