Experts Say These 10 Careers Attract The Most Psychopaths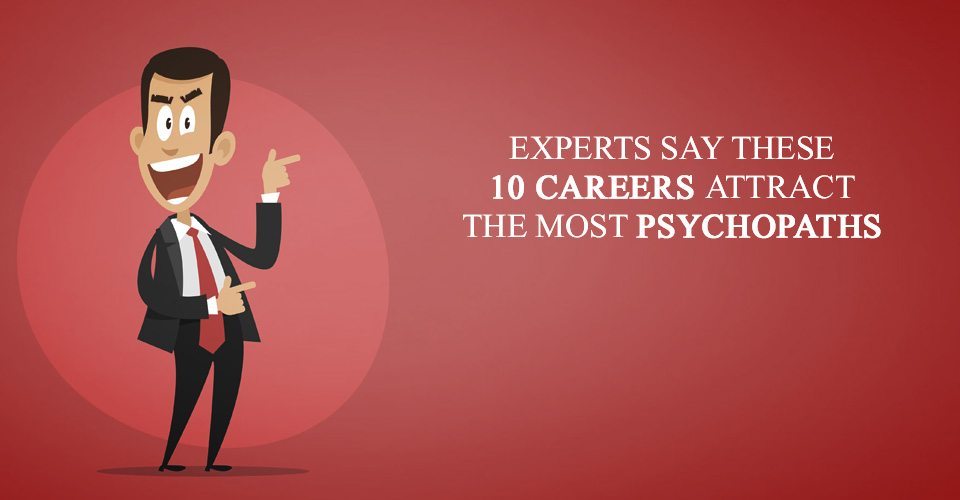 Chances are, if you've worked around people for an extended period of time, you've probably encountered a psychopath at some point in your career.
Despite what films and media portray as psychopaths, not all of them are ax-wielding serial killers, like you'll find in American Psycho. In fact, there is only a small percentage of psychopaths who actually incorporate violent tendencies into their lives. Rather, most psychopaths possess charismatic charm, though they eventually prove to be self-serving and callous once you get to know them. There are a specific set of traits that define "psychopath." Because of those defined traits, they are far more likely to pursue certain careers over others.
While modern terminology has deemed "psychopath" to be all inclusive of murderers and the criminally insane, the field of psychology actually gives it a very specific definition. Officially, it is termed as 'psychopathic personality', although it can also be referred to as psychopathy or sociopathy. Scientific American gives the official description of psychopathy as such:
First described systematically by Medical College of Georgia psychiatrist Hervey M. Cleckley in 1941, psychopathy consists of a specific set of personality traits and behaviors. Superficially charming, psychopaths tend to make a good first impression on others and often strike observers as remarkably normal. Yet they are self-centered, dishonest and undependable, and at times they engage in irresponsible behavior for no apparent reason other than the sheer fun of it. Largely devoid of guilt, empathy and love, they have casual and callous interpersonal and romantic relationships. Psychopaths routinely offer excuses for their reckless and often outrageous actions, placing blame on others instead. They rarely learn from their mistakes or benefit from negative feedback, and they have difficulty inhibiting their impulses.

Only about 1% of the world's population legitimately qualifies as a psychopath, even though you might feel like you have definitely encountered more throughout your career history.
What's more surprising than that seemingly low number, is the fact that psychopaths might be over-represented in certain fields of employment. As it turns out, your career choice might make it more likely for you to encounter psychopaths in the workplace.
Kevin Dutton, author of 'The Wisdom of Psychopaths: What Saints, Spies, and Serial Killers Can Teach Us About Success', believes that there are not only jobs that attract psychopaths, but also jobs that deter them. He says, "a number of psychopathic attributes [are] actually more common in business leaders than in so-called disturbed criminals — attributes such as superficial charm, egocentricity, persuasiveness, lack of empathy, independence, and focus."
The following list of occupations tells us where psychopaths will be most common, as well as most rare, respectively, and is from Kevin Dutton's study of psychopathy in the workplace. It was originally posted online by Eric Barker.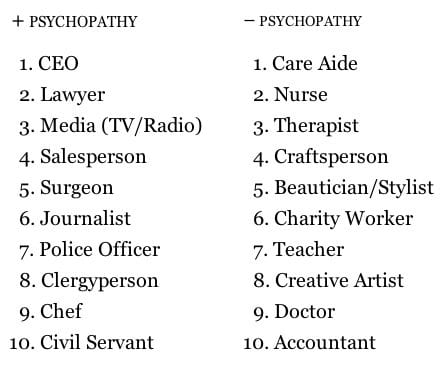 The majority of the careers on the right require a connection to other people; these professions deal with feelings and many of them aren't powerful positions. Psychopaths however, wouldn't be drawn to or very inclined to pursue these things.
On the other hand, many of the careers on the left do offer power and are considered to be powerful positions. Many require the ability to make an objective, clinical decision that is separate from feelings. These roles are where psychopaths thrive.
By Raven Fon