Cafe Customers Made To Wear Pool Noodle Hats To Impose Social Distancing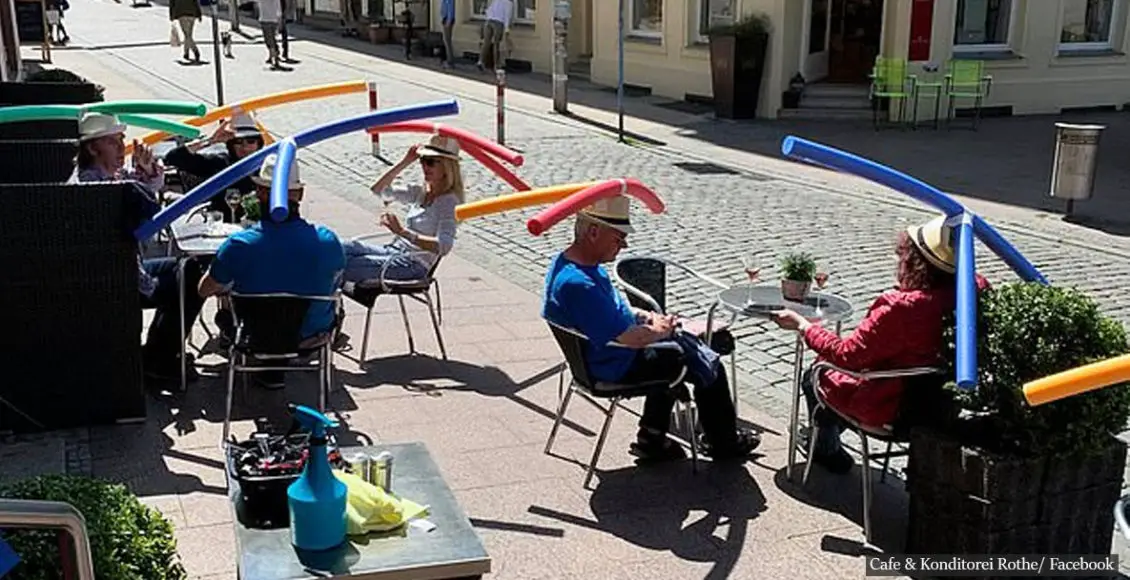 A cafe in Germany made its clients wear swimming pool noodles as hats in order to make sure they followed the social distancing guidelines properly as the country begins easing down its coronavirus restrictions. 
People who sat on the tables outside of Cafe & Konditorei Rothe in the city of Schwerin were all asked to wear hats made out of straw with two swimming pool noodles attached to the top.
The people who work at the place came up with the strange rule to make sure their customers were not straying from the guidelines.
"Customers liked to go along with the gag," owner Jacqueline Rothe told local tabloid Berliner Kurier.
A photo of the cafe's special new rule in action was shared on social media, and many people have expressed their point of view on their policy.
One person on Twitter said:
"Sharing hats among customers is maybe not a bright idea if the person who wore it before you is an asymptomatic carrier- or has head lice."
The cafe's clients can be seen relaxing in their funny headgear as they enjoyed their time and did not seem bothered by the huge attachments on their heads.
Another person wrote on Facebook:
"So, I think that's innovative. There is certainly a portion of ironic humour in it!"
Good plan; keeps you apart and hides the hideous hair styles/colours we are now sporting.

— tracy corbett (@tkcorbett10) May 15, 2020
This is not the first time people have been thinking outside of the box to push people into abiding by the social-distancing rules.
For instance, in Singapore, robots were used to tell people to stay home and some people in the United States walked around in plastic bubbles.
Restaurants and coffee shops began reopening for business all over Germany as the country begins to ease its lockdown restrictions.
Different areas have been following their own schedules in allowing cafes and restaurants to reopen since May 11.
Germany's chancellor, Angela Merkel, made an announcement a week ago saying that all shops are permitted to reopen, children will start returning to schools, and people from two different households will be able to gather together.
However, the country's rate of infection rose over the weekend, before dropping again last Tuesday.
Germany has 16 federal states, that hold power to ease down on restrictions, and they all came to an agreement that lockdown will be reimposed if infections go up to 50 per 100,000 people over a period of seven days.
Berlin, on the other hand, has been using running its bus, train, and ferry timetables since May 4.
The country also intends to reopen its borders with Austria, Switzerland, and France from June 15 after it placed restrictions a couple of months ago to stop the spread of the virus. 
Horst Seehofer, Germany's Interior Minister, said family and business trips for Austria, Switzerland, and France would be allowed from Friday, with random checks in place, before complete freedom of movement is allowed in June.
Currently, Germany has 174,975 confirmed coronavirus cases, with 7,928 losses of life.
What are your thoughts on this strange but funny way to enforce social distancing in cafes? Let us know by joining the conversation in the comments and please share this article if you've found it informative.