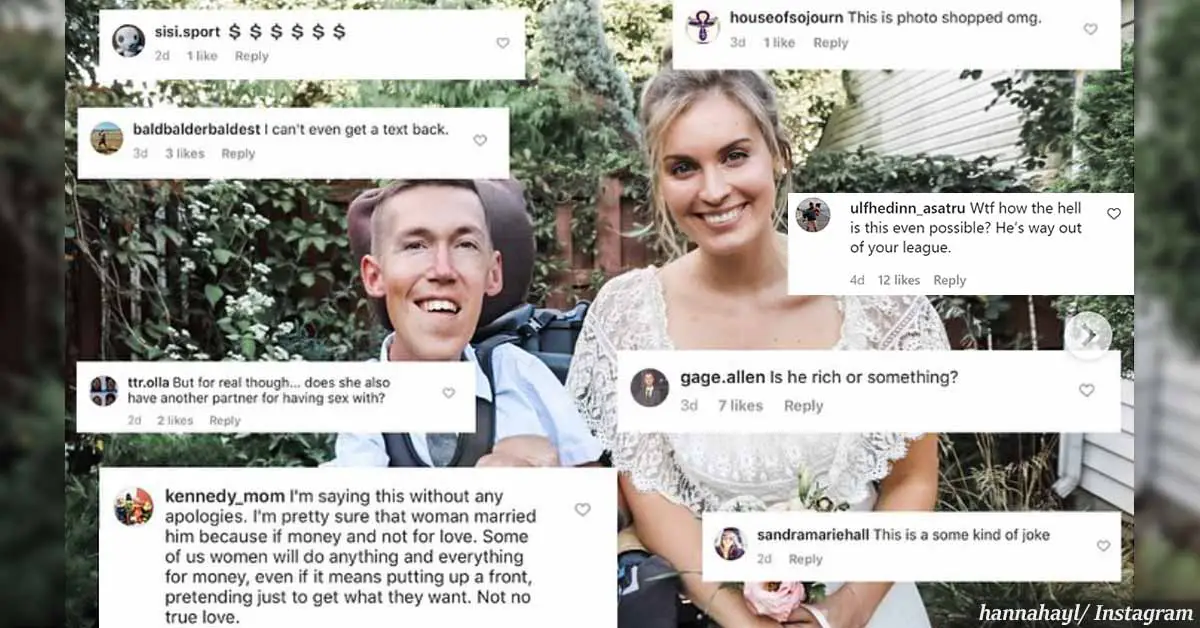 Bride who married disabled man gets back at trolls who called their wedding a 'joke'
A woman who married a disabled man has slammed trolls who posted terrible comments on their wedding pictures.
An able-bodied young woman hit back at haters who called her marriage with a disabled man a 'joke'. 
Cruel commenters assumed the bride was a gold digger, and their relationship wasn't real. 
The newlyweds proudly shared pictures of their ceremony and are now looking forward to having a kid. 
Hannah Aylward, 24, an able-bodied woman, married Shane Burcaw, 27, a man with neuromuscular disease, at the beginning of September, Daily Mail reveals. Their interabled relationship gained social media fame, including many viewers on their YouTube channel 'Squirmy and Grubs'.
The young bride proudly shared photos of their wedding, but she never expected the hate-infused comments she got. People cruelly claimed Hannah was a gold-digger and their marriage was nothing but a joke.
One of the comments read: "Is he rich or something?"
Another said: "I'm saying this without any apologies, I'm pretty sure that woman married him because of money and not for love."
Shane is a writer and a public speaker who was born with Spinal Muscular Atrophy (SMA). Sadly, he can barely move his arms and legs, and he has been in a wheelchair since he was only 2-years-old.
Hannah fell in love with him after watching a documentary that The Office star Rainn Wilson produced about Shane's life. The new couple got to know each other through video calls and texts.
One of the most remarkable things they did together was launching their YouTube channel, where they educate people about interabled relationships. On their channel, they shared a lovely video from their wedding day, along with beautiful photos they posted on Instagram. While most of the comments they received were positive, some of them were awfully cruel.
Nevertheless, instead of backing down and deleting the images, Hannah made a follow-up post, slamming the haters. In her response, she also shared some of the most ruthless comments.
The bride hit back the mean commenters who called her relationship a 'joke'. 
Addressing all the nasty comments and the people who came up with them, Hannah wrote a touching message:
"If the past two years of having a YouTube channel have taught me anything, it's that you're never going to be able to educate everyone. No matter what you do, some people will just never come around.

Worrying about these people's opinions is a waste of time, and as time has gone on, it's become so much easier to genuinely have no internal reaction to comments like these. A few years ago, reading words like these was painful.

For a while, I held onto the idea that once Shane and I were married, all the people doubting our relationship would realize it was real. Now, of course, I'm not that naive. Although it's taken time, I'm able to completely dismiss people like this.

Shane and I continue to make content and share our story with the hopes of showing as many people as we can that disabled people are worthy partners. Comments like these only encourage us to continue! We're so grateful for all of the people that our story has managed to reach in a positive way." 
Now, Shane and Hannah are looking forward to next year, so they can have a big family celebration. 
The couple married in a private ceremony in their backyard. They posted several adorable pictures together, including some in which they wore 'bride' and 'groom' face masks.
The next step on their journey is starting a family. In a recently uploaded video, the bride revealed she stopped taking birth control. The couple hopes they would soon have children of their own. By making this decision public, Shane and Hannah wish to spread awareness of the fact that there's a lot of misinformation surrounding disability and intimacy.