Boys rewarded with burgers for life after saving girl's life
A group of boys saved a girl's life and were awarded burgers for life for their heroism. 
Four boys from Jackson Park, Missouri, were hailed heroes after saving a girl from drowning. It happened on one sunny weekend, as the friends were at their favorite place to hang out – Jackson City Park.
At the time, the water at Hubble Creek had risen above the bridge, creating a dangerous current underneath it, Newsner reveals. As the boys were splashing around, they became concerned as a girl named Kinsley Stuart, who had also been playing in the water, suddenly disappeared.
Aiden Kyle, one of the boys who saved the girl, told WAFB9:
"We were all at the park. It was raining and the water was higher, over the bridge, and we were all swimming, splashing and having fun. There was a little girl and we were all wondering where she went."
Due to the dramatic rise in the water, the current had pilled Kinsley under the bridge.
Aiden said:
"I saw her hand on top of the bridge part, so I jumped in and I grabbed on."
However, the current was too strong for the boy to save the drowning girl on his own. That's why he called his friend Isaiah Rando for help.
Isaiah commented:
"He was getting sucked in with her, so I jumped in and I grabbed her hand with him and we both pulled. Then the other two boys jumped in and it took four boys to pull this girl out because it was that strong."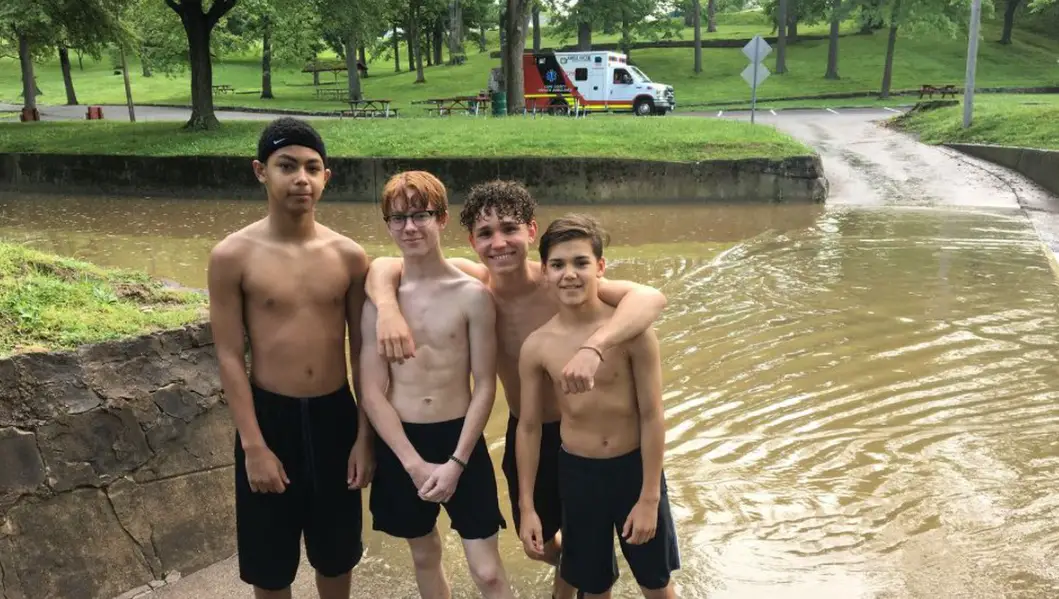 Fortunately, all four boys and the girl made it out of the water safely. Shortly after, Kinsley was rushed to a nearby hospital and released the same day.
To thank the boys for saving their daughter's life, the Stuarts promised them they could eat with them "forever for free."
Grateful for the children's act of heroism, Kinsley's parents said:
"We do want to say thank you to the boys from Kennys. We own Kenny's flipping burgers. And we want to let you boys know that you guys can eat with us forever, for free. Because there is no amount of money, that can ever be put on what you did."