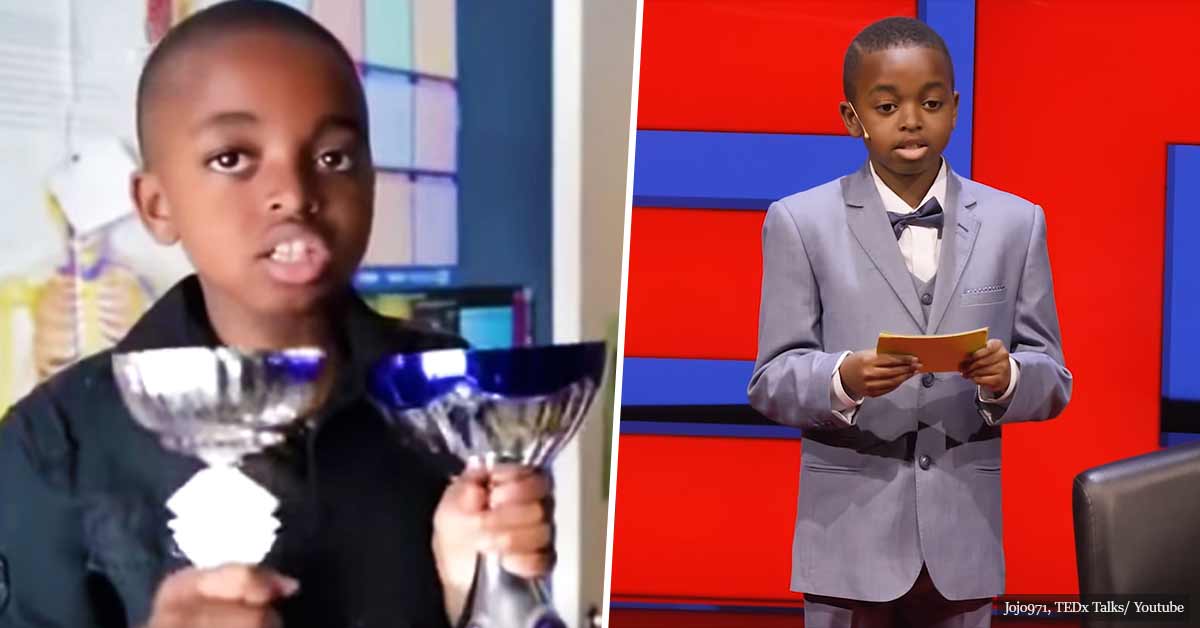 6-year-old boy with autism the youngest to attend Oxford University
When he was only 6-years-old, Joshua Beckford became the youngest person to attend Oxford University.
Now he's 14, a future doctor with the bold ambition to change the world.
Living with high-functioning autism didn't stop the bright kid from Tottenham to chase his dreams of becoming a neurosurgeon. Joshua successfully passed an online learning platform for gifted children. He received a certificate of excellence after getting distinctions in all his courses. Recently the 14-year-old wonderboy was listed in the top 30 most remarkable people in the world with autism who have impacted society.
When Joshua was only 10 months old, his father, Knox Daniel, found out that his son has a unique learning capability.
They were sitting in front of a computer, and Daniel noticed that little Joshua showed interest in the keyboard. Then, the father started telling his son the letters from the keyboard. The child was remembering and understanding them. He could even point out a letter if he heard it. After that, they moved to colors.
At the early age of 3, Joshua already learned how to speak Japanese, and even taught himself to touch-type on a computer. That was before he could learn to write. When he was 4, he had a body stimulator on his dad's laptop and he was studying the organs and making surgeries. How fascinating is that?
In 2011, Daniel learned about a program at Oxford University that was specifically purposed for children from 8 to 13 years old. He wanted to challenge his son, so he wrote a letter to Oxford hoping that Joshua, then 6, will still have the opportunity to get an admission. Luckily, the child was given a chance to enroll in the program. That's how he became the youngest student ever accepted at Oxford University. There Joshua took a course in philosophy and history, which he passed with flying colors.
Having these amazing learning skills made little Joshua too advanced for a standard curriculum.
Therefore, his father decided to home-school him. The young prodigy had a keen interest in the history of Egypt throughout his studies. What is more, he is now working on a children's book about the ancient Egyptian affairs.
However, being remarkably intelligent is not the only great thing about Joshua Beckford. He is also the face of the National Autistic Society's Black and Minority campaign. As a child with autism, he highlights the challenges that minority groups face in their attempt to acquire autism support and services.
The amazing wunderkind was appointed Low-Income Families Education (L.I.F.E) Support Ambassador for Boys Mentoring Advocacy Network in Nigeria, Uganda, Ghana, South Africa, Kenya, and the United Kingdom. Along with that, he raises funds for three autism charities. Besides, Joshua also leads campaigns to save the environment. He wrote the poem "Saving Mother Earth" which he shared at the TEDx International Conference in Vienna in 2016.
"I care about mother Earth
I don't want to see her hurt.
…
The Earth is the only home we know
If we destroy it we will have nowhere else to go."
In 2017, Joshua won The Positive Role Model Award for Age at The National Diversity Awards. This event celebrates the excellent achievements of grass-root communities that tackle the issues in today's society.
Moreover, the same year he gave an interview for Free Spirits where he opened up about autism.
"I was seven years old when I was diagnosed with Autism. This did not affect my motivation and goals. Dad explained to me that I was born with lots of gifts and that I learned differently from other people. He also let me read books which explain what Autism is."
In the future, the youngest Oxford student wants to continue with his campaigns on saving the environment and providing education to all the children.
Currently, Joshua is fundraising to build a school in Kaduna, Nigeria. It would be available for low-income families who can't afford to send their children to a proper school. The new Kaduna school would be named after him.
Hopefully, this amazing child will serve as an inspiring example for all the youngsters around the world.