Boy and cow snuggle after losing competition at fair in viral photo that captured the hearts of millions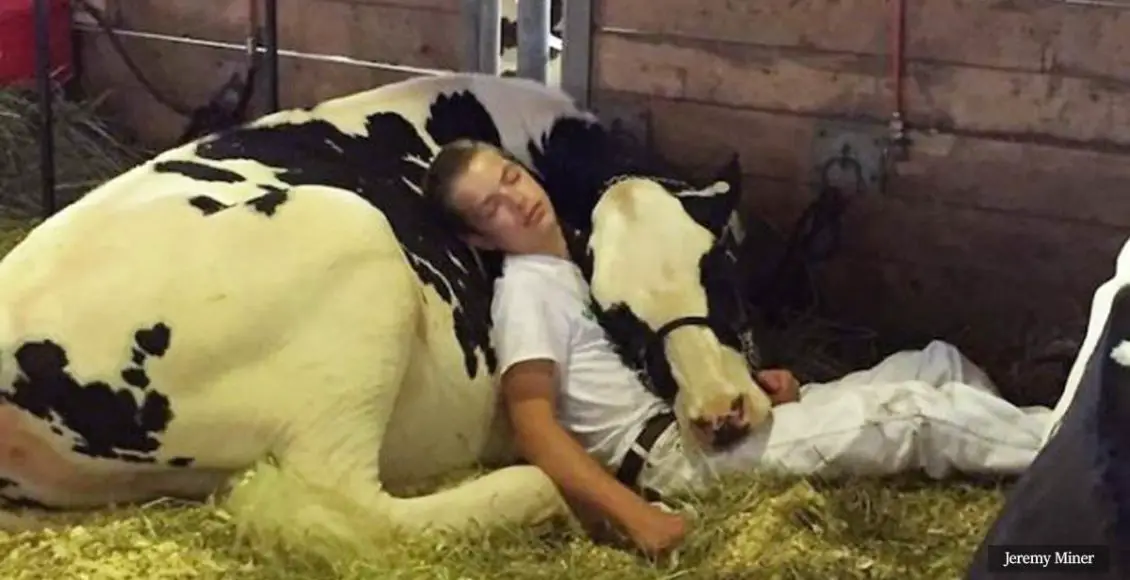 15-year-old Mitchell Miner and his cow Audri are best friends.
The Iowan boy was snapped while he and Audri were peacefully napping at the Iowa State Fair's youth dairy cattle show.
You have likely seen a few such pictures in your lifetime, but the tale behind this one is truly unique.
It captures the special bond between human and animal.
Even though the happy duo was not able to win the blue ribbon, the photo of their cute nap became viral. It caught the attention of Fox News and CBS News. It shows how American farmers do what they love best.
Mitchell and Audri practiced for weeks before attending the contest. They used to get up at 3 o'clock in the night to prepare for the big event. Des Moines Register revealed that Mitchell and Audri practiced for the show for weeks. Out of 7 contestants, Audri ended up in 5th place, and the nap was more than deserved. After all, they did their best.
The picture is now viral, and many people who grew up on farms have reacted more than positively.
Farm life is not easy. Those cattle have to be cleaned, clipped and walked. Farmers develop strong attachments with them.
The photograph of Mitchell and Audri also faced some criticism. However, Mitchell's father defended them, saying that raising farm animals required more work than anything else. They look after their animals with deep care, and Mitchell's father knows it best.
Mitchell Miner and Audri the cow really know how to relax. #NationalRelaxationDay pic.twitter.com/J3lTqC5REc

— USA TODAY (@USATODAY) August 15, 2017
What are your thoughts on this unusual friendship? Let us know by joining the conversation in the comments and please share this article if you enjoyed the read.