Boy, 5, dead after a granite tabletop fell onto his head during a wedding
A five-year-old boy tragically died at a wedding reception after a granite tabletop fell onto his head. 
Luca Berlignerio, 5, was fatally hit by a granite tabletop during a wedding ceremony last Friday.
An obituary for Luca stated that he 'passed away suddenly'. 
He is survived by his parents and his older brother.
The devastating incident occurred in The Drake Hotel on North York Road in Oak Brook at around 10 pm last Friday, Daily Mail reveals.
Police and paramedics were called for a report of an unresponsive child. DuPage County Coroner's Office identified the boy as Luca Berlingerio, from Glenview.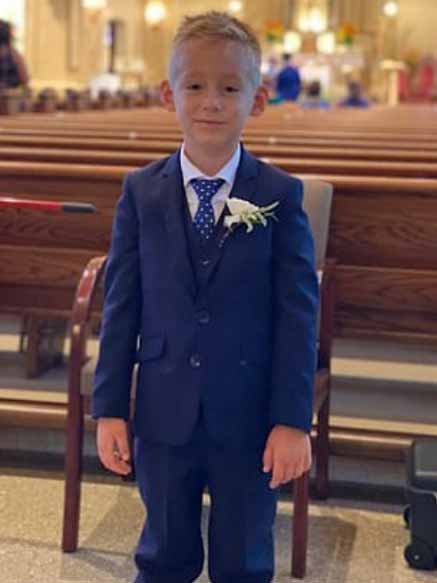 After receiving CPR from an emergency room doctor who was attending the ceremony, Luca was rushed to Elmhurst Memorial Hospital. Sadly, not long after, the child was pronounced dead from a traumatic head injury.
According to investigators working on the case, Luca was at the reception with his parents.
He climbed onto a table standing behind a sofa in an open area where other children were sitting. He then grabbed the edge of the table with his fingers to slow his fall as he slid backward.
After reviewing footage from the venue, police said that when the 5-year-old got down from the table, it toppled over, hitting him in the head and inflicting a fatal injury.
Luca's family found him unresponsive. His parents, Simone and Anna Berlingerio, immediately summoned the ER doctor on the scene for help and called 911. Tragically, according to an obituary, Luca 'passed away suddenly'. He left behind his loving parents and his older brother Rocco.
In a statement addressing the fatal incident, The Drake Hotel said:
"Our team is heartbroken about this terrible accident. We wish to share our condolences with the family and friends affected. To respect their privacy, we aren't able to share the specifics of the incident."
A GoFundMe page, set up by Yesenia Cortez on behalf of Simone Berlingerio, is raising donations for the devastated family.