Boy, 10, is about to have both of his legs amputated after being diagnosed with a COVID-19-related condition. 
Dae'Shun Jamison, 10, was diagnosed with MIS-C after testing positive for COVID-19.
Due to severe complications, the child had one of his legs amputated and is about to have the other one removed as well.
The doctors who treated the boy said he was the worst MIS-C case they have ever seen.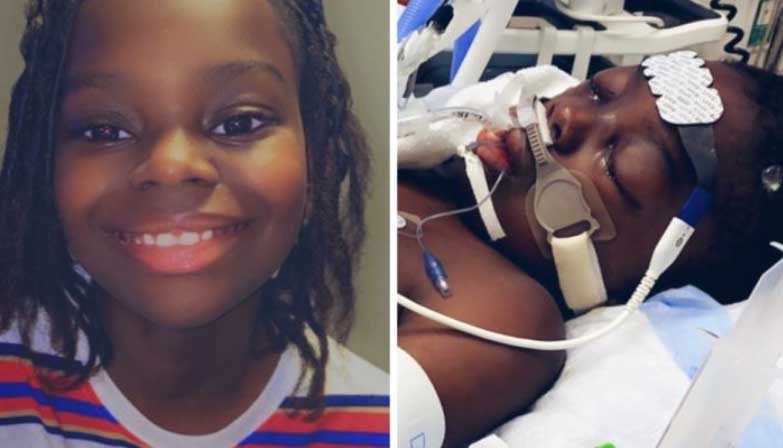 In December, Dae'Shun Jamison, a 10-year-old boy from Shelby, Michigan, was diagnosed with the multisystem inflammatory syndrome in children(MIS-C). He received this diagnose after testing positive for coronavirus, as Daily Mail reports.
The child's mother, Brittney Autman, told MLive.com that he initially didn't show any symptoms of the disease, but by the end of the month, he started suffering from severe headaches. 
On December 21, Jamison was admitted to the Spectrum Health's Helen Devos Children's Hospital, in Grand Rapids, with a temperature of 103°F(40°C). He was diagnosed with MIS-C – an immune response that triggers inflammation of various body parts, including heart, lungs, kidneys, brain, skin, eyes, or gastrointestinal organs. According to the CDC, many children suffering from the inflammatory syndrome either had COVID-19 or someone in their circle had the virus.
The child had to be put on a ventilator on Christmas Eve. 
On Christmas Eve, Jamison's heart was overworking, while his organs began shutting down. Doctors had no other choice but to place him on a ventilator. They also put him on dialysis and hooked him up to an ECMO machine to support his oxygen levels.
Unfortunately, while being intubated, the kid lost circulation in his limbs, and his legs swelled up with fluids. His doctors were forced to amputate his right leg, as he had no movement or feeling there anymore.
According to Ms. Autman, her son's left leg also has to be removed. Sadly, since he is living with autism, he isn't able to fully comprehend what is happening to him. In an update Jamison's mother posted on his GoFundMe page, she wrote:
"Surgery went good. His right leg is gone…In a few weeks his left one will have to be amputated as well. I am struggling with this so much please keep the prayers coming."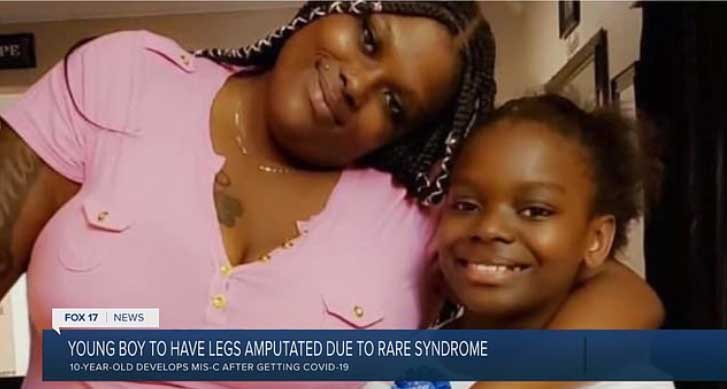 Doctors had to explain to the boy that when he wakes up, "his leg will not look the same."
Ms. Autman shared that the stump of her son's right leg is healing well. She mentioned there would be a skin graft needed eventually, "but not right now."
In an interview with Fox 17, the concerned mother said:
"It was really hard. I just think about like, once it's done, what will his life be afterwards? He likes to play soccer, and he likes to do things. And it's just hard."
Now, as Jamison's mom shares, the only goal for the kid is to be able to walk with prosthetics.
Furthermore, the specialists who treated Jamison revealed he was the worst MIS-C case they have ever seen.
As per Calmatters.org, by January 8, there have been 1,659 MIS-C cases with 26 fatalities.
Tara Copeland's daughter, 5, was diagnosed with the syndrome a month after both her mom and dad tested positive for the virus.
Dr. Nicholas Rister, an infectious disease specialist at Cook Children's Hospital, where Ms. Copeland's child was treated, stated:
"The problem with these post-infection inflammation syndromes is that you're post the infection so these kids have already had COVID and they've either recovered from it or they've had very mild symptoms, but now for some reason, their immune system gets highly turned on, and that's where you start to see the fevers, the rashes, the irritability."