Body Modification Addict Cuts Off Fingers But Gets A Pair Of Silver Tusks
A man who has mutilated himself beyond recognition has now also cut off his fingers and installed two tusks to his mouth. 
Michel Faro do Prado from Brazil has been making headlines for his extreme body modifications, and named himself the 'Human Satan' in 2020.
Prado has already tattoed most of his body, including his eyes, implanted horns in his head, has a number of piercings, and even had most of his nose cut off.
And in his latest modification, he had a finger from each hand removed.
In images that went viral on social media, the extent of his mutilations can be seen clearly.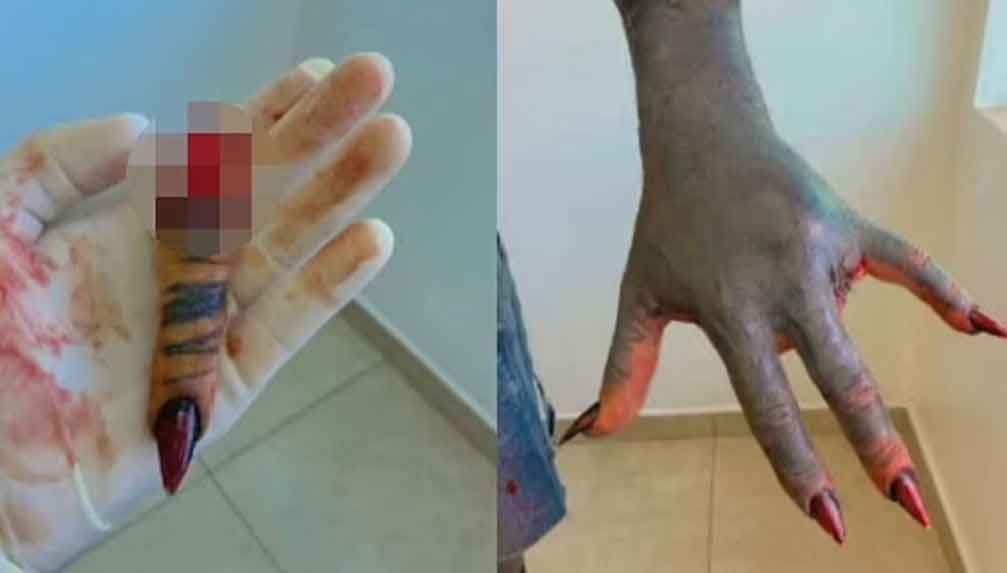 His wife specializes in such modifications, and said that he is her 'masterpiece'.
Prado said:
"I have been a tattoo artist for 25 years, most of my tattoos I get from tattoo artists and professionals who I have paid. I focus on blackwork and brutal tattoos, which are types of tattoos where you ink a large part of your body."

"But my wife has specialized in the area of modifications and the idea is for me to become her masterpiece when it comes to tattooing."
His latest surgeries cost him around 5,000 Brazilian reais ($981), according to the Daily Mail.
Prado has previously opened up about his extreme tolerance for pain.
He explained:
"Actually I have a good resistance to pain, I don't think anything is so painful, I suffer a lot more in the post-procedures than at the time,

And the truth is that there are changes that without anaesthesia would be almost impossible to be done, I would love not to feel any pain. But if I have to feel pain, to achieve what I want, for sure I will face it!"
And while his wife loves his devilish looks, apparently other members of the family, including his son, also have no problem with it. 
Prado said that it 'doesn't really matter to me what people say', and that he simply wants to be respected. 
"I do not reject conventional society; I reject its hypocrisy and disrespect for those who are different. Each person is what they choose to be – I am what I am and they are what they are,'" Prado said.
What are your thoughts on this story? Let us know by joining the conversation in the comments and please share if you've found this content entertaining.