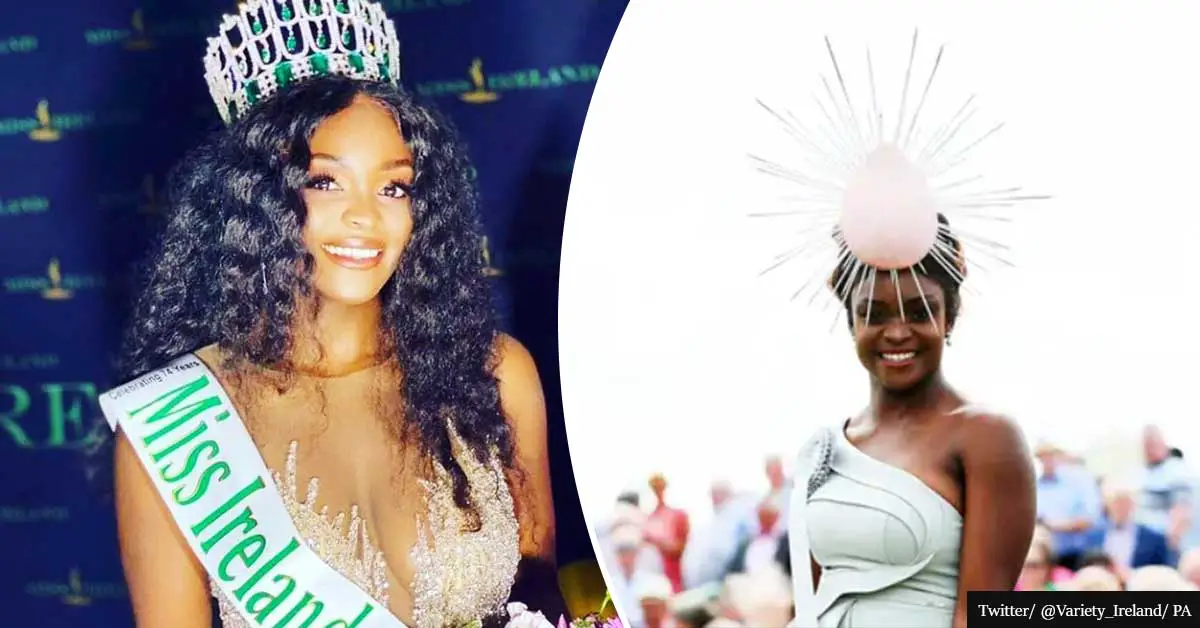 Black woman wins Miss Ireland for the FIRST time in history
For the first time ever: A Black woman has been crowned Miss Ireland.
Miss Ireland 2021, Pamela Uba, is the first-ever Black woman to be awarded the prestigious title.
Medical scientist, inspiring activist and now #MissIreland!👑@Pamela_Uba who represented #Galway was crowned #MissIreland last night. Such an incredible role model for girls. 🙌

We are so excited to see you represent Ireland on the global stage. 💚@MissIrelandORG #missworld pic.twitter.com/9H7jI3FWXE

— GALWAYnow (@galway_now) September 6, 2021
The 26-year-old part-time model and medical scientist who worked on the frontline during the pandemic is now making history. For the very first time since 1947, the year the annual contest began, a Black woman is titled Miss Ireland.
As Unilad reveals, Pamela's upbringing was not an easy one. She was only 7-years-old when her family came to Ireland from Johannesburg, South Africa. Together with her six siblings, she grew up in the direct provision system. Receiving Irish citizenship was a major milestone in her life, with her confessing: "I cried when I got my Irish passport."
Speaking to The Irish Times, Pamela shared that while she is grateful she grew up in Ireland, she believes the country's system needs a significant improvement. The beauty queen said:
"People need to be able to live their lives. I hope Ireland continues to help people, but the direct-provision system needs to be rethought and possibly removed."
Pamela disclosed that her mother was in "absolute tears" after finding out her beloved daughter was the new Miss Ireland. 
Although leaving their home country was incredibly challenging, the proud mom is beyond thankful for her daughter's success and how far her family has come since arriving in Ireland.
A MASIVE CONGRATULATIONS TO @Pamela_Uba who became Ireland's first ever crowned black Miss Ireland!! ☘️👑

Find out more about Pamela's story and achievement right here:https://t.co/w1FuppGPK7

Thank you Pamela , YOU ARE AMAZING!!! ❤️❤️❤️
.
.
.#blackandirish #blackirish 🖤☘️ pic.twitter.com/nqWxUsIP8X

— Black and Irish (@Black_andirish) September 7, 2021
But winning the distinguished contest is not the most admirable thing Pamela did in her life.
During the peak of the coronavirus pandemic, while working at the Galway University Hospital, she monitored the inflammatory process in patients who contracted the virus, determining "how serious the infection was in people." One day, after the healthcare center suffered a cyberattack, Pamela ended up doing "35,000 steps running to the wards."
Before becoming Miss Ireland 2021, Pamela was crowned Miss Galway 2020.
Distressingly, shortly after winning the Galway competition, haters stormed her social media with racist comments. She once said it was "horrible to hear people telling me to go back to my country when I've worked so hard to make Ireland my home."
However, Pamela now hopes her title will represent Ireland as a more versatile country. She added:
"I am so grateful I can show girls that colour is not something that holds you back and it doesn't matter where you come from, the world is your oyster."
Miss Ireland 2021 😭❤️👑@MissIrelandORG @MissWorldLtd pic.twitter.com/vYi0Ei8aSQ

— Pamela Ashley Uba (@Pamela_Uba) September 6, 2021