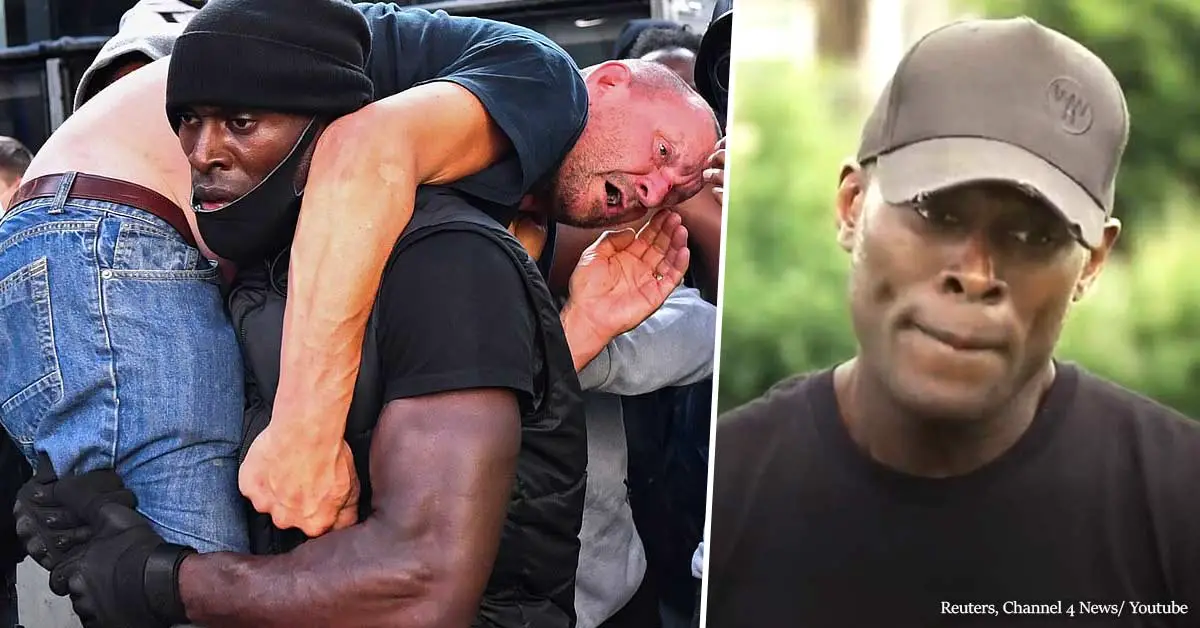 Man pictured carrying white counter-protester to safety during a BLM protest "It's everyone against racists"
Over the weekend, during a Black Lives Matter demonstration in London, a black protester was captured in stunning photographs carrying a white counter-protester to safety. 
The man has spoken out, saying 'it's everyone against racists'.
The striking images show the black man selflessly carrying a suspected far-right counter-protester to safety over his shoulder. According to Unilad, the BLM supporter is now known to be a personal trainer and grandfather Patrick Hutchinson.
The photos of Patrick carrying the counter-protester, taken on June 13, went viral in no time.
Wow. This is it. This is the photo. Read the caption.

By Dylan Martinez pic.twitter.com/cKykxjYcYe

— Nooruddean (@BeardedGenius) June 13, 2020
Recently, Patrick has spoken out and clarified his decision to help the other man and carry him to safety. 
The now-called British hero explained that seconds before he picked the man up and put him over his shoulder, several other protesters had protected him from receiving any more physical harm. This happened after far-right rioters gathered in Parliament Square, Central London, and tried to clash BLM demonstrators.
First, the counter-protesters attacked the police. Later, they clashed with BLM supporters in Trafalgar Square and near Waterloo Station. That's where Partic rescued the white man.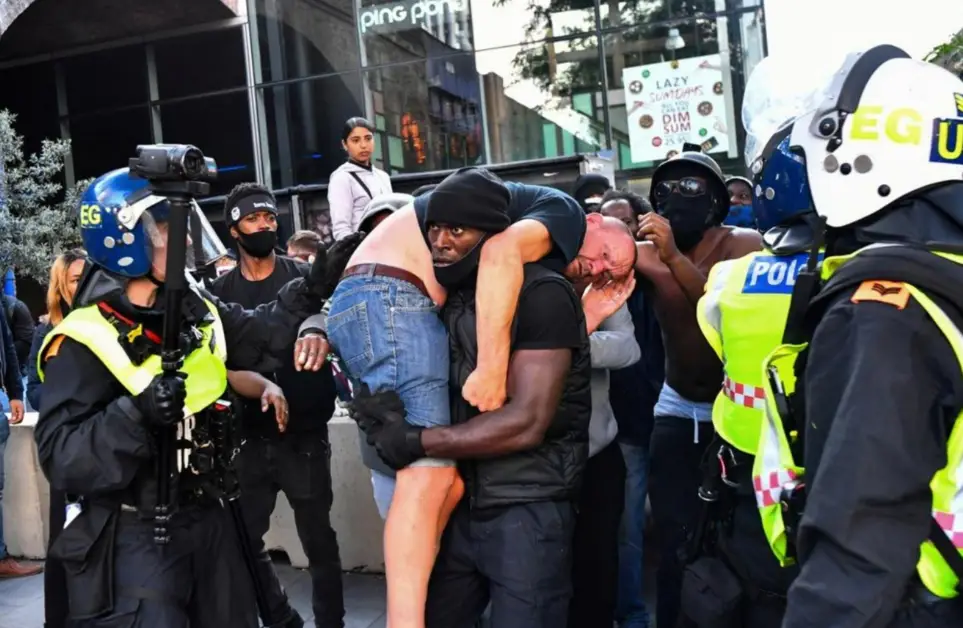 Mr. Hutchinson described the scene as 'scary' and flooded with people. For him, the whole situation was like a 'stampede'. In an interview with Channel 4 News, Patrick said:
"There were people trying to protect him, but unsuccessfully,' he explained. 'He was under physical harm. His life was under threat. So I just went under, scooped him up and put him on my shoulders and sort of started marching towards the police with him whilst all the guys were sort of surrounding me and protecting me and the guy I had on my shoulder."
The personal trainer explained he could actually feel hits while he was carrying the man over his shoulder.
Patrick believes 'these guys were probably taking some of that themselves on their person'.
To Sky News, the BLM supporter said he didn't save the man's life just for him, but for the greater good of the whole community. However, he believes if he hadn't helped, the man would have probably lost his life in the violent havoc.
"I really feel that if we hadn't intervened when we did, I genuinely think he may have died."
"I really feel that if we hadn't intervened when we did, I genuinely think he may have died."

Patrick Hutchinson, a Black Lives Matter supporter, was pictured carrying an injured protester to safety during violent clashes in London.

More on his story: https://t.co/r7gGvu65Ok pic.twitter.com/S9xScdx9hx

— SkyNews (@SkyNews) June 14, 2020
Although what Mr. Hutchinson did was truly heroic, he said he isn't the only one who deserves credit. He claims that without the ones who surrounded him while carrying the helpless man, he likely would have been crushed by the crowd. 
While reflecting on the moment he took the man from the crowd to take him to a safe spot, Patrick thought of one of the reasons for the ongoing Black Lives Matter protests – George Floyd. Mr. Floyd, an African-American, was killed by the white former police officer Derek Chauvin, who knelt on his neck for almost nine minutes. Hutchinson shared:
"If the other three police officers that were standing around when George Floyd was murdered, had thought about intervening and stopping their colleague from doing what he was doing like what we did, George Floyd would still be alive today."