​Scientist Guy Bill Nye Goes Viral With Video Explaining Importance Of Face Masks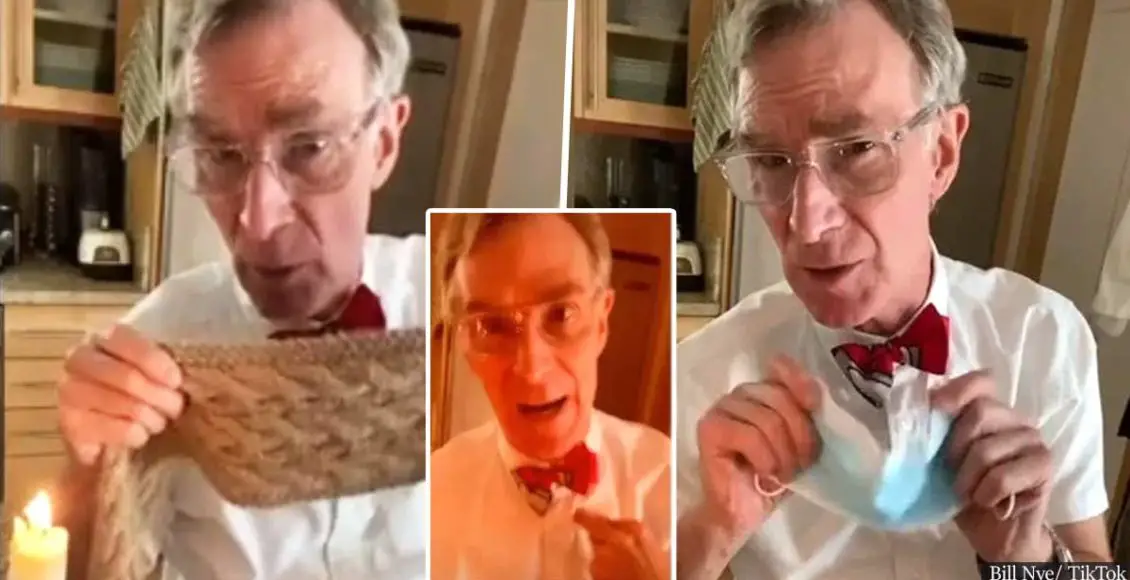 'Science Guy' Bill Nye posted a video in which he talked about the vital importance of wearing face masks during the COVID-19 crisis. 
Lately, the wearing of PPE has become a controversial topic in the United States, with some people refusing to put a mask on. As restrictions are being eased countrywide, some states such as New Jersey and California, have made the wearing of masks in public compulsory.
"So the reason we want you to wear a mask is to protect you, sure. But the main reason we want you to wear a mask is to protect me from you, and the particles from your respiratory system from getting into my respiratory system," Nye said. "Everybody, this is a matter literally of life and death. And when I use the word literally I mean literally a matter of life and death. So when you're out in public, please wear a mask."
Bill Nye the Science Guy shares some face mask facts 😷 pic.twitter.com/6U709BrpWu

— Culture Crave 🎥 (@CultureCrave) July 9, 2020
Research has shown that the wearing of masks can greatly reduce the spread of coronavirus, and the more people that wear them the better.
The WHO as well as the U.S. CDC now recommend the use of protective masks in public.
Wearing masks is crucial because the virus' main way of spreading is from person to person through respiratory droplets flying around when a carrier sneezes, coughs, talks, or raises their voice, as per the CDC.
The droplets can easily land in other people's mouths and noses, and can even be inhaled right into the lungs.
In addition, the CDC recommends that people wear masks in public when getting in contact with people outside of their homes, especially when social distancing is difficult to maintain.
And while masks may give us a certain level of protection, their main purpose is to save others from potential infection.
"I think there's enough evidence to say that the best benefit is for people who have COVID-19 to protect them from giving COVID-19 to other people, but you're still going to get a benefit from wearing a mask if you don't have COVID-19," Peter Chin-Hong, an infectious disease expert from the University of California San Francisco, said in a statement.
Masks can be of great help, but social distancing and the frequent washing of hands are also necessary to reduce the risk of infection, as per the CDC.
The US has suffered the most when it comes to COVID-19 victims with over 3.20 million recorded cases, and more than 135,000 losses of life, as per Worldometers.
Some places, such as Arizona, Florida, and Texas, have recently seen a rise in cases, as about 60,000 new cases were confirmed last Tuesday.
What are your thoughts on this story? Let us know by joining the conversation in the comments and please share this article if you've found it informative.