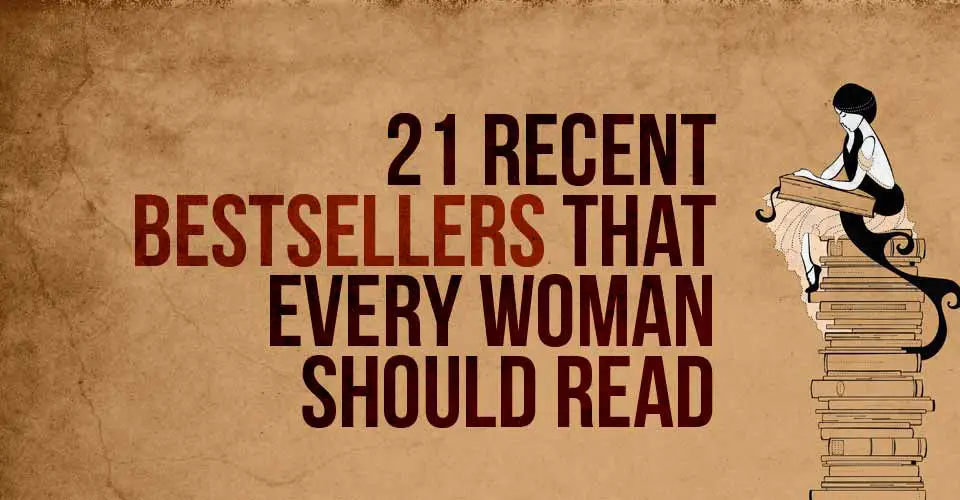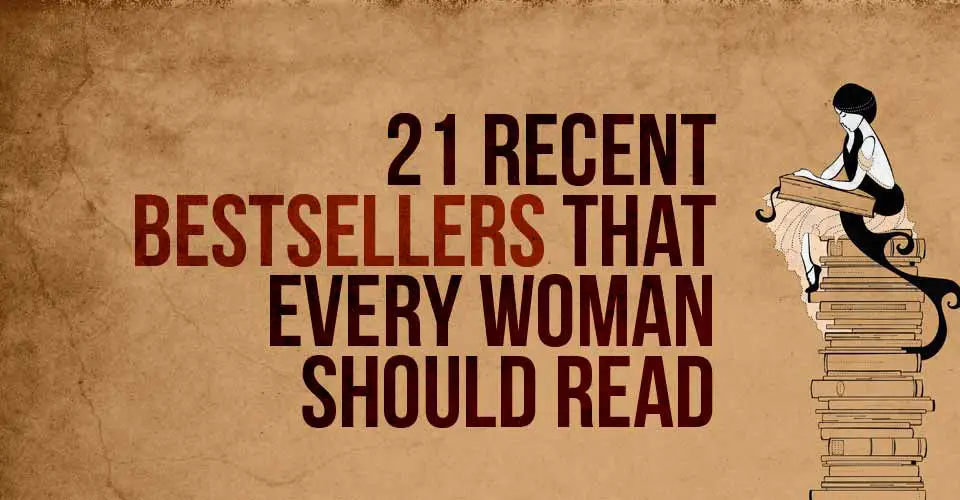 Have you ever been stuck as to which book to read next? Maybe you want to take a few on holiday with you or to curl up with just before bed time?
When I get the reading bug it becomes an insatiable thirst not easily quenched. At the end of each book I am hungrily digging around for my next literary hit. It's easy to become overwhelmed by book reviews and bestseller lists. I often spend as much time trawling though the recommendations and reviews as I do reading the books themselves. Sometimes I just want a list of tried and tested excellent reads to tick off one by one.
Ta-da! Here is an amazing list of incredible titles from the past few years that you should add to the pile on your bedside table. These books by women, are just a few of the incredible titles published recently.
They are some of the most-discussed, thought-provoking and life-changing books from a diverse group of . They make you rethink what being a feminist means, offer life advice to women of all ages. The novels are some of the finest writing from woman authors. From lighthearted memoirs to harrowing thrillers, there's a genre here for everyone.
Here are 21 books published in the past 5 years that all women should read:
1 Americanah by Chimamanda Ngozi Adichie
"Chimamanda Ngozi Adichie's fourth book, Americanah, is so smart about so many subjects that to call it a novel about being black in the 21st century doesn't even begin to convey its luxurious heft and scope. Americanah is indeed a novel about being black in the 21st century — in America, Great Britain and Africa, while answering a want ad, choosing a lover, hailing a cab, eating collard greens, watching Barack Obama on television — but you could also call it a novel of immigration and dislocation, just about every page tinged with faint loneliness." — NPR
2 Everything I Never Told You by Celeste Ng
"Everything I Never Told You is an engaging work that casts a powerful light on the secrets that have kept an American family together — and that finally end up tearing it apart." — The LA Times
3 The Goldfinch by Donna Tartt
"The Goldfinch is a rarity that comes along perhaps half a dozen times per decade, a smartly written literary novel that connects with the heart as well as the mind….Donna Tartt has delivered an extraordinary work of fiction." —Stephen King, The New York Times Book Review
4 Land of Love and Drowning by Tiphanie Yanique
"Through the voices and lives of its native people, Yanique offers an affecting narrative of the Virgin Islands that pulses with life, vitality, and a haunting evocation of place." — Publishers Weekly
5 Bad Feminist by Roxane Gay
"In sharing the gritty, heartbreaking details of her own experiences and unrealized desires — in showing us how, exactly, she is a 'bad feminist' — Gay reminds us what feminism can and should be: A space where women can realize their difference and their nuances." — The Huffington Post
6 Boy, Snow, Bird by Helen Oyeyemi
"In her manipulation of a succession of overlapping triangles of which the book's title is only one, Oyeyemi suggests the possibility of a kind of redemption; that identities eventually settle, configure, cohere and that we all learn to live with the life that we have fashioned for ourselves. In an intriguing, sinuously attractive book full of jeux d'esprit and lightning skies that often part to reveal pain and turmoil, it is a welcome hint of stability and optimism, if not one that we should trust in entirely." — The Guardian
7 Her by Christa Parravani
"Add the twin mystique to a drug-fueled reality drama and you've got the recipe for double the intoxicating read in Christa Parravani's memoir, Her, a sister book. Parravani offers a sinuous, startling, and intimate look at what it means to be share someone's DNA by playing on the reader's fantasies and stereotypes: confirming some—think Doublemint Gum commercials, Mary Kate and Ashley—while setting others straight. Here, we hear two distinct voices as Christa weaves italicized excerpts of her sister, Cara's, journals both within and at the end of chapters. As Cara explains: 'People think having a twin means never being lonely. Nothing is lonelier than being separated. Cut yourself in half. See how that feels and you will stop wanting a twin.' Ouch." — American Literary Review
8 Drink by Ann Dowsett Johnston
"That mysterious terrain of the soul drives the narrative trajectory in Ann Dowsett Johnston's Drink. Her approach is not strictly reporting, nor is it a full-blown memoir. Rather, she creates a hybrid of the two, weaving back and forth between research and raw confessions as she untangles the messy realities behind women's rising rate of alcohol abuse. A past editor of Maclean's magazine in Canada and former vice principal at McGill University, Johnston makes awful sense of it all. 'We live in an alcogenic culture,' she writes, 'where risky drinking has been normalized.' Increasingly, it is women who are suffering the consequences." — The Washington Post
9 The Lifeboat by Charlotte Rogan
"Grace Winter – new bride, new widow, apparently unscathed after 21 days drifting at sea in an overcrowded lifeboat – is a survivor. And survivors, as we all know, can be the most dangerous people of all. Charlotte Rogan's terrific debut novel opens with a bang, when the ship carrying newlyweds Grace and Henry back to New York after the outbreak of war in Europe suffers an explosion and sinks. Somehow, Grace is squeezed into a departing lifeboat, captained by ship's officer Mr Hardie, and along with a motley crew of passengers, mostly female, they push away from the wreckage, beating off drowning men and beseeching infants as they go." — The Guardian
10 NW by Zadie Smith
"Smith's novels are notable not just for their social acuity, but also for their ability to absorb philosophical ideas. Her last, On Beauty, managed to be interesting about aesthetics as well as about race and compassion, and the prose was well turned and sweet-natured to match. The themes in NW are more radical and the language more fractured. Though it remains absolutely rooted, stuck to the map, contexts change and narrative styles shift. This is a book in which you never know how things will come together or what will happen next." — The New York Times
11 Swamplandia! by Karen Russell
"An alligator theme park, a ghost lover, a Styx-like journey through an Everglades mangrove jungle: Russell's first novel, about a girl's bold effort to preserve her grieving family's way of life, is suffused with humor and gothic whimsy. But the real wonders here are the author's exuberantly inventive language and her vivid portrait of a heroine who is wise beyond her years." — The New York Times
12 Ten Thousand Saints by Eleanor Henderson
"Henderson's fierce, elegiac novel, her first, follows a group of friends, lovers, parents and children through the straight-edge music scene and the early days of the AIDS epidemic. By delving deeply into the lives of her characters, tracing their long relationships not only to one another but also to various substances, Henderson catches something of the dark, apocalyptic quality of the '80s." — The New York Times
13 How Should A Person Be? by Sheila Heti
"A raw, startling, genre-defying novel of friendship, sex, and love in the new millennium—a compulsive read that's like 'spending a day with your new best friend.'" — Bookforum
14 Room by Emma Donoghue
"Room is in many ways what its publisher claims it to be: a novel like no other. The first half takes place entirely within the 12-foot-square room in which a young woman has spent her last seven years since being abducted aged 19. Raped repeatedly, she now has a five-year-old boy, Jack, and it is with his voice that Donoghue tells their story." — The Guardian
15 The Immortal Life Of Henrietta Lacks by Rebecca Skloot
"The Immortal Life of Henrietta Lacks is a remarkable feat of investigative journalism and a moving work of narrative nonfiction that reads with the vividness and urgency of fiction. It also raises sometimes uncomfortable questions with no clear-cut answers about whether people should be remunerated for their physical, genetic contributions to research and about the role of profit in science." — NPR
16 Bossypants by Tina Fey
"If nothing else, Bossypants should make any profile of Fey unnecessary, since it provides, in abundance, everything readers want from a story about a performer and none of the 'clever' observations about food intake/absence of makeup/appearance of child art upon which celebrity profiles are so dependent. In chapter after chapter, in a voice consistently recognizable as her own, Fey simply tells stories of her life: How a nerdy but self-confident half-Greek girl entered theatrical life (a wonderful community theater, lots of gay and lesbian friends), what Second City was like "back in the day" (cultish, hard, unbelievably fun), how 'Saturday Night Live' works (a chemical compound of Harvard grads and Improv people), what it's like to be a woman in comedy (harder than you think but not as hard as coal mining) or to run your own show or to satirize a vice presidential candidate when she's standing right backstage." — LA Times
17 Behind The Beautiful Forevers by Katherine Boo
"This National Book Award-winning study of life in Annawadi, a Mumbai slum, is marked by reporting so rigorous it recalls the muckrakers, and characters so rich they evoke Dickens. The slum dwellers have a skillful and empathetic chronicler in Boo, who depicts them in all their humanity and ruthless, resourceful glory." — The New York Times
18 The Orchardist by Amanda Coplin
"William Talmadge is the titular orchardist. For most of 40 years he has lived alone, tending the orchard where he grew up with his mother and sister. His mother died when he was still very young, and his sister disappeared as a young woman — a loss Talmadge has never quite recovered from. And it may be that secret pain that prompts him to take care of two pregnant teenagers who wander onto his property looking for food. They're running away from a brothel run by a brutal drug addict who traffics in young girls. Talmadge's decision to shelter the girls changes his life forever, exposing him to both the pain and quiet joy of love." — NPR
19 Wild by Cheryl Strayed
"A vivid, touching, and ultimately inspiring account of a life unraveling, and of the journey that put it back together." — Wall Street Journal.
20 The Lowland by Jhumpa Lahiri
"This gripping and poetic novel explores themes of loneliness, isolation, family secrets, political will, and the power of unconditional love. Lahiri understands that unresolved conflicts from one's past can cause us to create the kind of life we most want to avoid. Someone who wants to find a lasting romantic connection may play a tremendous role in creating a life of romantic isolation. To this end, unresolved conflicts can lead people to choose unsuitable partners and deeply unsatisfying relationships. The Lowland demonstrates in meticulous detail that facing painful dimensions from the past and acknowledging family secrets is often the key to finding true happiness." — The Huffington Post
21 Yes Please by Amy Poehler
"Yes Please is a memoir in that it contains some memories, many of which are offered as hard-won — advice seems too preachy, so we'll go with helpful suggestions. (A chapter called 'I'm So Proud of You' should be required reading in high schools.) Also featured are: haiku about plastic surgery, a chapter by Poehler's mother, a satiric birth plan, a chapter by Seth Meyers, an annotated history of 'Parks and Recreation,' a letter from Hillary Rodham Clinton, sex advice, a truly hilarious list of potential books about divorce and a moving account of an apology." — LA Times
What would you add to our list? Comment below