Bedridden for 3 years, this woman has now lost 596 lbs, making her 'My 600-lb Life's' most successful patient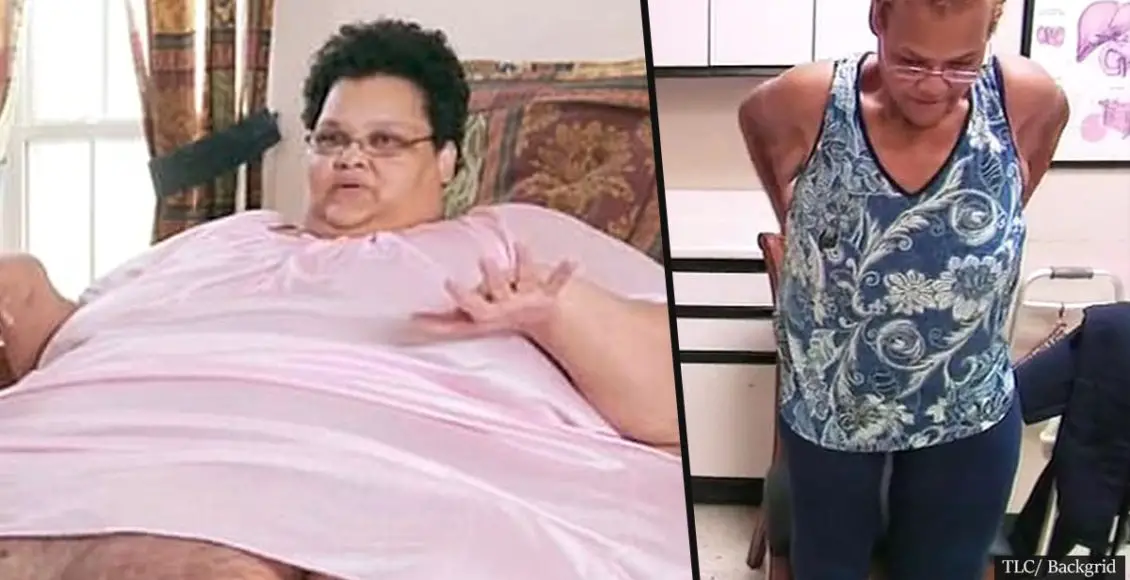 Milla Clark from Fayetteville, Tennessee was bedridden for three years and has now become My600lb Life's most successful patient ever by losing a shocking 596lbs.
The 51-year-old woman, who originally weighed 751 lbs, was completely immobile, largely due to a 43lb lymphedema on her leg, which left her in severe pain when she attempted to stand.
Having to rely on her children to wash and care for her over the course of two years, she has now regained her ability to walk. Milla, who is a mother of five, decided to consult with weight loss expert Dr. Younan Nowzaradan more than three years ago when her situation took a bad turn.
Milla had not been able to walk on her own for over 13 years, and when she got on the reality show admitted that her life had turned "miserable" due to her condition and that the only things she could do on her own were sleeping and eating. Her journey began in 2017.
"Every single day of my life is miserable," she said at the time. "I have been trapped in these four walls for more than two years. During that time, I have not stood one time. All I can do is eat and sleep," the Daily Mail reported.
Three of Milla's teenage children would wake up each morning before sunrise to wash her. While her daughter, Hannah, washed her private parts, her son Jacob held the lymphedema because it was so heavy that Hannah couldn't lift it while cleaning her simultaneously.
"It is such a humiliating thing," Clark said two years ago: "Children their age shouldn't have to take care of their parents."
Reportedly, Milla struggled throughout her life with her weight while other children were calling her fat when she was only three years old. She stated that she had a difficult relationship with food and her mother was unsure of how to show her infection in other ways except for feeding her sister and her.
Milla met her husband Elroy in high school. They fell in love and got married when her weight over 400lbs.
"I was so in love with Elroy. I forgot I was fat for a minute," she said.
Milla gave birth to her first baby soon after their marriage, but her increasing weight made it risky for her to bear more children. Thus, the couple eventually chose to adopt children, and they adopted four kids from homes with drug-addict parents.
With her condition growing more serious, Milla and her family made the decision to move to Houston, Texas, so she could meet with Dr. Nowzaradan.
As he worked with Milla, Nowzaradan made sure that her children met with a dietician too so they would be able to prevent her from continuing her eating addition after she was sent home. He made clear to the family that Milla had to lose weight before doctors could operate on her to remove her lymphedema.
After she was put on the weight loss program, the 51-year-old lost 100lbs on her own and went on to have the surgery. When her lymphedema was removed, she continued on her journey to a healthier life, and as soon as she was able to stand on her own, she underwent weightloss surgery.
She remained fully dedicated through all this and faltered briefly only when Elroy died of a heart attack while filming the show. 
Milla could not leave her bed to visit him in the hospital before he passed away, which naturally devastated her.
Her children, however, kept on motivating her to stick to her path, and she became more determined to become a "proper mom" to them. Once she went under 200lbs, Milla had both her knees replaced so she could finally stand upright without needing her cane.
What do you think about Mill Clarke's incredible journey? Let us know in the comment section below.