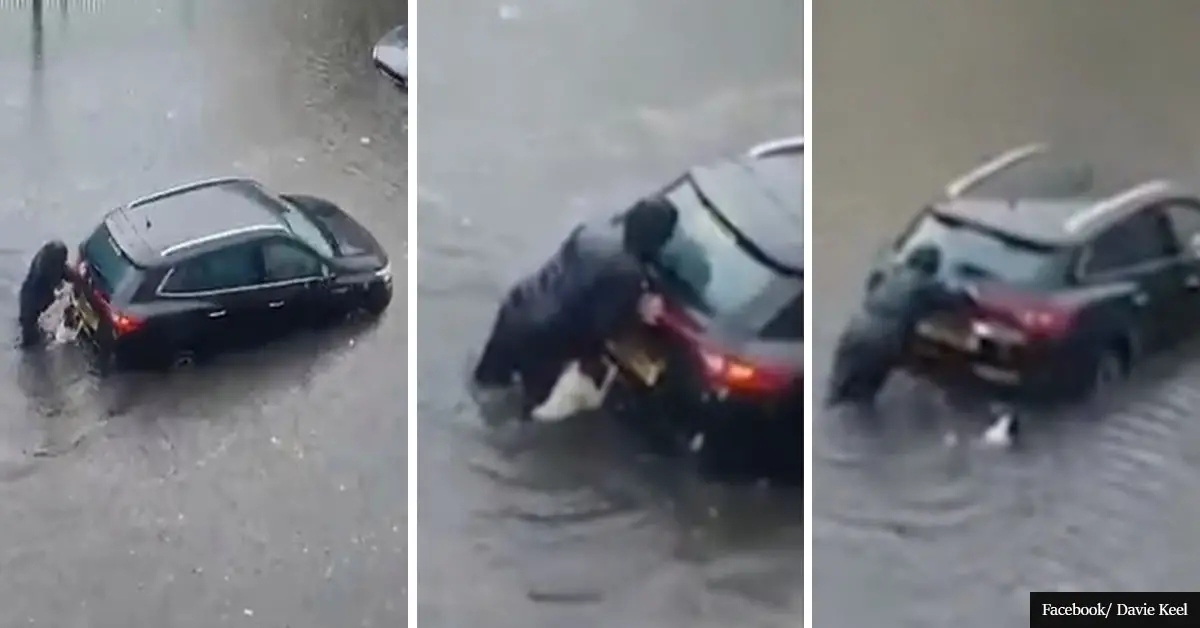 Last weekend, Glasgow was struck by devastating thunderstorms which wreaked havoc across the city.
The Scottish rain brought heavy floods, but one man chose to make the best out of the situation and went in for a swim.
Footage shared online shows the man swimming in the floodwater with no shirt on.
He swims in circles, then pops in and out while shaking his head, before getting out with his hands in the air.
The video was made in Fulton Street, which connects Knightswood and Anniesland.
Vehicles can be seen submerged in the water, while some people cheer the swimmer on.
I the meantime, a clever dog named Puck was seen helping push a car out of the water.
The video has so far been viewed more than 230,000 times.
It shows a black car stuck in water, with a woman named Lori doing her best to push it out of the deep.
Meanwhile, her dog is swimming next to her at first before it gets on its rear paws and starts pushing along.
The dog/human team is eventually able to push the vehicle out of the deep part of the flooded area.
In the background, the man filming can be heard commenting on what's going on.
At one point, he says:
"Here we go. Aw the dug's pushing it anaw noo. Aw brilliant, the dug giving it a push. Wit a dug, man. Look at that."
Lori told the Daily Record:
"Puck and I were out on our usual walk and there was a car that was stuck in the water. There were two women inside and I went down to give them a hand.

"We've never really had flooding as bad as that there. Puck was just swimming next to me and I took my phone out to video him and then he started pushing it."

Puck the savior. Image: Daily Record

"Once the handbrake was off it was just a quick push or two and the it started rolling.

"Puck got a very nice extra big dinner last night. He got meat with gravy and biscuits with extra meat.

"He is 10 but he is a fit 10. We have horses so he's always on the farm and we do munro bagging. He is on his 52nd one in 12 months."
What are your thoughts on this story? Let us know by joining the conversation in the comments and please share if you've enjoyed the read.