Baby Eli Was Born Without A Nose And He's Adorable!
Back in March of last year, a beautiful baby boy named Eli Thompson was born, but there was something different about him- he was born without a nose.
The extremely rare condition is called 'congenital arhinia', and affects only 1 in 197,000,000. It is so rare, there have only been 43 reported cases worldwide since 1931.
Congenital arhinia is "partial, or complete absence of the nose at birth." As you can imagine, it makes breathing rather difficult, and it is impossible while a baby is feeding. Because of this, Eli needed a tracheotomy, and at the age of 5 days old, he received one.
"I had been in labor for 23 hours with him. To be honest I thought I was hallucinating when I noticed that he didn't have a nose," Eli's mother, Brandi McGalthery told USA Today.
At the time of his birth, doctors were uncertain if Eli Thompson had sinus cavities. However, when Eli reached the age of three months, his mother shared this information on Facebook:
"Our sweet Eli no longer has microcephaly (abnormally small head/brain), his body is producing testosterone on its own finally (no hormone therapy for us!), AND (drum roll, please) HE HAS MAXILLARY SINUS CAVITIES! Those are located in his cheekbones. We are still uncertain if he has ethmoid cavities (the ones behind his nose), but we are so thankful for all of this wonderful news! We are so blessed!"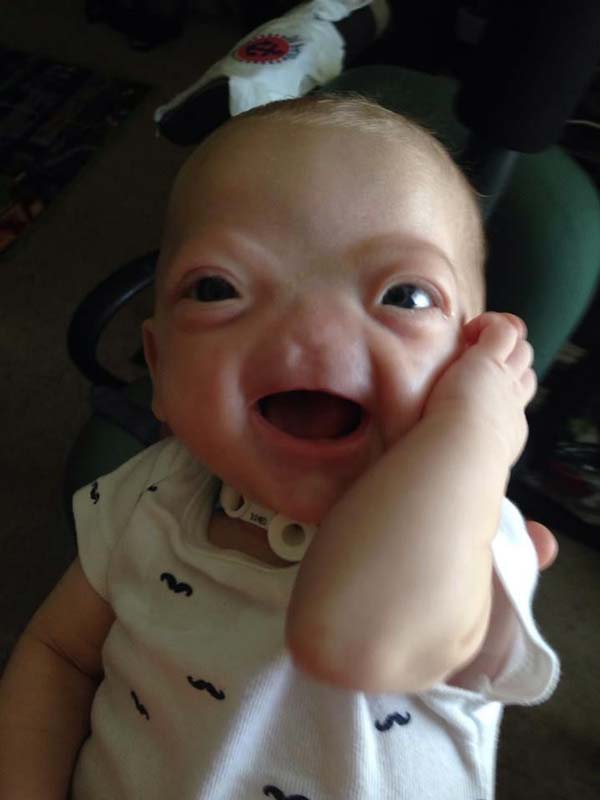 At the age of 7 months, Eli met another child with the same rare condition- a young girl from Ireland named Tessa Evans.
2 1/2 year old Tessa immediately found a friend in baby Eli, as you can see in the photo below.
Later that year, Eli celebrated his first Christmas.
The 9 month old met Santa Claus and "he went straight for the beard," said his grandmother, Norma Mayzes.
The world has fallen in love with this beautiful miracle, and Eli Thompson seems to have fallen in love with the world.
By Raven Fon